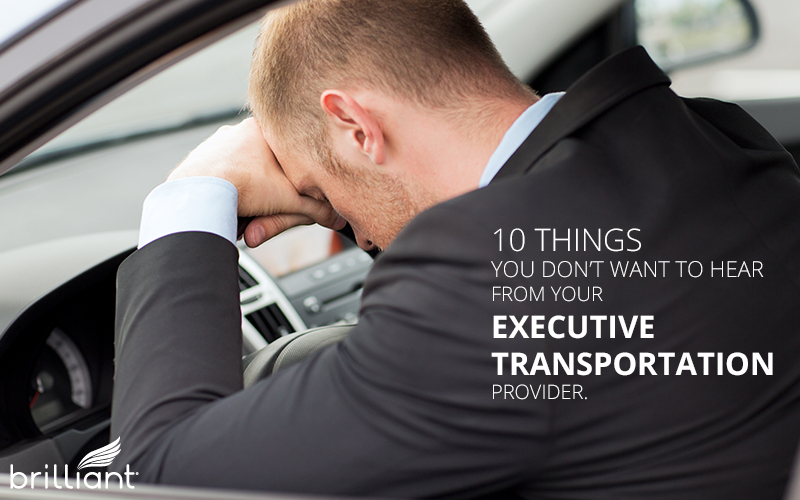 Every once in a while, you can book chauffeured transportation for a business or corproate event and find things have gone very wrong. This is not commonplace but mistakes can happen in transportation. When they do, it can be extremely inconvenient for all those involved.
Thus it is really critical that you find a transportation vendor you can trust when you really need them. That can be hard to come by, especially when you have to manage a variety of travel plans. We have compiled a list below of excuses that you never want to hear from your transportation provider to give you an idea of what can happen when people aren't prepared.
Hopefully this will never happen to you! But believe me, when communication is incomplete, some pretty unpleasant surprises can result. There are so many little details that can go wrong, impacting an executive's schedule, it is important to always be vigilant, both as a client and as an executive transportation provider.
Ten Inexcusable Executive Transportation Excuses
While it is the limousine company's responsibility to get things right, you as the passenger or client should double check your reservation before you take you take trip! Being forewarned is being forearmed!
Here is our top 10 list:
1. Our driver is lost!
This can be a common problem. Anybody can get lost, especially if they're in an unfamiliar area. But for an executive-level limousine service, this is not an acceptable excuse. As in all things, proper preparation would have avoided this problem. It is incumbent upon every chauffeur to carefully study his or her route before embarking on the trip.
2. You didn't give us the correct address for the pick up/venue!
Yes, mistakes can happen, but this is pretty basic. And yet this can be an all too common problem. Transportation companies should always train their employees to check their reservation information carefully and double check it too. By the same token, clients should be very clear and concise about their directions and what they want done.
3. We showed up on location but the pick up is next Tuesday!
Again, this common problem has to do with incorrectly entering reservation information and not making sure the dates are correct. It can be easy to transpose a date or day of the week. Limousine companies should always send out a confirmation of the trip order with all details so clients can review. And sometimes, the client will change their plans and forget to notify the provider, so good communication works both ways!
4. Your vehicle was on its way but it broke down!
Chalk this one down to poor operational management. Not all breakdowns are not entirely avoidable, even with well maintained vehicles because stuff does break when it gets used. That being said, a good operation will have an extensive maintenance schedule that is followed religiously. While breakdowns cannot be eliminated, they can be minimized to a very high degree.
5. We got to the location but weren't able to locate the passenger!
There are so many ways one can have a communication breakdown, and this is one of them. In business settings, often travel arrangements are made by third parties, so it is always important for the provider to make sure they have a valid passenger contact. People can end up in different locations, and without a cell number, one could easily miss their passenger.
6. We thought you only had 7 passengers but there are 14!
This unfortunate problem could have been avoided if the reservation agent had made sure to nail down the passenger count before dispatching the trip. With group travel it is especially important to match the group with the correctly sized vehicle. Even similar models of vans and minibuses can have different numbers of seats, so vehicle seat count and passenger count must always be confirmed beforehand.
7. Our driver made the pick up but can't reach the destination because of a road closure!
This can happen even to the best of transportation providers. Unfortunate accidents and weather can ruin an otherwise good day in a hurry. Drivers should always have alternate route or plan B in case the unforeseen occurs. And with road constructions, most repair work is announced in advance, so a good transportation company will always check the route before a trip, especially in a high congestion area that is expecting ongoing roadwork.
8. We thought we were supposed to pick you up at 12:00 PM, not 12:00 AM!
This sadly is one of the most frequent mistakes in the transportation playbook. It's an easy mistake to make, so always have your reservation agent read back the pick up times to you. And double check your confirmation paperwork. Some companies use a 24 hour clock to avoid this common mistake, but double checking never hurt anyone.
9. The wrong person got in the car and we gave him a ride instead of the client!
Believe or not this has happened before too. Sometimes people think that an open car door is an invitation for them to get in! Some travelers also don't realize that limousines are not cabs and trips must be pre-arranged.
The chauffeur should always have signage when at a busy place like an airport, and also make cell phone contact with the passenger before they meet in person. Also a friendly greeting by name and handshake can usually clear up any confusion if someone walks up and isn't sure if they have the right vehicle.
10. We had a accident with the client in the car!
God forbid, but vehicle on vehicle accidents are the worst thing that can happen to a transportation company, especially if anyone gets hurt! We hope this never happens to you while on charter or in your personal life, but sometimes accidents will occur out of the blue.
Most of the time trouble can be avoid if your chauffeur is alert, defensive, proactive and safety conscious. This is really a must for any good driver. And quality transportation companies will maintain a culture of safety and precaution and drill this into their driving staff on a regular basis. Use a company with a good reputation and who is safety conscious. If you're unsure, ask your provider directly about their safety record. It's never worth risking your life to save a couple of bucks!