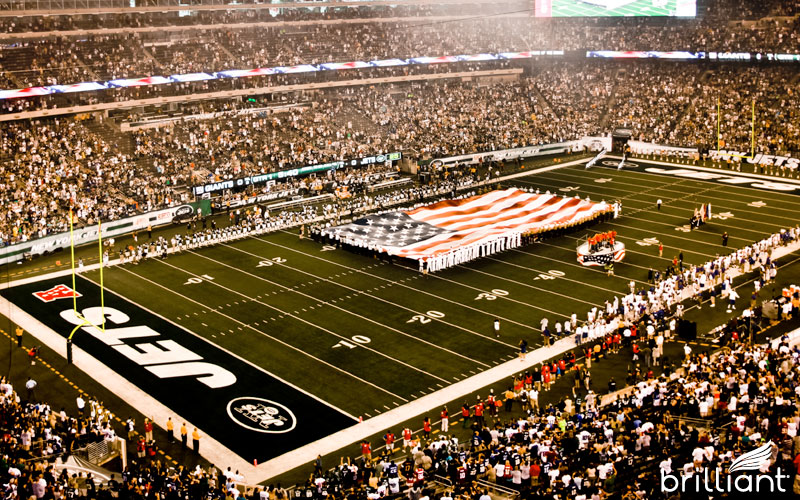 Well, fall has finally arrived and its football season again. Time to get the gang together and head out to Metlife Stadium for some more gridiron action! Once you're planning on going to watch some live football with a small group, it begs the question, what's the best way to get there?
Of course you could always drive yourself or carpool with your friends, but sometimes you may want to make more of an occasion out of it. May we suggest taking chauffeured transportation? That way you can really kick back with your friends and have a great time, not worrying about the arrangements, driving and parking and whether or not you've had one too many beers at the stadium!
Take Chauffeured Transportation to the Jets Game!
Limousine service isn't just for proms or weddings anymore, or even just a night out on the town. Limo service can elevated a whole range of fun activities and add a touch of luxury and convenience to you day. Going to the ball game with your friends is a perfect example.
At Brilliant Transportation, an executive transport provider for a high end clientele, we cannot only help you and your friends get to the stadium, but we can also help you have a great tailgate party as well!
One the first matters you'll want to decide on is how many people to bring and how to get them there. For small groups, Brilliant has a wide range of different sized luxury vehicles. We specialize in the luxury van and minibus category. Especially when you're going in a group, chauffeured transportation makes a lot more sense. It can be hard to coordinate people going in different vehicles and this way, everyone can ride together.
Sprinter Vans Are a Great Option For Small Groups
For groups of 9 people or less, may I suggest using one of our luxury van models. Brilliant's entire van fleet is based on the Mercedes Benz Sprinter line, the best line of van vehicles in the world. We offer our custom converted luxury vans, which is the ultimate in luxury travel, as well as the standard Mercedes factory minibus design of the 14 passenger van. These 14 passenger vans are great for small groups providing ample, size, room and comfort.
So if your group is up to 14 people, then the standard minibus van is your only choice. But if you're less than 10 people and you'd like to experience a real dose of luxury, then our luxury vans could be the perfect choice. Our flagship van, the 'Brilliant Van' is a custom converted Sprinter van which holds 7 passengers in the rear cabin.
Brilliant's Luxury Vans Are Superlative
Many of our customers refer to the Brilliant Van as the 'jet van' because the interior is so similar to traveling inside a first class corporate jet! You'll notice as you step on board the luxurious leather upholstery, the wood floor and wood paneling throughout as well as the soft, creamy tan colored surfaces throughout the cabin.
Four large captains chairs beckon you and you'll get the full comfort features of electrically operated reclining backrests and as well as an extending footrest. A large rear bench seating an additional 3 adults is in the back, and that can also fold down flat like a daybed as well.
One of the many nice features of the 7 passenger luxury van is that seating is configured to be optimal for on board productivity for business travelers or also for entertaining if you bring clients or friends along. Each seat comes with its own fold out table, a reading light and outlets for your plug ins.
The entertainment package is also outstanding. The Brilliant Van has two large flat screen TVs (32") both fore and aft with 158 channels of DirecTV and a fantastic stereo system to boot. Sirius satellite radio stations are also available and there is Sony PlayStation was well.
Our 9 passenger luxury van, the 'Executive Van' is also very similar in terms of its features and comforts. The main difference is the number of seats, all captains chairs arranged along side the inner walls. The Executive Van would also be great to bring a small group to the Meadowlands for a day of football.
Enjoy A Tailgate With Our Help
Like I mentioned, Brilliant can help get your tailgate on, as the vans have lots of storage space to bring food and grilling equipment. You can use the van as place to enjoy your tailgate feast either inside the van with comfortable seats and tables or outside as well with your lawn chairs. Of course, if you sit inside you can watch the pre-game on ESPN or whatever channels or music station catches your fancy. It's one heck of a first class way to enjoy your parking lot tailgate!
Another option is that Brilliant also offers on-board catering with any of our reservations (with advanced ordering and pre-booking.) If your plans to get the game are very last minute and you were too busy to make it to the market and buy those burgers and dogs, then we might entice you with a selection of pre-made gourmet sandwiches, or platters of fruit, cheese and meats. Of course we can also add beverage service with wines, beers and spirits, or whatever you'd like to custom order, we can arrange it for you as long as there is enough lead time.
The luxury vans are the way to go with a small group of less than ten people. But if you have plans to bring many more of your friends to the game then it's time to look at bigger vehicles. Brilliant has the solution for small to medium sized groups with our custom luxury mini-coaches. These dynamic buses provide a luxury ride for groups that are much too large to fit in our vans or for trips that would require too many separate vehicles.
Luxury Mini-coaches Work Great For Medium Sized Groups
Mini-coaches or minibuses are buses that can fit anywhere from 20–40 passengers. They are a great alternative when a full sized motorcoach is simply too big or too expensive for your needs. Brilliant's fleet of custom minibuses come in two varieties, the 28 passenger bus and the 36 passenger bus.
You may have ridden in a minibus before by taking an airport or hotel shuttle, but you've probably never ridden in a minibus like ours. You could say our minibuses are like the limousine version of the minibus world. All of our buses come in the same same color and same styling and features.
You'll notice our buses have an elegant metallic grey color finish which looks very classy and is appropriate for any number of formal or informal occasions. Our interiors feature black leather captains chairs for all passengers, beautiful hardwood floors and quality materials used throughout the cabin. There is also ample overhead storage, as well individual reading lights at every seat and and electric outlets on every row.
We also have a great entertainment package on the larger buses as well with a large, flat screen TV in the front bulkhead that is connected to a DVD player and there is also a PA system. A great stereo and speakers system is also standard. For internet connectivity, we can offer mobile hotspot routers to our guests upon request at no additional charge.
Our Buses Fit The Bill In So Many Ways
These buses are designed to be extremely comfortable and enjoyable to sit in, regardless if it's a short trip across down to get to the stadium or a long road trip to get to another city. For going to the Jets game, these buses would be ideal for a fan club or upscale corporate field trip, or a group of students, or even a large extended family. Whatever the occasion is, Brilliant provides top notch transportation.
One of the nice things about hiring a large bus is that you have option to use it for multiple purposes if you rent it for the day. If you're going to trouble of organizing a large group, why not make a full day of it instead of just going to the ball game?
You could use the bus to go to lunch or dinner after the game, or engage in some local sightseeing if you are from out of town, as New York has many great attractions. You could also use it go to a park or the beach for some R&R after all the noisy excitement of an NFL game.
One thing you'll really enjoy about hiring Brilliant, irrespective of which vehicle you end up booking is our outstanding customer service. We treat all of our guests like VIPs and our philosophy is that the field of transportation shouldn't be relegated to the second tier status when it comes to hospitality. We believe the way our guests are treated is even more important than the vehicles we drive.
Our High Standards Will Delight You
All of our employees have been trained to highest standards of customer care and we want to make you feel at home when you travel with us. And we believe that part and parcel of excellent customer service is also flawless execution of the job at hand! After all, if your transportation company bungles your trip, it won't matter how nice and friendly the driver was!
So a company wide, team effort goes into making sure each and every reservation is executed perfectly, from taking the reservations, to cleaning the bus spotless, to performing safety and equipment inspections, to preparing for the trip, and to garaging out and being at your location, not just on-time, but early as well!
Though you'll never know it, each trip is an elaborate production involving many different employees, and lots of different parts, working together, providing checks and balances and meshing together as a single unit to provide flawless service. It's a routine that takes a lot of practice and preparation to get right, and Brilliant is hard at work everyday to make sure it happens on a daily basis.
To find out how we can delight your football group with outstanding service, contact our reservation department at 1–800–543–1001 to receive a custom quote for your next trip.