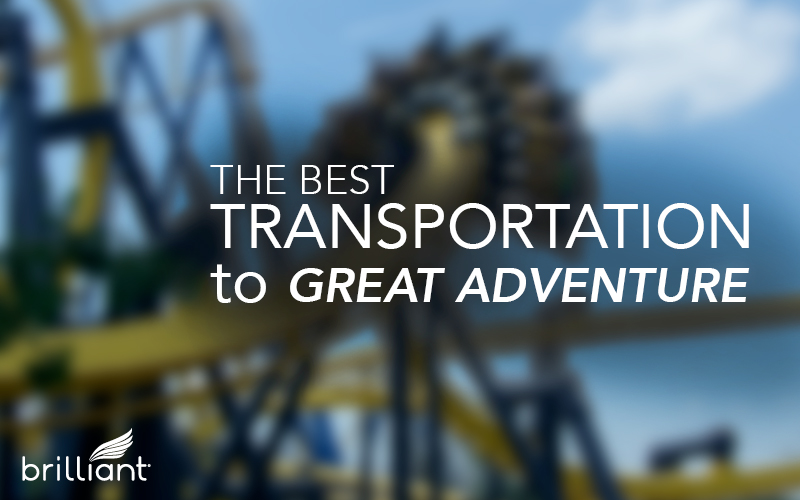 It's summertime, which means it's time to take the family on a fun summer trips, like for example, a trip to Great Adventure, which is one of the New York Metro area's premier family attractions. Nothing like enjoying a great roller coaster ride during a summer weekday.
One of the things that can really enhance your day at the park is to arrange for chauffeured transportation to Great Adventure. That way, everybody can join in on the fun and the driver doesn't have to worry about holding back for the day due to his or her driving responsibilities. This can be a real treat for a family, especially if you have a large one. However, when going with a social or corporate groups, arranging transportation can be a much bigger benefit!
Chauffeured Transportation Will Make Your Group Outing Even Better
If you have 20 or more people going in the same group, arranging private transportation becomes an even more important issue. It is much more efficient to have everyone go in the same vehicle, like a van or a bus, instead of having a dozen different cars on the road. The amount of money that would be spent on gas collectively can be better used towards a bus reservation that would seat everyone together in comfort. And the upside is that it can be a lot more fun for everyone to travel together, increasing your social interaction.
If you decide to opt in to chauffeured transportation for your day of fun, the first factor you have to decide upon is the size of your party and what type of vehicle would make the most sense for your trip. The size of your group could also influence which company you decide to contact.
Limousine services can cover a wide range of transportation. Some companies just do sedans and SUVs. Others offer a more expanded option such as vans and stretch limousines. Research further and you'll find that some companies specialize in buses and mini-coaches for group transportation. And still other companies can offer you a combination of the above assortment.
Find The Right Vehicle To Match Your Group
Brilliant Transportation for example, specializes in vans and mini-buses, but we also offer SUV service. Some vehicle types you won't find with us are sedans and stretch limos. Our current line up of vehicles more closely matches the need of our corporate clients, who form the majority of our customer base.
For small groups of six people or less, your most economical option would be to choose our SUV service. Featuring the Cadillac Escalade ESV, our SUV service can really help you arrive to your destination in style!
This vehicle has six passenger seats and can accommodate a fair bit of luggage, although this isn't usually an issue for trips to theme parks. Although some clients have used our SUVs to go tailgating before at sporting events for example.
For groups twice that size, your best option would be to go with a 14 passenger van. Brilliant specializes in having an all Mercedes Sprinter van fleet, including our 14 passengers. Traveling in one of these vans will offer considerably more comfort than just going in a regular Ford or Chevy passenger van. The big difference is in the tall roof. It allow for 6'3" headroom, which allow for most people to stand up inside. Another nice feature is the large side sliding door and running boards which makes entering and exiting very easy. The 14 passenger van is great for group outings, it is a very practical and comfortable vehicle.
Luxury Vans Make Your Trip First Class
For clients who are looking for a bit more exclusivity and luxury however, we also offer luxury Sprinter vans as well. We have a 7 passenger and 9 passenger luxury vans. These are more expensive than the standard 14 passenger vans, but also much more in terms of passenger features. The luxury vans offer more of a traditional limousine experience. In fact, some people refer to these vehicles as limo vans or limo buses. At 20' long for the extended wheelbase version, they are about as long as a stretch limo as well, but they offer tons more room and practicality than a standard stretch limousine.
Passengers in the luxury vans get their own leather covered captains chairs, which recline and also have footrests. In the 7 passenger van there is also a full chauffeur partition between the front and back of the vehicle, affording full privacy. Passengers also get to enjoy two large flat screen TVs which can show 158 satellite channels of DirecTV, or they can enjoy a DVD of their choosing, or even plug their laptops into the entertainment console, which allows them to view a presentation on the big screen. On-board WiFi is also standard in the luxury vans, as is a mini-bar and fridge in the 7 passenger. (The 9 passenger doesn't have as many amenities as extra room had to be made for additional seats).
Use A Luxury Mini-Coach For Your Group Travel
These are the options as far as our smaller vehicles go. But if you have a group of over 20 people, then you should consider using a mini-coach to move your group together. Mini-coaches or mini-buses as they are called are buses that are roughly half the size of a standard, full-sized motorcoach which will hold up to 56 passengers. Mini-coaches come in many different sizes and models, but generally accommodate between 20 and 40 passengers. 
Brilliant Transportation has mini-coaches that seat a maximum of 28 passengers, and a slightly larger version that will hold up to 36 passengers. The 36 passenger bus also comes with an on-board lavatory.
Brilliant Transportation is known for their luxury service, both in terms of the quality of the vehicles and the quality of the customer service. The same goes with our mini-coaches. They are luxury in every sense of the word, and very exclusive in terms of what is available in the industry for mini-coaches.
Many bus companies don't worry about providing luxury for their mini-bus jobs, they're mostly concerned with getting from A to B. Not so with Brilliant Transportation! Our mini-coaches definitely offer more in terms of comfort and luxury. All of our luxury mini-coaches come with an premium paint job on the exterior, chrome rims and a reinforced suspension to provide the smoothest possible ride.
The interior cabin however is where things really get good! Our mini-coaches all come equipped with all leather captain chair seating (individual bucket seats) and beautiful hardwood flooring. All materials inside the cabin are of premium quality. Our mini-coaches also come with a large screen TV upfront as well as drop down LCD displays throughout the cabin for easy viewing. A premium sound system and a PA address system are also included. We can also provide on-board WiFi upon request, at no additional charge. There is also ample overhead storage for luggage and other gear.
Brilliant Does It Better!
But regardless of which vehicle you end up using, the common denominator for using Brilliant Transportation is our unparalleled customer service. All of our staff, but particularly our drivers who are our front-line employees are trained to provide excellent customer service.
At Brilliant, we believe that your ground transportation service shouldn't differ in any significant way from being a guest at a 5 star hotel. Of course, being in a vehicle, you won't have every service that's available in a hotel, but the idea is the atmosphere and level of attention received would be similar. That's definitely a level of service that other transportation don't even begin to offer.
And along with the attentive service, one of Brilliant's great strengths is our outstanding job performance. We have an outstanding on-time record and we work very hard to provide 100% satisfaction on all of our trips. What we won't do is let you down! Too many times, other limousine companies get sloppy with their planning and operations, and because of one seemingly minor detail, a trip gets blown.
Brilliant has a very systematic way to avoid these kinds of failures. We have a number of systems in place, both human and electronic to make sure our reservations and live trips are on track. We double and triple check every detail, from the pick up times to customer contact, to giving our vehicles a thorough cleaning and safety inspection before they depart our premises.
This is all to say that Brilliant does more to ensure that your next road journey will extraordinary, not just ordinary. To find out more how we can help you enjoy your next special day out, contact our reservations team at 1–800–543–1001.