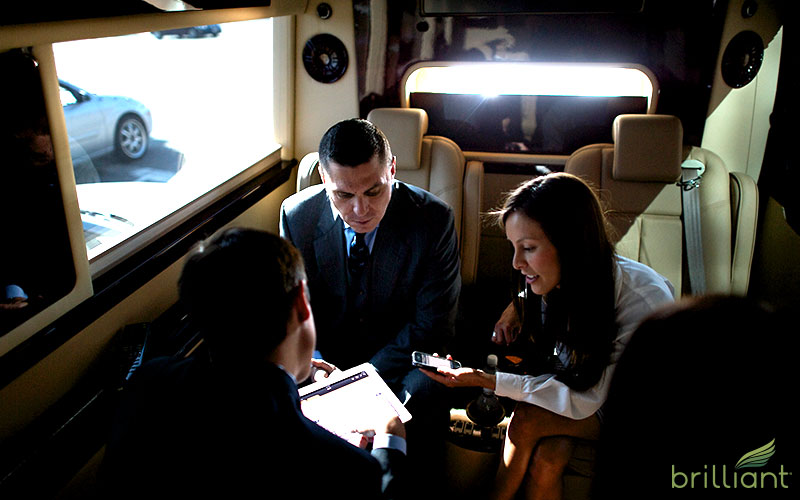 In the field of corporate transportation, the need for reliability and service are two key aspects that cannot be overlooked. In the corporate world, ground transportation is usually an afterthought, something that is ordered last minute and little thought is given to long-term relationships. Yet at the same time, clients expects these services to be convenient and to work, every time they are requested.
These two impulses, the desire for reliability and the lack of interest in cultivating long term ties can sometimes be at loggerheads. Sure most ground transportation requests are fairly straightforward, like taking a black sedan from a Midtown office to JFK Airport. And most of the time, the vendors who supply these services get it right with no real difficulty.
Service Over Price
Yet there can be pitfalls. Using a company for the first time or lacking experience with a transportation vendor can open yourself up to mistakes and misunderstandings. Plus arranging more complicated trips, like small group transportation for a group of VIPs can often be complicated and the results disappointing when things don't go according to plan or the process of ordering the transportation itself becomes complicated.
One thing is for sure though, there's no room for failure. Whether the trip is getting a senior executive to the airport on time, or getting a group of salespeople from New York to Boston in comfort and efficiency, there is no second chance for getting it right. For the group of travelers not to get to their desired destination on time could have a real world impact on their business, like losing an important contract or offending a top client.
Whatever savings you might have realized by going with a low-cost provider would be out the door as soon as you ran into problems and screwed up an important business trip. That's why corporate travel planners, while always sensitive regarding cost, often prefer to book business with companies that are competing on the basis of service, rather than price.
Because in the transportation business, reliability doesn't come cheap. That's not to say you can't get a good price, but when it comes to scraping the bottom of the barrel looking for the cheapest ride, it's important to realize that you could be setting yourself up for a mistake that will be much more costly than you can anticipate.
Along with finding a reliable service provider that emphasizes good customer service and great job performance, corporate travel planners like to have smooth sailing when it comes to planning, booking and executing a corporate trip.
What they're looking at primarily is being able to get familiar with a vendor who provides them a consistently good performance and positive interactions every time. People who rely on outside help to get a job done right like having regularity and knowing what to expect. It's not always possible to do this with providers who you are using for the first time or if your company is constantly switching providers.
That's why cultivating a long-term relationship with quality providers can be your best strategy for meeting all of your ground transportation needs.
With a quality transportation provider you can trust, you get all the benefits that you are looking for, like reliability and ease of use. Just think for minute how nice it would be to be able just pick up the phone and talk to someone you already know. Someone who knows you well, your preferences and dislikes, understands your special needs or requests, and who is able to access all of your account information instantly. That makes booking, revising order and completing payment a breeze.
Dealing with that kind of relationship will make your day much easier, taking the stress off your back and knowing that your bosses or higher-ups in the company will get to where they need to go, when they need to, on time and in great comfort.
As I mentioned above, it a combination of great service with the front office, as well as flawless execution on the operations side of things that corporate travel planners need most. It's two-in-one combination that makes transportation provider good and adds value to the client.
And that is precisely how we see things here at Brilliant Transportation. We have an unrelenting focus on providing great customer service and delivering flawless operations. That's what our customers appreciate and we understand that this is the key to success in our business.
Like any other transportation business, we do have plenty of one-off business, customers who just use us once because their transportation needs or so irregular or infrequent that they may only plan on a limousine charter only once every couple of years. However, we have many more repeat customers and that's what we have built our business around.
We are looking for the type of business customer who has frequent luxury ground transportation needs. They could be high worth individuals who are used to flying private and need to supplement their primary transportation needs, or even clients who are looking for less costly forms of transportation over shorter) distances and are seeking a good alternative. We are perfect for both kinds of customers. Not to mention the many legions of business executive who fly into New York or Los Angeles on a regular basis and are looking for dependable, luxury transportation during their stay.
In turn, this type of clientele is looking for a transportation that won't let them down. But beyond that, they are also interested in a company that can elevate the experience of ground transportation way above and beyond the average, much to be desired level of service that all too often passes for executive transportation these days. Brilliant goes way beyond those standards.
Through our attention and interest, we have elevated ground transportation to a wonderful experience, where you can reclaim lost time, either personal time or valuable business time often lost in transit.
To find out more about how you can reserve your next elevated ground transportation service, contact Brilliant at 1–800–543–1001.