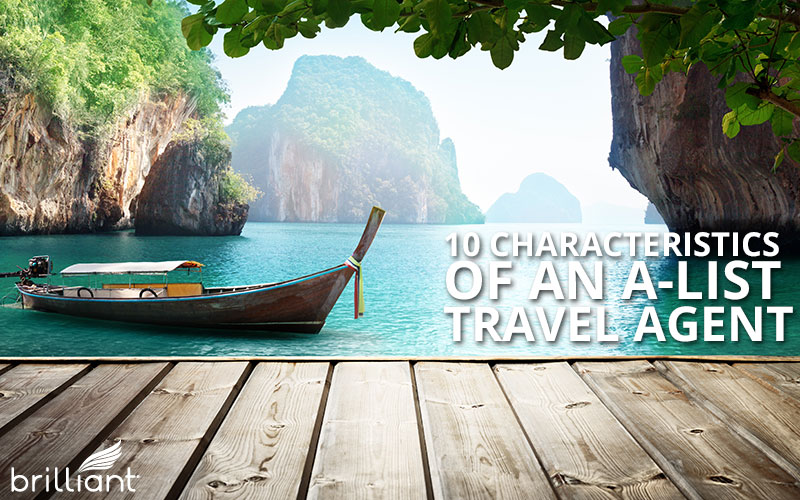 These days, with so much travel information and booking sites available online, it's easy to think there might not be a reason to use a travel agent anymore. And for majority of simple, low cost trips, that might be the case.
But when you need to plan an elaborate itinerary, like a multi-country family vacation, using a travel agent is a good idea! A good travel agent can save luxury travelers thousands on a high ticket trip, because they have access to special rates and discounts that you as the traveling public doesn't have.
Plus if you go with an expert in the region you are traveling to, they may also be able to get you special rates and exclusive access to local properties and events that might normally be out of reach.
10 Characteristics of a 5-Star Travel Agent
1. An Air Travel Genius
The best travel agents have contacts on the inside of major airlines and even private charter companies. If you're booking tickets to hard-to-reach places, or even major tourist destinations, a travel agent will be able to wrangle discounts most website-based services can't match.
2. An Accommodations All-Pro
Just like airfares, there are so many different travel and hotel websites nowadays, you're bound to find a great discount if you look hard enough.
For lower end properties, you usually can do pretty good on your own. But for more luxurious hotels, popular destinations, especially during a peak season, getting discounts on your own could prove impossible.
With an excellent travel agent on your side, you can get the same accommodations for much less. You could even get upgraded, or merit some nice complementary extras thrown in.
3. A Reservation Magician
When an event is sold out to the public, a good travel agent will know who to contact to get seats or reservations that have been set aside for VIPs.
Having the right travel agent on your side can turn your trip into a VIP experience simply by granting you access to things most people wouldn't have a chance to attend.
The best travel agents can usually work this kind of magic, pulling reservations out of the hat for sold out shows, over-booked 5-Star restaurants, and amenities usually reserved for special guests.
4. A Local Know-It-All
If you're taking a cruise or flying to a luxury resort, you'll usually have immediate access to the same attractions and resources all the other guests have.
The difference, however, in a good vacation and an amazing vacation is in the extra excursions. A great travel agent will have an inside track to local attractions and tour guides that can take you places off of the normal tourist map.
The best travel agents have spent years building relationships and learning the secrets of the locals in the best vacation destinations in the world. Having someone who's invested in this type of knowledge is only going to make your vacation that much more exciting.
5. A Destination Specialist
When you're traveling to a new city, or one you don't know very well, a 5-star travel agent will be your best friend. Cities are confusing and tourist attractions are setup to get as much money from tourists as possible.
Simply staying in a hotel or resort a few miles away from popular destinations can save you a lot of money, make transportation easier, and even give you extra privacy.
A great travel agent will not only be able to provide a tailor-made itinerary for you, they'll be able to match your desired vacation exactly.
6. An Emergency Wizard
Sometimes, vacations and travel plans can be absolutely destroyed because of unforeseen circumstances. When weather or mechanical problems ground your aircraft, a travel agent will go to work for you getting you another mode of transportation to get to your destination.
For a traveler having to worry about finding and booking another flight, fighting with vendors for refunds, and all the fun that goes along with it, it's a ruined vacation for sure. Being able to make one phone call to your Travel Emergency Wizard and letting them handle it is comforting and very much worth it.
7. A Logistical Mastermind
One travel agent story I heard about concerned writer who wanted to book a direct flight from Amsterdam to Mt. Kilimanjaro in Tanzania. He did find a direct flight, but it was too expensive for him.
The other alternative involved multiple transfers in different countries and extended layovers. Instead of putting up with all that hassle, he made a call to his super-duper travel agent and she handled it for him, getting him a steep discount to boot.
When there are too many connections and time-checks, a great travel agent will work it all out and give you an itinerary that gets you where you want to go. There's no need to stress about it when you have a 5-Star Agent in your side.
8. A Frequent Flier Super Hero
Here's yet another way an experienced travel agent can help you. Even though frequent flyers can rack up a lot of miles, with all of the restrictions and black outs, they can be hard to use!
Travel agents, because of the access they have to the specialized reservations services, and their relationships with the airlines, have a bag of tricks they you don't have. Some agencies actually specialize in using frequent flyer miles.
They can often upgrade coach fares to business class when the passenger isn't able to upgrade. They can turn your frequent flyer miles into something good, like a first class ticket to Asia, say, when you can't.
9. Is a Contacts Collecting Grand-Master
When you go with a pro, because of their extensive connections and experience, they can often get much better deals and service then you could possible do.
For example, if you're trying to get a hotel room in New York on Super Bowl weekend at the last minute. For most people, that might be the end of the story, but with a super agent they might be able to get the hotel to release a special reserve of rooms for your party.
But even when you don't need them to work a miracle, they can still get great everyday upgrades, usually at no cost to you, like a better room, champagne service, perhaps getting some special attention from the general manager.
10. A Personal Service Champion
Because of their extensive experience over many years, super agents can often do better for you than even the concierge at the hotel you're staying at.
Top hotels want to get business from top agents as they can steer hundreds of valuable clients to a particular hotel or location during the year, so they'll give the agent's clients a better deal then they would their own.
A good example is getting connecting or adjacent rooms at a busy hotel when you have a large group or family. This is often very hard to arrange. But with the right agent and the right circumstance, you may end up getting your wish!
Subscribe to the Travel Agent
Blog Today!