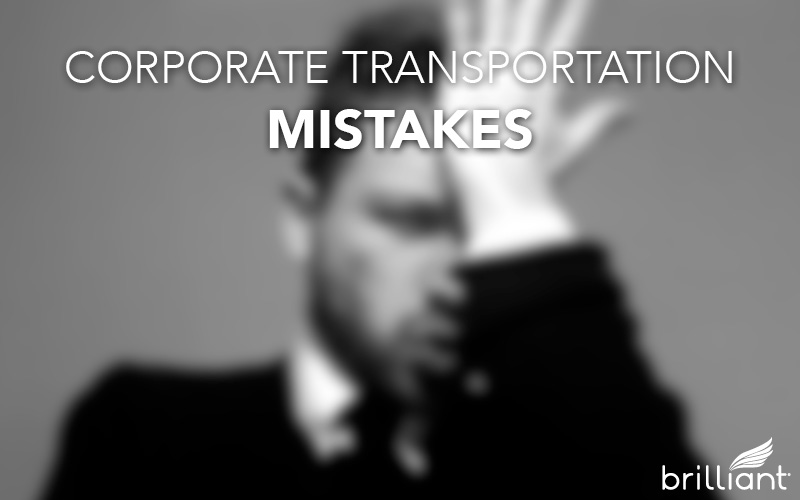 When planning corporate ground transportation, the rule of thumb is to plan everything in advance as best you can you, and to nail down all the details long before the trip has to be run.
That way, you have the least chance to making mistakes and ruining a trip. In this realm, you are often dealing with highly placed executives and they usually have high expectations for services. So corporate travel planners don't have a lot of room for error. They need to find and efficient and thorough transportation provider to fill their needs without causing a lot of worry or concern.
Common Corporate Transportation Mistakes
Most of the time, these types of trips are performed using an outside vendor or contracted partner, since many corporations don't choose to have an in-house transportation department. For many companies, it's not just cost efficient as their transportation needs are simply too diverse or irregularly scheduled. So the corporate travel department truly has to be able to trust the providers they hire, and hope that they will be able to perform the job in excellent fashion.
But for good planners, they know this is not enough. Even if they are not performing the work directly, they want to be able to exert some kind of quality control over their transportation operations. Of course, this makes total sense. So in this blog we'll discuss certain issues you need to look out for and ask your transportation provider about, so that you can be sure the job is being handled correctly.
Here are four transportation mistakes corporate travel planners must avoid:
1. Getting the basic reservation information wrong
This is one of the easiest mistakes to avoid and also costly mistakes to remedy if things don't turn out right. It's always important to confirm and the reconfirm shortly before the trip all of the relevant trip times, dates, locations and routing.
Imagine what would happen if any of these basic details were incorrect! You might have important clients or executives stranded on the side of the road because the customer asked for a pick up on Tuesday and the vendor thought that it was for Thursday! Disaster! And something that is entirely avoidable because even a single phone call reviewing the basic reservation information would have put a stop to this situation.
Another tricky aspect (believe it or not) has to do with getting the pick up time right. A very common mistake in transportation circles is confusing AM and PM reservations. It is always important to make sure you have the right time of day before dispatching your vehicles. A person requesting an airport pick up 12:00 could be in for a rude surprise when they're standing curbside the airport at noon and the limousine company isn't planning on being there until midnight!
2. Poorly Executed Arrivals
By now you're probably getting the idea that the hardest part about providing transportation is getting it right at the start of the trip! If you're in the right place at the right time, generally speaking the rest of trip is downhill from there. It's getting to the job in the first place that often causes the most problems.
And the details include much more than just confirming time, date and place. There are many other things that can wrong too. Even having the correct pick up time in advance is no guarantee that you will arrive on time. You have traffic and weather to consider, every time you garage out, and then there are also road work/construction detours that can interrupt a carefully planned route.
The way to avoid this trouble is for the transportation vendor to check all of the relevant road conditions the day of trip to make sure that no additional adjustments need to be made. Depending on the company, sometimes it is chauffeurs' responsibility to check these things, in other cases it is handled by the dispatch staff. Any known constructions projects or freeway closures that would affect popularly traveled routes need to be discussed by the operations staff.
Even after checking on all of these issues, other problems can arise. If you pick up is at a large event or venue, like a sports stadium or a convention center, there can be many different entrances and exits. A vehicle and driver could be waiting for his passengers at one end of the large convention center when his guests are waiting on the other side a half mile away. In some cases if the chauffeur is driving a large vehicle or mini-coach, there may be no place for him to back up or turn around. He could be forced by one-way streets to take a large detour around the facility, causing the passengers to be delayed and making them uncomfortable about waiting.
So anytime you are arranging a pick up in a situation like this, specific arrival details need to be discussed before the trip and venue maps need to be provided to make sure there is no driver confusion when they arrive at a large and busy venue.
Another example, in the case where you are loading large numbers of passengers into multiple vehicles, there could be client confusion about who board what vehicles and in what order and in what location. All these details should be reviewed prior to the trip. In some cases, where you 40–50 passengers or more, it is helpful to employ the services of an on-site coordinator or greeter to make sure everyone gets to the right place. Sometimes these personnel are provided by the client company, in other cases, the transportation provide might provide the needed assistance.
3. Vehicle problems and issues
Anytime there is a problem or malfunction with a vehicle, this can cause the client real pain during the reservation. Obviously a flat tire or mechanical breakdown could spell the end of a trip. At the very least, passengers will be delayed and last minute transportation may have to be dispatched to site to make sure people aren't stranded. In addition to the inconvenience, fixing these types of mistakes can be very expensive and will completely erase the profit margin for the vendors involved.
Even if the issue is not as drastic as to put a halt to the trip, there could be other breakdowns that can plague a reservation. Imagine taking a bus charter from Las Vegas to Los Angeles in the middle of summer and the air conditioning stops working? These types of problem can happen, and they can turn an otherwise pleasant trip into a real ordeal. Or imagine you have chartered a van with satellite TV for a children's birthday party and the TV doesn't work on the trip? Again, what was supposed to be a great time could end up being miserable for those involved when expectations aren't met.
Another common problem, is a vehicle arriving dirty or not properly cleaned for trip. This can happen when vehicles are booked for back to back trips and there's isn't time to properly prepare for the next trip. Not only is this poor planning on the part of the transportation vendor, the inconvenience is more than just the unpleasantness of a dirty vehicle. If the first trips runs late, the second group of customers could be left waiting because the vehicle couldn't finish up the first trip in time.
Again, the way to avoid this problem is to work with a vendor who is meticulous about cleaning and maintaining their vehicles. Any quality or luxury transportation provider should take these types of issues very seriously. And of course, they need to plan their schedules with their customers in mind, not just their profit margin. Scheduling trips too close together is bound to cause delays and upset customers, when it would have been better to just use a second vehicle.
4. Customer Service Problems
The last set of transportation issues that need to be avoided has to do with providing inadequate customer service. The issues we discussed above have more to do with detail checking and trip preparation and vehicle care. Those are all critical issues. Yet a company could get all of these details right and still blow a job because they didn't provide good customer service during the trip.
For transportation planners, it is important for them to find a company they know can not only do a great job on the fundamentals, but also provide the level of service that is expected by the customer and do so in a manner that really gives the customer something to smile about! Everyone enjoys being provided good service. That's service with a smile, service with genuine concern for the well-being and dignity of your clients. These scenarios are well understood in the hospitality industry and the transportation industry needs to practice good hospitality as well.
Quality transportation providers understand this and hire and train people not just to perform the technical aspects of their job well, but who can make customers feel at ease and provide the crucial human touch that makes the difference between a merely average trip and a great one.
Brilliant Transportation understands all of these issues intimately, and we strive for excellence in all areas. Our clients use again and again because we deliver on our promises of excellence. If you're a corporate travel planner in the New York or Los Angeles area and would like to find a better kind of transportation provider, contact Brilliant for a quote.
We'd be more than happy to show you what an extraordinary travel experience really means! We can be reached at 1–800–543–1001.