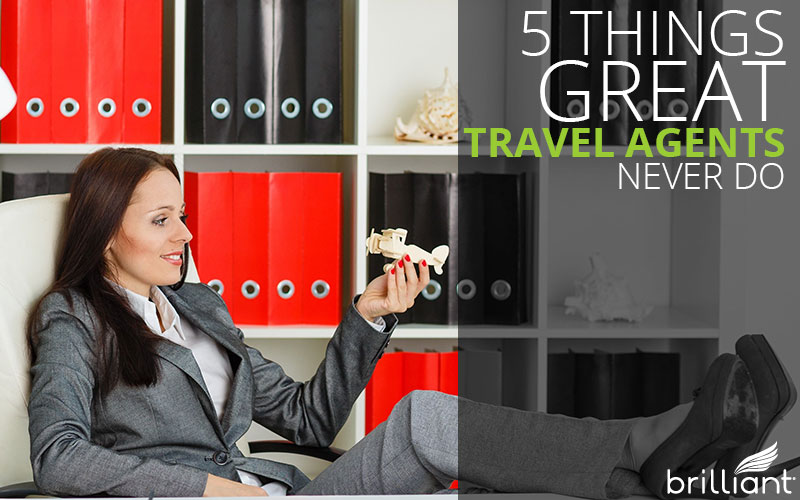 With the proliferation of travel and booking websites, the trend in the travel industry is definitely headed towards self-service and do it yourself. There are pros and cons to this situation.
It does make it easy for people to book their own trips which can be simpler, more convenient and cheaper for simple and basic trips. For more complicated itineraries however, it does leave the more inexperienced or infrequent travelers out in the cold, trying to figure out what's best when there can be hundreds of competing options. This isn't really good, because there are A LOT of ins and outs in the travel business.
For important and complex travel schedules, it is best to have an experienced hand at the wheel, guiding you through the travel maze. Yet the debate persists over the necessity and value of using travel agents.
Perhaps one reason for this is that not every trip requires a travel agent or expert advice, and certainly, some travel agents are better than others. Some add tons of value, whereas others, maybe not so much. On the lower end of scale, you might find dishonest agents who try to push overly expensive or below par trips on unsuspecting travelers. Like any purchase of services, the buyer should use some caution and some common sense. One way around this problem is to go with an agency that comes highly recommended.
5 Things Good Travel Agents Never Do
In situations where you find yourself in a grey area (should I? Shouldn't I?), we here at Brilliant Transportation wanted to give you a few pointers on what you can expect from a quality travel agent and/or agency.
Basically, we're going to discuss a few things that a great travel agent would never do:
1. Push you to book a particular vacation or carrier just because it means a bigger commission or perks for them.
This issue gets to the heart of why some people don't trust travel agents. It's certainly true that is has happened to many travelers before but the real problem is that they simply were not working with the right people. There are some agents out there trying to make a quick buck on whoever comes in the door. You should be wary if agent is pushing a particular service or carrier over your objections or doubts, because they might just be self-serving.
But a quality travel agent will prioritize clients and relationship over a any one particularly high commission. Building relationships is long term thinking, and in the long term it serves both the customer and the agency better. Burning and turning is short term thinking and in the end it will hurt the agency's reputation along with their business. What's best for the client in terms of value received, interest and budget is what drives excellent travel agents. They know long term what satisfies the customer means more business down the road
2. Personally recommend a hotel or cruise ship that they've never been on.
This no-no speaks for itself and it goes to the issue of character and honesty. Sure, there are probably many an agent who has told a little white lie in order to book a trip or win a higher commission, but in the end, that's not serving the customer well. I believe that the vast majority of travel agents and good and honest people and if there's a trip they can't personally vouch for, they will simply say so, or get recommendations from a fellow agent who can.
Many travel agents take familiarization trips to learn about the products they are selling. If their experience closely matches your interest, then it could be a good fit. If not, they can still inform you about possible options without being able to personally vouch for it, but direct experience is always best. There are simply far too many destinations worldwide for one agent or agency to be able to be authoritative on every route, but generally most quality agencies would be able to give you a reasonable idea of what to expect, regardless of where you're going. If you are planning a specialty or exotic trip, it would make sense to start with a list of companies that specialize in those trips, like Amazon rafting adventures or trips to Antarctica.
3. Book a trip or find a price that doesn't add value to your experience.
Some people say that a travel agent won't necessarily find the best price for you and this can be true, but what matters is their reason for doing so and how they communicate that to you. Travel agents help fill many different needs, and sometimes it is to find the lowest price, but what may be more important to many travelers is the kind of value and experience are they receiving as opposed to final price.
Sometimes offering the cheapest trip or room available isn't in the best interest of the client or what they want. Booking a lower cost flight might mean you might have to leave for the airport at 3 in the morning, or not take a direct flight, costing you valuable vacation time as you have to transfer two or 3 times before you reach your destination. Is that how you really want to spend your vacation time, getting up at 3 in the morning to catch that early flight or spending many hours in the airport lounge on a layover so you can save $200 bucks? Obviously for certain travelers, their comfort, experience and time are more important than however many dollars and sense they can save in the end.
Now, travel agents can save you thousands of dollars on big trips and in many cases pay for themselves by offering you discounts not available to the general public. Any good agent would try to save you money and add value to your trip before considering what's in it for them. But if they are offering you a more expensive alternative because it would add value and comfort to your trip, and they are upfront about their reasons for doing that, then they are doing you a favor and saving you lots of hassle in the end. But if you are concerned only about cost, discomfort and inconvenience be damned, then a good travel agent can also help you find that if that's what you want.
4. Tell you that they can save you money every time, regardless of what type of trip it is.
As previously mentioned, travel agent can generally help you save money on the larger trips. For milestone trips, like honeymoons or anniversaries using a travel agent is a good idea, because they can arrange for a better experience overall, and still find you savings in the process.
But if you're booking a cheap motel somewhere or taking a short flight on a popular route, like Chicago to New York, you won't save any money with travel agent when you can easily book that online yourself. Some things are done as just as easily by yourself.
However, you are also excluding yourself from the possible benefits of using a regular agent, like getting a free upgrade to first class, or upgrade to a better room, by using the agent's connections. And for some frequent travelers, even though it could cost them slightly more, they prefer for their agent to make the arrangements because it saves them valuable time and hassle. That's worth something too. And the more frequently you use a travel agent, the more valuable you become to them, the better they get to know your patterns and preferences, and the more preferential deals and treatment they can steer your way.
5. They won't tell you to be flexible on discretionary travel.
When people travel for business, trips are often arranged on short notice and travelers have to be a in certain place at a certain time, so they end up paying the highest rates. For leisure or discretionary travel, people have more time to be flexible, so they can afford to look for bargains. So when you are traveling this way, a good agent should be upfront about the fact that if you can be flexible when and where you fly, you can take advantage of better rates.
If a travel agent is dead set on a particular time or itinerary when there's no need on your part, it could indicate they are trying to force you into a particular route for their benefit. Perhaps booking that trip might win a bonus or some other perk being offered to the agency. Don't fall for that. A good travel advisor is concerned only with your best interest and schedule and your travel agent should feel the same.
Not having these traits is what makes a good travel agent. Be sure you take the time to filter through the noise and find a travel agent that will add value to your trip.