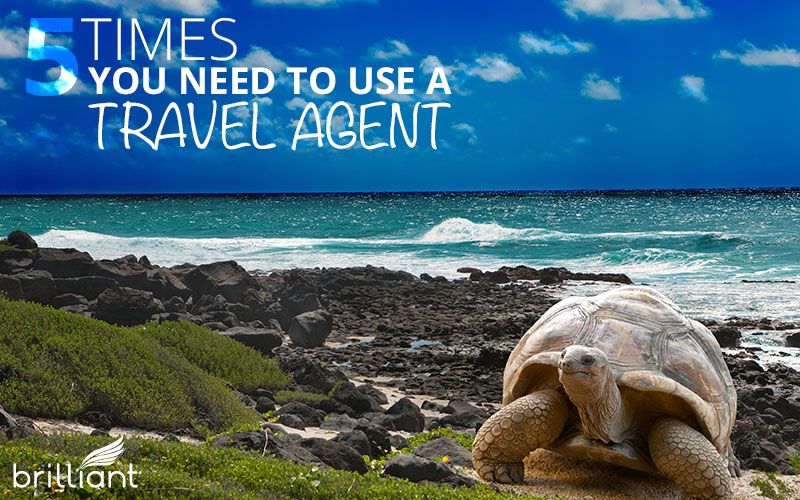 There can be many times when it's useful to use a travel agent. In general, people use travel agents to handle the laborious task of making many reservations, but also to have a better travel experience and to save money.
It may seem counter intuitive, but a good travel agent can save you a lot of money when you travel. Yes, they will have their fee to take care of, but a good travel agent will almost always pay for themselves. You know, the old expression, 'Never pay retail'? Well, that is exactly what a good travel agent can do for you. They'll make sure you never have pay list-price for any type of service you would use, whether it be airfare, hotels, ground transportation, package tours, cruises, and the like.
There are many cases where it is not necessary to use a travel agent, such as for routine or low-cost trips and flights. There are so many good travel websites where consumers can book their own travel, usually at a pretty reasonable rate. However, when you start to move upscale or are looking at more in-depth travel, those are the times you might want to consider using a travel agency.
When You Need a Good Travel Agent

Without further ado, lets go into a bit more detail about those situations where a travel agent may be of benefit.
1. Multi-City or Multi-Day Tours
This is a fairly typical business situation, where you might have an executive, or group of executives traveling the country doing meetings, making sales calls, and they need to go to dozen different stops in different cities. It might be a week-long tour or a multi-week tour.
In scenarios like this, one would have a lot of different reservations to make: plane tickets for different days, hotel rooms, restaurant reservations, ground transportation, perhaps even tickets for other events or entertainment while your team is on the road.
For companies large enough, this would typically be handled by a corporate travel department. But for small to medium sized companies, or startups, they likely don't have their own in-house travel department. They are much more likely to use a travel agency for long trips like this, if only because it would take many man hours in the organization to arrange and confirm all this travel.
Aside from the time/resource issue, such a company would be well served to use an experienced corporate travel agency. They would be able to use their leverage and business contacts to find rates below what the published minimums are. With groups of people traveling over several days or weeks, all of these individual trips would add up to a much larger total, and even small discounts can add up as well and reduce your total overhead.
But importantly, the benefit is compounded over several different areas. It's not just on air travel that your company would save, but also discounted hotel rooms. Perhaps a few extra nights thrown in, discounts on ground transportation and entertainment and all of a sudden this trip is starting to look much more attractive.
2. Around the World Trips
An around-the-world trip would definitely be an occasion where you'd want to have the expertise and resources of a good travel agent or agency on your side. These trips are, by their very nature, complex. It involves, at a minimum, several different airlines or transfers, possible different modes of transport, like airplane, boat, bus or other overland vehicles, dealing with visas and customs, different languages, booking guides, having travel insurance, and many different accommodations.
For the inexperienced or time-pressed traveler, this would be a major headache! In a way, it's similar to the multi-city business trip we discussed above but only much more complicated and with many different layers.
These types of trips are more likely than not to be leisure trips, so the onus is on the traveling customer to find interesting things to do, experiences to have, and shopping excursions. It would likely involve unexpected side trips and detours. A trip like this is just a lot of planning and would require the knowledge of several different specialists to cover all of the continents you'd be visiting.
The experienced travel agent can help you save in all of these areas. They'll be privy to local information regarding transport, accommodations, sightseeing, travel documents and visas and all of those sticky details. More importantly than just the dollar savings, is maximizing your experience and pleasure.
If you were going to visit all of these countries, wouldn't you want an expert, or at least experienced agent pointing you in the right direction in terms of finding just the type of accommodations you're seeking? Whether it's a grand hotel in Venice, Italy, or a luxury yurt on the steppes of Mongolia, they will possess a much broader knowledge of what is available to the clientele and at what price.
3. Honeymoons or Overseas Family Vacations
Here is another scenario where a good travel agent can create a more satisfying trip for your family. Whether it's a honeymoon or long-planned family vacation, these types of travelers have certain expectations and desires and there are whole industries built around serving those needs.
Since many companies cater to these markets, you can find competitive pricing if you know where to look. Companies don't want to give their services away, but they are willing to offer big discounts to certain suppliers who are important to their business.
The experienced travel agent will know where to look and find those great rates and upgrades. If you're taking your family to Tokyo Disneyland and you've never been to Japan before, you need an experienced hand to guide the way for a most pleasant trip.
4. Luxury Cruises
The cruise industry is a huge, multi-billion, worldwide enterprise. Millions of travelers take luxury cruises every year all over the world. It's easy enough for travelers to book these trips on their own, and one can definitely find discounts on their own, but in such a large, standardized industry, it's easy to get lost in the crowd.
Travel agents will be able to offer you volume discounts you couldn't get on your own because they are making thousands of other cruise bookings all year long. They have access to special rates and upgrades that you can't find. And something else to consider, there have been plenty of headlines recent about cruise ship mishaps unfortunately. In cases like these, travel agents can act like your advocate, protecting your interest and your wallet, from unforeseen expenses when things go wrong.
I've even heard of sick passengers being dropped off at foreign hospitals in far off ports of call when serious illness strikes. Once you're off the boat, the cruise line won't assume any responsibility for your plight.
I've heard stories where seriously sick passengers have had to rely on their thankfully caring travel agents to help arrange hospital care, translator services, help with contacting the local consulate and arranging last-minute trips home.
5. Traveling to Exotic Locales
This is another textbook case where having the right travel agent can make a difference. If you're planning a really exotic or adventure-oriented trip, like a journey down to Antarctica, or something else exotic, like a horseback trip through the Andes Mountains you'll definitely want an expert travel professional on your side.
These unusual trips would require some specialized services, ones you probably can't find in the window of any travel website. You will want to consult with an expert to find out how to even plan these kinds of trips and what kind of special services or discounts would be available.