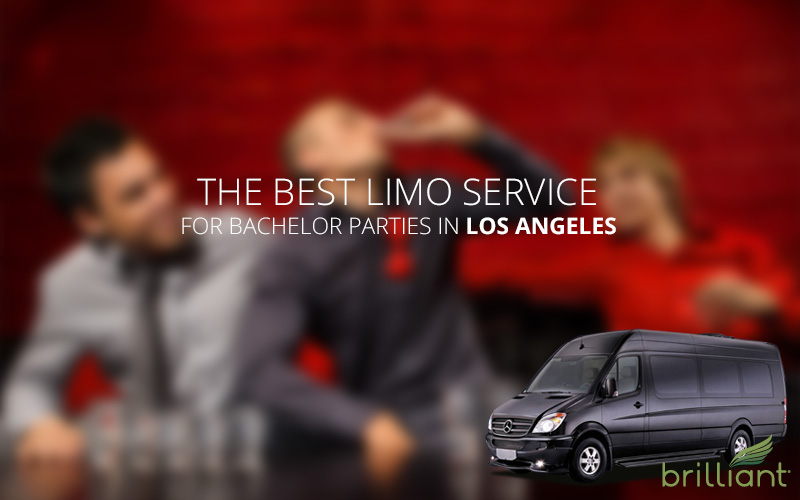 Here's a pop quiz: what is the one aspect of planning a wedding that groom appreciates the most? If you're like most men, that answer is probably not finalizing the guest list and deciding upon floral arrangements, but planning the bachelor party! It's one of those feel good moments around weddings that is tailored just for the guys.
And just as the trend in the weddings in the past decade has been going towards the bigger and more elaborate end of things, so too the bachelor party is growing up. If you're really pulling out the stops for a big and elaborate wedding, then just putting on a humdrum bachelor party won't do either. Wedding planners have so many options now, a bachelor party doesn't just have to be a night out on the town; it can encompass a weekend getaway, to a resort, perhaps a beachside one in Mexico, or a trip to Las Vegas, or maybe checking out Hollywood.
But whatever you decide upon doing, you're also going to want to have transportation to match the theme and caliber of the event itself. After all, a bachelor party is one of those occasions where it is practically expected that you will rent a limo. It's just one of those special times when having luxury transportation can make the difference.
How To Pick The Best Limo Service For Your Bachelor Party in LA
So in terms of planning your event, you're going to want to go with the best service you can afford. I say that because although you can find cheap limo service if you look around hard enough, I don't think it's a good idea to look for a cut-rate service when what you're really shopping for is good customer service. And some of the cheaper limo services out there may not be reliable, or provide you with a quality, well-maintained vehicle. It's better to spend a little bit more than risk being disappointed. But enough about that.
When planning your event, the first consideration to take into account is how many guests will be needing transportation. You need to figure that out before you can decide what type of vehicle to go with. You might be planning an event where all your guests meet at the event location, like a restaurant. In that case, you may only need a ride for yourself and perhaps a couple of your closest friends or family. In that case, just a Town Car might suffice.
Or if you plan on bringing several of your close friends with you to the event, you may need to hire at least an SUV or a passenger van to drop off at the event and then pick up later.
Another alternative could be using the a limo as an integral part of the event, where the party begins as soon as you pick the guests up, and then seamlessly continues once you reach the venue. For this type of arrangement you may want to consider using a stretch limo or perhaps a party bus if your party is big enough. A stretch limo can usually handle 6-12 guests depending upon its size. Party buses are larger and depending on the model can usually handle 14-30 passengers.
Party buses and stretch limos are usually a good fit for the bachelor party as the onboard bar and mood lighting goes along with the party theme. Ditto for the party bus; and some of them even include a dance pole, which gives those dancing girls you hired something to do! Just saying…
A Luxury Van Could Be Best for Your Bachelor Party
For the more serious minded, or perhaps the more mature bachelor, another alternative to the party bus could be the luxury van. Luxury vans are an emerging category in the livery business that provide premium luxury in more of an executive transportation mode. Another advantage of the luxury van is that is a good size that falls between the stretch limo and party bus categories (not too big…not too small).
Brilliant Transportation of Los Angeles has an outstanding fleet of luxury vans based on the Mercedes Benz Sprinter vans. These tall vans offer 6'3" headroom inside well as plenty of elbow room all round and lots of luggage space. At our LA location we have Sprinters that will fit 14 passengers (our minibus) and 7 passengers (the luxury version). The 7 passenger van is outfitted like a corporate jet, with large comfortable, leather covered captains chairs, hardwood floors, 2 large flat screens with DirecTV, a premium sound system, a mini-fridge and wet bar. It has everything you need to impress your friends and cosset them in ultimate luxury, while keeping the party going too!
Alternatives Limo Services for a Los Angeles Bachelor Party
However, as a premium product, it is also premium priced as well. This may not work for everyone's budget, and it that's the case, we still wouldn't want you to go without for your bachelor party, so here are some suggestions for other limo companies in LA that can provide you with good service for your event:
Avalon Transportation
Avalon is large provider of corporate transportation with a base in Culver City and also a worldwide network of affiliates who can book trips for you no matter you plan on landing. Although their vehicles tend to be more corporate than 'party' they can provide you with a very nice stretch limousine, a limo bus or luxury import sedan for your bachelor party.
Wilshire Limousines
Wilshire Limousines is another full service limousine fleet with a good selection different vehicle types, including stretch limos, SUVs, mini-coaches as well as exotic sedans such as Rolls Royce. Another bonus, Wilshire is owned by Midway Car Rental which specializes in high-end and exotic car rentals. So if your dream is to drive a Ferrari to your bachelor party, you could be in luck.
ITS
Based in Los Angeles for many years, ITS also has a good reputation when it comes to service as well as a large selection of stretch limos. One nice feature of this company is that they feature packaged limo sightseeing tours of LA as well as shopping excursion trips. Could be a good excuse for the bachelor or his friends to check out the town if they are visiting from elsewhere.
ULC Limos
ULC is another Los Angeles that is well experienced in the party, event and wedding business. They have a full range of vehicles to meet your needs and a focus on quality customer service. They also have a great rating with BBB and emphasize reasonable and affordable pricing. A good choice if cost is a primary concern, though as they say on their own website, when renting for a special occasion, go for quality, not just the 'best price' as an underwhelming limo service can ruin that special occasion!
The Best Limo Service for Your Bachelor Party
When it comes to your bachelor party plans, getting the best limo service isn't all about the price. Depending on your plans, you may require a higher-end level of service which, of course, comes with a premium price tag.
At Brilliant, we pride ourselves in the highest level of service for our influential list of clients. We're not the best choice if your plans are limited by budget. You can get an estimate for your bachelor party in Los Angeles by getting a quick quote from Brilliant.
If we're not the perfect fit for you at this time, these four companies should be able to match your needs and provide you with the service you desire. Just check with all of them and go with the one you feel comfortable with. Most of all, have fun celebrating the end of bachelorhood!