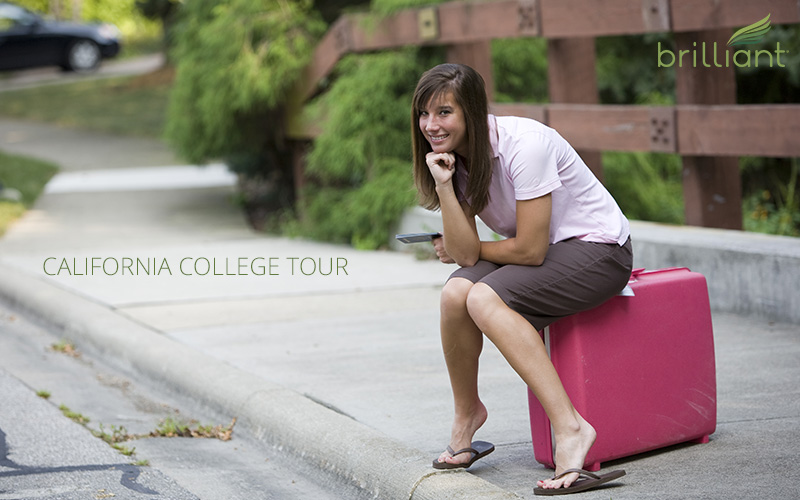 Applying for college is a fun, yet nerve-wracking time in a young person's life, and the same can be said for their parents as well. But there are upsides, and one of those is getting to tour college campuses and getting that first taste of college life, and freedom!
At Brilliant, we have clients come to us all the time on both the east and west coasts, to book multi-day college tours. We're not the only limo company that offers these types of trips, however, there are a lot of companies in California and the Northeast that can make your college tour a luxurious experience.
If you're a student who lives in a major metro area with lots of good schools, places like New York, Boston or Los Angeles, you may not have to look very far to find the school of your choice. But then again, even if you do live in one of those place, you may still be looking to go to school in a different part of the country to experience something new.
And that's where the tradition of doing a college tour comes into play. It can be a complicated proposition if you're looking at schools spread all over the country, but many times students choose to look at different colleges in a similar region, making things a bit easier.
How to Experience the Best College Tour in California
Your adventure begins when you start to plan your tour, because there are many details to take care of when planning an out of town trip. Once you have a list of a couple schools you want to go see, you get in touch with admissions offices to find out about their orientation and tour programs, you need to book flights, find accommodations, ground transportation, etc, etc.
Planning Your College Tour
In terms of trip planning, there are a couple of different options to consider, each with its own level of cost. The simplest and cheapest might be to drive yourself in your own car. This works well if you are staying close to home.
If your trip involves a flight, you can still drive yourself if you plan on renting a car at your destination. If you have multiple campuses to visit which are spread far apart, this can be a practical solution.
Another option is to go with a professional company that specialized in arranging college tours for students. There are many of them out there that offer college tours on both coasts. For a fee, these companies will arrange campus visits at schools of your choice, or as part of a package of schools, including airfare (in some cases), meetings with admissions staff, campus tours, dorm stays or rooms at nearby hotels, meal vouchers and other perks.
Usually ground transportation from the local airport to campus is an extra expense, even though these shuttles are often provided by the college bus fleet. There are many independent companies that arrange tours like these, such as EF College Tours and GoCampusIng.com. Tours can last from 2 days for a single campus to up to a week for multiple campuses.
Typical fees can be anywhere from the $1,000-$4,000 range. These tours can be fun, especially if you like traveling in a group and enjoy meeting new people.
How to Customize Your California College Tour
If you prefer to do your own custom itinerary on your time, or if the schools you're interested in are spread apart, a one-size fits all tour may not be the best option. Most colleges will arrange private or group campus tours for prospective students on a one-on-one basis, so there's no need to go through a commercial tour operator if you don't wish to.
Arranging your own tour gives you the flexibility and control you need, plus you can take extra time to do off-campus sightseeing in a new city or region whenever you want to. For these type of clients, transportation and hotel accommodations would have to be booked on your own, but this gives you the unlimited options that you may be seeking.
For on-campus stays, the admissions office will be your point of contact. In terms of transportation, if you don't wish to drive yourself or it's simply impractical, you can always hire a car service in your destination city to take you around.
Getting a Limo For Your California College Tour
Black car service in LA or the Bay Area will cost you on average anywhere from $50-$80 per hour. Car services can work well for point to point transfers or daily service, but as soon as you get into multi-day service or intercity travel, pricing and scheduling can get a little bit complicated.
For well-to-do clients who are looking for the best experience in a private, luxury tour of college campuses, I recommend hiring a luxury charter service to arrange your daily/weekly transportation while on tour, as well as any transfers to other cities.
At Brilliant, we do these kinds of college tours all the time. Usually, a family or group will book a Brilliant Van for a few days and drive from one college to the next in a circular route, ending back at their starting point.
The best option for a luxury college tour in California will be the Brilliant Van, especially if you have less than 7 passengers total. It has a lot of room, reclining captain seats, WiFi, Satellite TV, an onboard refrigerator, and plenty of other amenities that make the drive time comfortable.
With that being said, just because our clients have used us for college tours doesn't mean we're the best option for your college tour. There are plenty of great limo companies in San Francisco and Los Angeles, like Rose Chauffeur Service that offer the college tour transportation as well.
We realize our premium pricing and custom vans aren't the best fit for each and every client and their college tour plans. We recommend comparing two or three companies to find the one that best meets your unique needs. You can get a quote from us here to compare with quotes from other limo companies so you can make the best choice for your college tour.