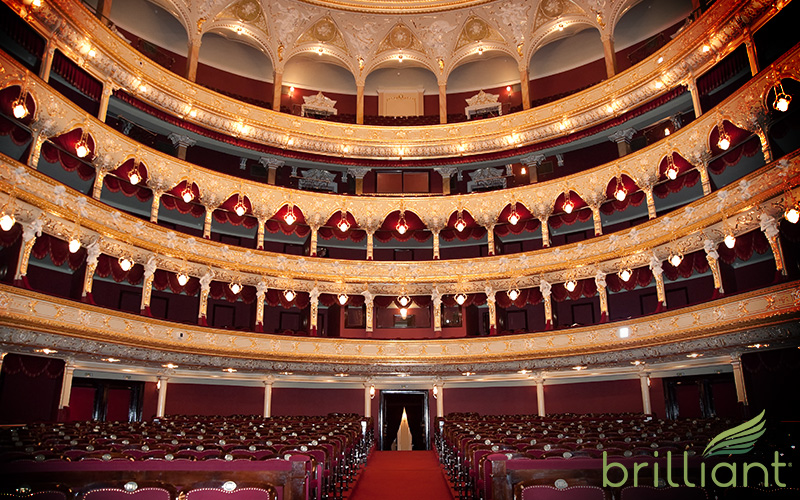 One of the benefits of being in New York City is access to the tremendous artistic and cultural scene there. Among the great institutions there is the Broadway Theater District. New York is still the capital of the country when it comes to live theater. And this Spring will be a really good time to catch a Broadway show as the stars come out to perform on Broadway and producers compete with one another to put on Tony Award worthy productions.
Of course, no blog post on Broadway shows would be complete without mentioning New York's favorite villain, the Phantom of the Opera. If you want to make your date absolutely stunning, leave a single, long-stemmed red rose tied with a black ribbon, with your chauffeur to place inside the cabin while you're in the show!
The Best Way To Get to a Broadway Show in Luxury and Style
So lots of exciting shows are coming up, but Broadway tickets aren't cheap, so when planning a night out at the theater, you might as well go all the way and make it a spectacular evening. Dinner at a fancy restaurant beforehand, or maybe afterwards is a must. For those looking to make the night extra special, you might consider booking chauffeured transportation so you can arrive at the theater in style, feeling like a million bucks.
Of course this might not work for everyone's budget, and if you're spending a lot on show tickets, you may want to save by taking public transportation. Times Square is easily accessible by subway and there's always the option to take a cab from your hotel or restaurant. Many tourists stay at hotels in the Times Square area and for them, the simplest option would be to proceed to the theaters on foot.
Booking Luxury Limo Service to a Broadway Show
For those looking to do their evening up with some fancier options, getting chauffeured transportation is a good place to start. There are a couple of different ways you could do it.
Black Car Chauffeur Service
Using a car service would be your first your entry level choice for a limo service. Most limo companies will offer you a Lincoln Town Car or Cadillac for your basic black car service. Black car service will cost on average $60 per hour in New York City. Many companies will also give you the option to ride in a luxury import like a Mercedes or Audi sedan for a slightly higher price. These vehicles would be appropriate for 3 to 4 passengers at most.
Luxury Group Transportation
For slightly larger parties, the next best option would be to go for an SUV like the Cadillac Escalade. I find this to be a more comfortable and roomy ride than your black sedan and you can fit up to 6 people in the SUV.
If you're interested in going with more of a luxury option and need to accommodate 8-10 people, you could also opt for stretch limousine. This would be a good choice if your night out is more of celebration or special occasion as opposed to just a regular night out.
The stretch limo creates a 'dramatic' impression when it pulls up to the theater entrance. Another perk of using the stretch limo is they usually include a bar, so you can enjoy adult refreshments on the way to the show.
For the a premium experience however, Brilliant would love to chauffeur you to your favorite broadway show in our high-end, customized Mercedes vans. Luxury vans are an emerging category in the limousine business and there are definitely a 'hot' item right now. Luxury vans give you more elbow room and definitely more headroom than your typical limousine.
We're able to offer premium luxury vans with seating for 7-9 passengers and these vehicles will allow you to have a commanding view while sitting in a leather covered captains chair that is electrically adjustable and also has retractable foot rest. There are also stowaway desks that are great for eating or using your laptop. The Brilliant Van has a full complement of entertainment technology including two 32" flat screens with over 150 channels of DirecTV, satellite radio, Playstation and connections for additional audio-visual equipment.
The Best Way to Get to a Broadway Show in NYC
These special vans can be a great way to entertain clients and family while you're on your way to your dinner reservation or Broadway show. And with your chauffeur doing multiple pick ups and drop offs before and after the show are no problem. Taking this route is just another way of transforming an already terrific night out into something truly memorable.
However, we're only one of many chauffeur services that can take you to your restaurant, and Broadway Show in style and luxury. There are countless limo services in New York and many of them offer fine services for their clients.
We would love you to book with us, and if you're interested in getting a custom quote for a Brilliant van, you can do that here. However, we recommend you contact multiple companies and compare their vehicles, pricing, and the level of service they provide. That way you can pick the best company that matches, not only your budget, but the needs of your unique trip.