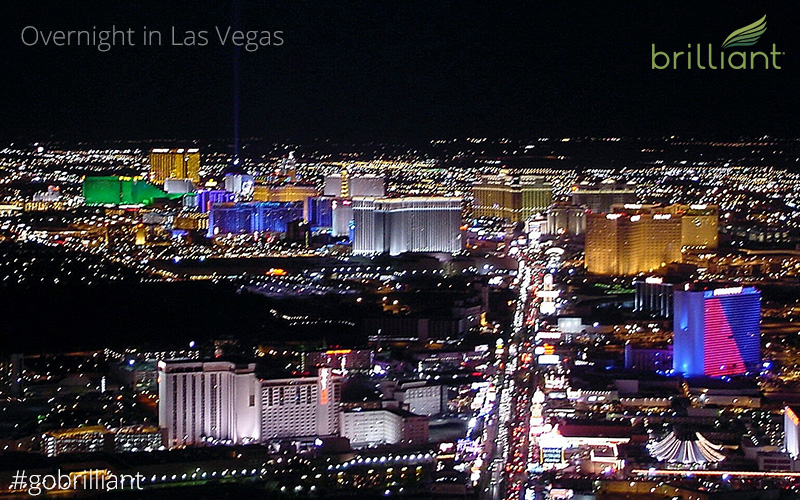 What happens in Vegas, stays in Vegas, right? Well you have to get their first! Everyone knows Las Vegas is a 24 hour town; you can find the casinos just as full of patrons at 3 AM as you might at 3 PM. Some people are in such a hurry to get their party on, that they are wanting to depart to Vegas at whatever time suits them best, even if that departure time is is 1 AM. That way they're able to hit the tables at the eye opening time of 5 AM. Hey, whatever floats your boat, man!
Many times clients have asked us, what's the best limo service to Vegas, and that question has a corollary too, what's the best overnight service to Vegas? Because as we've already established, once you've decided you want to go to Vegas, there are some folks who need to leave right away.
Choosing the Best Overnight Limo to Take to Vegas
First to clear up some issues, there isn't really such a category as an overnight limo service to Vegas. While the major of limousine trips usually stay local, almost all limousine service can and do offer city to city transfers, of which the Vegas route is one of the most popular from Southern California. Thus when a client asks about the best overnight limo service to Vegas, what they're really asking about is, the best limo service to Vegas period.
Not every limo or car service runs a 24 hour dispatch, so if you're calling to reserve a car at 3 AM for immediate pick up, you could be out of luck. However, any charter service will allow you to make an advanced reservation with a pick up for whenever you need a vehicle, and if that pick up time is the middle of the night, then so be it.
If you are leaving for Vegas late at night or in the early hours of the morning, it takes about 4 hours to go from Los Angeles to Las Vegas on the highway. So at that time of night, unless you're a night owl or perhaps just buzzed up and raring to go, you're probably going to be interested in sleeping on the road.
So what would be the best options to a couple hours of shuteye on your way to Vegas? More than the limo service itself, what it's really going to come down to is the vehicle type and whether that ride allows you to stretch out and get comfortable.
Black Car Service Sedans
Let's take a look at some of the different the vehicle types that would be available for limo customer going to Las Vegas. Your first and most basic option would be using a four-door sedan. This is the entry level type of vehicle used by a limo or car service. Typically this vehicle would be a Lincoln Town Car or something similar. An ungraded car service would be using a luxury import, like a Mercedes or Audi sedan. Regardless of the make, a four-door sedan is a four-door sedan and there is only going to be so much room. You'll definitely have to plan on sleeping upright, and whether or not you're a good car sleeper is dependent on your personal history. Personally I might be able to get a few Z's in on the trip over, but this is not going to be your most comfortable option.
Taking SUV Limos to Las Vegas
Your next option would be to pay a bit more and hire a larger vehicle. When it comes to sleeping in vehicles, usually the bigger the better. The vehicle choices for the next size up would be either an SUV or stretch limo. SUVs will usually accommodate 6 to 7 passengers max. And of course, if you're going in a full vehicle, don't count on getting much sleep. It's hard to relax when the vehicle is crammed to capacity.
Going to Las Vegas in a Stretch Limo
A stretch limo is going to be better bet in terms of interior room here. Stretches come in different sizes, but generally will accommodate from 6 to 10 people max. With fewer passengers you'll be able to stretch your legs more. Also, many stretch limos offer a long bench that runs along the inside of the passenger compartment. If I had to sleep in one of those cars, that spot would be my best option. I would let the driver know go to easy in cornering though, because you wouldn't want to roll off the bench while you're fast asleep.
Luxury Van Service to Las Vegas
The next category up is the luxury van. This is going to be your best bet in terms of being able to get some sleep on your way to Vegas. But again, it will depend on the specific interior layout of your vehicle and for that you need to ask your provider for suitable accommodations. That's because there's no real standard vehicle for the luxury van category. Some limo companies may offer an upscale van with bench seating, though to my mind that's not really luxury. A more on target offering would be a luxury van that comes with captains chairs that can recline, and also preferably equipped with footrests.
That's the type of chair you can really relax in and contemplate falling asleep in. Luxury vans are generally priced a little higher than SUV service is is comparable to a really nice stretch limo, perhaps more. The price point here is around $100 per hour. That could be high for some consumers, particularly if you're just traveling by yourself or one other person. But if you're aim is to relax fully and get some sleep before hitting the gaming tables, then this option could certainly be worth the money.
Brilliant Transportation provides charter service from Los Angeles to Las Vegas anytime of day or night and with their fleet of superlative Mercedes Benz Sprinter Vans, it is an extremely comfortable option of getting to Vegas, regardless of the time. Our seven passenger Mercedes van is outfitted like a corporate jet, with large, leather covered captain's chairs that both recline and come with an extending footrest.
There are four chairs that face each other, and then in the back is a three seat bench that folds down flat, making for a good sleeping platform. We can also provide pillows and fuzzy blankets for your trip, so out of the vehicle types mentioned in this article, this van would unquestionably be your most comfortable option in terms of an overnight trip.
Naturally we feel that Brilliant Transportation provides the best overall service and comfort not just in terms of a Vegas transfer, but to anywhere. However, as we are priced at the upper end of the premium segment, we understand that our service is not the right fit for every customer.
To that end, I wanted to provide a few other suggestions of limousine companies that can provide service to Las Vegas. Just keep in mind that one one else that I know of offers the luxury 7 seat Sprinter Van with the captains chairs AND the reclining bench.
You can get a quote from us here. If you would like to compare our vehicles and service with other companies, and we think you should, here are some really good limo services that can take you on an overnight trip to Las Vegas:
Avalon Transportation
Wilshire Limousine
ITS
Empire CLS