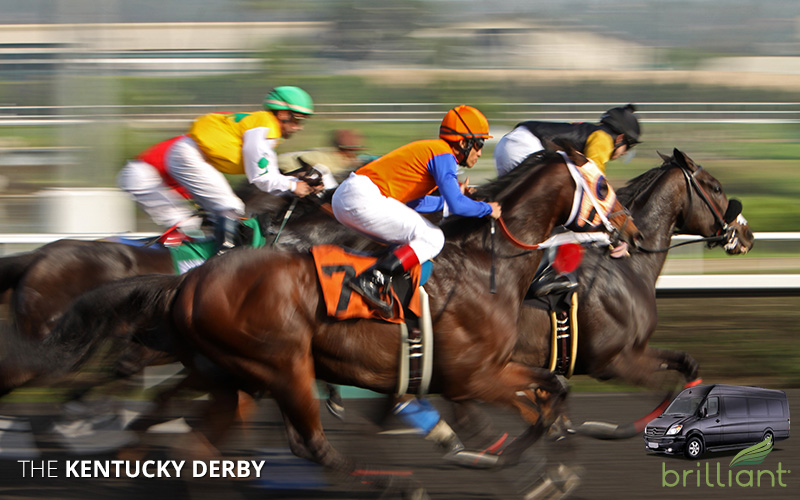 The Kentucky Derby, always held on the first Saturday of every May, is one of the most legendary and tradition rich sporting events in the U.S. It is affectionately known as the most exciting two minutes in sports due to its exciting finishes. It always seems to come down to the wire!
The Derby can also be a wonderful introduction to Southern culture and the fine art of horse racing as the event is the culmination a two week long festival in Louisville. Derby weekend is always a frenzy of parties, BBQs, fancy balls, fine dining and of course, good ole Kentucky Bourbon.
The Best Way to Travel to the Kentucky Derby
The day of the event, at the prestigious and historic Churchill Downs, you will find yourself among a sea of gentlemen and Southern belles, dressed in wonderful gowns and big hats. Also you're sure to notice plenty of celebrities and sport figures in attendance as this is a noteworthy national event. It's the type of event that all true sporting fans should experience once in their lives.
Limousine Service in Louisville, KY
Being in the transportation business, we have been asked before about the best way to get to the Kentucky Derby. There are many ways you could go about this, but this high-end event would certainly lend itself to using a good limousine service.
One could arrive at the event with their party in tow in all of their finery, and enjoy all of the hobnobbing and free flowing champagne and bourbon without a care in the world. Your faithful chauffeur will make sure you get picked up and brought back home without a scratch, unless you're heading to the after-party! Of course, if you made a losing wager, well no limo service can help you with that, but at least they'll ensure you had a good time along the way!
Getting from NYC to the Kentucky Derby
Even though we're located in New York City, believe it or not, Brilliant Transportation is willing to drive you from New York to Louisville for the big event, if you're so inclined to deal with the time and expense of a long limousine ride. Just keep in mind that it is an 11 hour drive each way, so you're looking at a 2 day trip at a minimum. Not everyone is fan of flying.
We have driven clients from New York City as far west as Chicago. And for a very long road trip like this one, there's not a more perfect vehicle than a custom luxury Mercedes Sprinter to keep you comfortable and relaxed.
Just keep in mind that the Derby is literally the biggest event of the year in Louisville, and if you haven't booked several weeks in advance, and are expecting a last minute miracle, then few will be able to help you. If you're intrested in our service you can get a quote from us here.
Finding the Best Kentucky Derby Transportation
A couple things to keep in mind when hiring a limousine for your special occasion: the number of passengers needing a ride and your budget. The number of people in your party will determine what type of vehicle is best suited for your needs. Cost could also be an issue in terms of what you want to do, but if you have tickets to the Derby in first place, this may not be a huge deal.
For just a couple of individuals, there's no urgency to go big, you could probably do just fine hiring a Town Car or perhaps a luxury import like a Mercedes sedan to arrive in style. For slightly larger groups, of 6-10 individuals, then a SUV like the Cadillac Escalade or a small stretch limo would be a good choice in this category.
Super stretch limos are also very popular at the Derby and they certainly provide the requisite style you may seek, plus they usually come with mini-bar! SUV stretch limos can also be good for the committed party-goers.This class of vehicles, depending upon the model can seat up to 18 usually.
For slightly larger groups, 10-20, the next size up in limo transportation would be a 14 passenger van or a mini-coach. Mini-coach are good for handling groups from 20-40 passengers. These are good when your goal is just transportation, not necessarily a party on wheels.
Anything bigger than that group you would need either multiple vans/buses or a full sized coach which will handle up to 60 passengers.
In terms of the passenger vans, Ford passenger vans are very common and good enough for the job, but if you're looking for a higher level of comfort and style, the Mercedes Sprinter makes an excellent 14-passenger van. This is probably the most common type of Sprinter in livery fleets as it is a standard, factory vehicle.
Taking a Luxury Van to the Derby
For the high-end customer, another category worth considering is the luxury van. This type of vehicle is proving more and more popular with limo companies. There is no such thing as a standard luxury van; each one is a custom conversion and many different aftermarket companies build these, so styles and equipment will vary widely. Ask a local provider for specific details for the vehicle in question.
Once again, in this category, however, the Mercedes Sprinter is setting the gold standard. Seating arrangements will vary too, they may be executive style with individual bucket seats, or perhaps party-bus style with a long, curving bench.
Local Limo Companies in Louisville, KY
Odds are you will choose to go with a local limo provider as Brilliant Transportation is located so far way. No hurt feelings though, we understand! As a provider of outstanding customer service, we want your trip to be great, no matter where you are. So with that in mind, here are a few local limo companies that can help you for the Derby festivities:
R&R Provides Sprinters, Hummer Limos, Lincoln stretches and sedans.
They provide very nice sedans, stretch limos and super stretches, SUVs and SUV limos, Hummers and Fords.
Aztec has a nice selection of luxury sedans and stretch limos, also good for exotic vehicle collection, Porsche Cayenne Limo, Bentley Silver Cloud and unusual color limos (silver and pink!)
If you're traveling in a group, Miller will be your go to company, specializing in transportation for large groups with a fleet of large motor coaches.