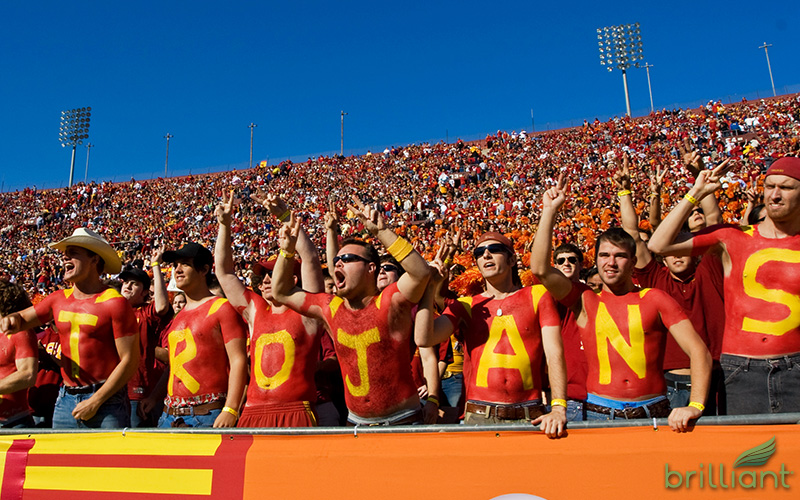 Going to see the Trojans 'fight on' at the LA Memorial Coliseum is time honored tradition for 'SC alums and Angelinos alike. In fact, the Trojans have played at the LA Coliseum ever since it was first built in 1923. The Trojans played the first ever varsity football game there on October 6, 1923. There is plenty of rich sports history to celebrate when attending a game there. The 1932 and 1984 Olympics Games were held there, and the Coliseum also hosted the 1959 World Series.
The 'Grand Old Lady' is a historic landmark and still to this day is one of the largest stadiums in the U.S. It is conveniently located close to the 110 and 10 freeways and being close to Downtown LA, is also centrally located for sports fan traveling from the Westside or coming from points east like the San Gabriel Valley.
What is the best way to get to a USC Trojans Game?
Being in the transportation business, many times clients have asked us about the best way to get to a USC football game. This being Los Angeles, the answer for most local residents is to drive themselves.
That may not be everyone's cup of tea, particularly on special occasions when fans may wish to enjoy a bit more luxury or convenience. It all depends on what you're looking to do and how much you're willing to spend to go see you favorite team play.
Three Ways to Get to a USC Trojans Game
Drive Yourself
Even for residents of Los Angeles, this isn't always the best option. Parking and traffic are a nightmare if you're looking for a quick entrance and exit. Unless you're the kind that likes to get to the stadium early and leave late, this is probably not the best option for you.
Public Transportation
To take a quick look at the public transportation angle, for those visitors who assume that public transportation is non-existent in L.A., well they're just wrong. Los Angeles has one of the most extensive public bus network in the country.
There are several bus line that converge on the Coliseum in Exposition Park and if you live only 5 to 7 miles away from the stadium, this can be a surprisingly convenient option, taking you 30 minutes or less to get there and costing you only $1.50 for a one-way trip.
Transit happy Angelinos can also be proud of their new light rail line, the Expo Line by Metro Rail which goes right by the stadium. The Expo line runs from downtown to Culver City and only takes 20 minutes to run the entire route. The county is also currently building out the rail line to serve Santa Monica and the extension could be complete by 2016.
But to be realistic, most fans are going to arrive by car and if you don't want to drive and carpooling is not an option, then your choices boil down to taking a cab or going with a car service.
Using a Chauffeur Service in Los Angeles
Cab service is okay, it's kind of pedestrian though. Service can be variable and hailing/calling for a cab can be a pain in the butt! When you're already spending for a cab, I'd rather spend a little bit more and get more more luxury and service by ordering a black car service. Riding in a Lincoln Town Car is just much more comfortable and executive like than taking a cab.
Also if you're accustomed to the finer things in life, or just would like to make it special occasion, I'd go one step further than the Town Car and go with full on limo service. Many limousine services can offer you both a black sedan ride as well as something fancier, like a luxury European sedan or a stretch limo.
Some companies can provide you with Mercedes or Audi sedan and it's really much more stylish than arriving in a Town Car. And for the ballers out there, nothing says you've arrived like a getting out of a stretch limo! A good way to impress a date as well.
Going to a USC Game in Style
If you're out to impress and feel good about yourself, you have other options as well. You can order an SUV or go with a luxury van. Luxury vans are a recent addition to many limo companies' fleets and for a small group and that luxury feel, I think it is the best way to travel. Luxury vans are much taller than your stretch limo, no more crouching down and bending over to get in and out of the vehicle!
At Brilliant, our most popular vehicle is a customized Mercedes Sprinter van. These tall vans (with the high roof version) offer an impressive 6'3" clearance inside! That's enough to make an NBA player comfortable. They offer tons of elbow room and lots of luggage space if you need that as well. For small groups of 6-12 people this is an ideal option. Mercedes also makes a 14 passenger minibus model that is very popular with livery fleets.
For a premium experience, we recommend the luxury van option. These custom converted vans vary greatly in style and options depending on which company's van you are using, but they often include luxurious materials like wood and leather and tons of entertainment equipment options like satellite TV and WiFi.
Choosing the Best Option For Your USC Game Day Transportation
In our opinion, riding in one of these premium vans is like taking a mini-vacation. You can travel to your next Trojan game with your friends and family in comfort and style and feel like a movie star for day! If you're coming from LAX straight to the stadium, a cab or Black Car service may serve you well.
We have to be honest and say our limo service is not the perfect solution for everyone looking to get to the stadium to see the USC Trojans play. If you're interested in getting a quote from us you can get one here.
For a lot of people looking for inexpensive chauffeur service to and from the stadium in Los Angeles, we're simply not a good solution because of our premium pricing. So if your transportation budget is limited, you may find another limo service that fits your needs the best.