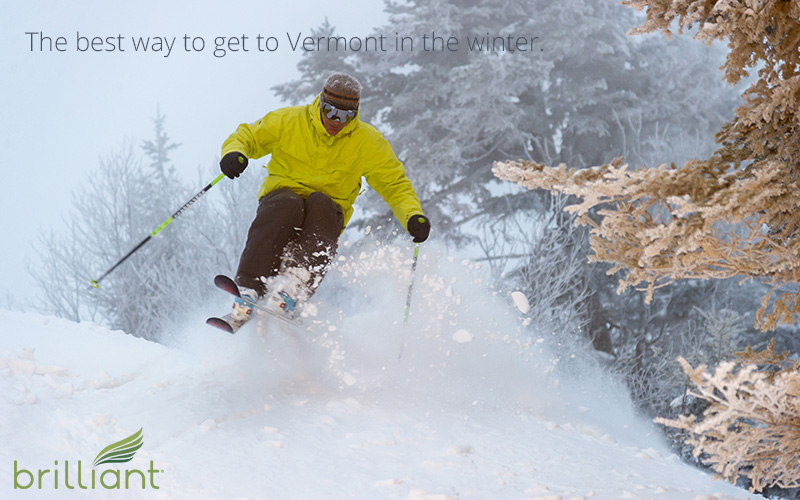 Any talk of enjoying a mild winter this year on the East Coast certainly went out the window as soon as the Polar Vortex hit, and people all along the Eastern seaboard, not just the traditionally chilly Northeast, are dealing with unseasonable cold and lots of the fluffy white stuff. While this may be a real pain for your daily commuter, for winter sports enthusiasts it's a different story.
No, for winter sports enthusiasts, there's definitely a silver lining to this cloud. Lots of opportunities to hit the slopes and work on your slalom skills. Vermont has traditionally been a very popular destinations for the skiers and snowboarders out there, being only a couple hours drive from either New York or Boston. Many of our clients continue to ask us on the best way to get to Vermont during winter.
At Brilliant, we have many regular clients who go to Vermont frequently during this time of year; some of our clients even maintain weekend homes up in the Green Mountains and we are proud to them with a safe, comfortable and expedient way to get up there and back from New York City.
Yet we would never claim to be only option, or even the best, as that is such a subjective term. If we're not the best fit for your trip to Vermont, let's consider some of the alternatives.
The Best Way to Travel to Vermont in the Winter
When considering transportation options, the choice usually begins with driving yourself and talking some other, public form of transportation, so let's start there. You certainly could drive yourself to Vermont from New York City in the wintertime.
Rent a Car and Drive Yourself to Vermont
Whether you own your own vehicle is irrelevant, as many New Yorkers forgo driving their own car, because there are always car rentals. This is the simplest option in terms of doing it yourself. It might cost you around $90 in gas round trip going from NYC to Burlington. You're in total control of your schedule with this option. However, some people simply don't want to drive for whatever reason. Maybe they're going on vacation and they want someone else to handle the task while they relax. Or perhaps you're nervous about handling the winter road conditions, or maybe you are traveling with a group and you can't fit everyone in your car. Fair enough, so let's look at public transportation options.
Flying to Vermont in the Winter
Flying is not a bad option when it comes to public transportation. From New York, most flight schedules go to Burlington and a plane seat could cost you anywhere from $200-$400 on most major airlines.
Flying can be quick and enjoyable, but for the tourist going to Vermont, it's not a complete solution because you still have to arrange ground transportation, to and from the airport in New York and on the other end as well, especially if you're transferring from Burlington to one of the ski resorts, like Stowe.
That's not a bad option though, as Stowe Mountain is only a 45 minute drive from the Burlington airport. Still, the hassle of transferring and dealing with baggage transfers and all that can be considerable, even more so if you're traveling in a group.
Public Transportation to Vermont
Further public options would be to consider taking the bus or train. Amtrak provides service from New York City to stations in Bellows Falls and Brattleboro. You can also take Amtrak from Albany, NY to Rutland, with connecting motor coach service to Killington and Okemo in the Green Mountains. Although not the quickest route, personally I enjoy taking the train, there's certainly more elbow room than a plane or bus, but again, you usually can't complete your journey without a secondary transfer to a bus or shuttle to get exactly where you want to be.
There is also bus service from New York City to several cities in Vermont on Greyhound or Megabus. Inside Vermont you can find connecting service to many more locations through Premier Coach and Yankee Trails bus companies. A good resource for public transportation options in Vermont is the Go! Vermont website run by the state's department of transportation. Check out their website for further details. 

Limo Service to Vermont in the Winter
Your remaining choice is go upmarket and order yourself a private car service or limousine ride. This may cost more than going the public transportation route, but consider the benefits: door to door service, leave when you want to, a private and stress free trip without having to deal with the public; there are many advantages. It is the usually the first choice that our well-to-do clients make, but also it can be a good choice for traveling families who want the full vacation experience, or are celebrating a special occasion, or perhaps needing a private group charter.
Once you're leaning towards this option, the next choice is to decide what type of vehicle would work for your plans. For one or two individuals, a black sedan would fit you very comfortably. If you're carrying your skis with you, or have a slightly larger group, consider hiring an chauffeured SUV, or if you're really in a party mood, you could make the trip in a stretch limo too!
For those individuals looking for the ultimate in comfort, convenience and style, let me suggest hiring a chauffeured luxury van. This give you more space than either an SUV or stretch limo. Luxury vans also usually offer the most comfortable seating and the most extensive menu of entertainment technology to keep you occupied during the four or more hours it will take you to travel from the NYC area to the ski slopes of Vermont.
Brilliant Transportation offers a wonderful luxury service that will fit the bill nicely in this situation. Our Sprinter fleet comes in 3 variants, the 14 passenger van, as well as 9 and 7 passenger luxury vans. The 7 passenger might be your best option for the ski trip in the luxury van because it also has the more luggage space than the 9 passenger. It also has 4 large and comfortable captains chairs that you can recline in, and also an extra back bench that hold more guests, or fold down into bed. You can also reckon with over 150 channels of satellite TV on two large flat screens, stowaway desks and a wet bar.
We're very proud of the service we provide, especially for our long-distance clients. Going to Vermont with us is sure to be an amazing experience. But, as I said before, we're not always the best option for every client. It's up to you as the traveler to pick the mode of transportation and the limo service that best fits your needs, budget, and time-schedule.
If you're interested in going to Vermont with Brilliant, you can get a quote here.