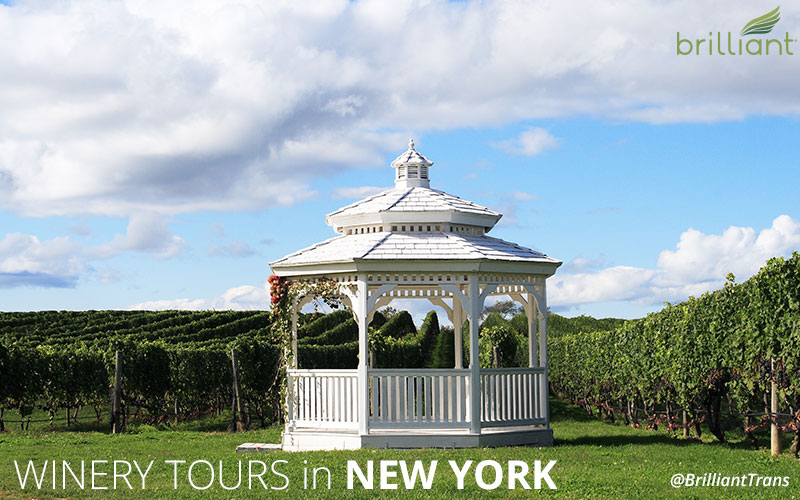 The wine industry has made such huge progress in the last 25 years in North America, going from an afterthought to a nothing less than a world-class industry. And I'm not just referring to California, although they lead they the way. We've previously written about the best way to tour wine country in Southern California.
But vineyards and winemakers are now appearing all over the place, even in cold weather climates where you wouldn't necessarily expect it, diverse places like Oregon, Virginia, even New York!
New York, you say? Many visitors to the Empire State don't even realize that there is a thriving wine scene on the eastern end of Long Island. Many decades ago, what used to be potato farms and the like are now home to lovely vineyards, wine cellars and a robust culinary scene.
In fact, the North Fork of Long Island alone boast more than 40 established wineries. And all of this is only a two hour drive from the heart of New York City.
Although most new wines aren't introduced until the fall, visitors really can enjoy the wine scene on Long Island at any time of the year. Many of the best wineries have tasting rooms and are open year-round.
Even in the dead of winter, you can look forward to the Long Island Winterfest. Each year's Winterfest is a great music festival featuring live jazz and blues performances in some of the area's best tasting rooms, hotels and other venues.
Being in the transportation business, many of our customers have asked us, 'what is the best way to tour wine country in New York?' It's a question we're happy to answer, although getting the best answer really depends on knowing your preferences and what level of service you would like to enjoy while taking a wine tour.
The Best Way to Take a Winery Tour in NY
The first option which is always available, is a DIY tour. If you have a free day, or weekend, you can always rent a car in the City and head out to Long Island and meander your way around, serendipitously discovering new delights in the food and drink category.
Used to catering to a high-end crowd in summertime, the Hamptons has no shortage of excellent restaurants, hotels and other cultural attractions to enjoy. This plan of action is best suited to the independent traveler or for the budget-conscious; those who don't mind striking out on their own.
If you're more interested in getting expert advice, you always have the option of taking a guided tour. There are many tour guide companies that do specialty tours of the Hamptons, including winery visits and they give you the advantage of a pre-programmed tour when you can enjoy the knowledge imparted by tour guides who have spent years learning the ins and outs of the local offerings. Many of these guided tours can even pick you up at your hotel in Manhattan, although these tours are generally more available during the summer months.
Tour New York Wineries in a Private Limo
If you're interested in a bit more luxury or privacy for your tour, then I would recommend booking a limousine tour of the wine country. Many travelers don't realize that limousine companies aren't just for airport pick ups or proms, but you can use the comfort of a limousine to enjoy sightseeing trips as well.
Some companies even have special rates for sightseeing tours, but you can also hire any limousine company on an hourly basis to take you wherever you would like to go. The advantage here is privacy of course, but also convenience because the trip runs off of your schedule and your interest.
Once you decide to go this route, the next decision you'll face is what type of vehicle would suit your trip the best. Limousine companies often offer a wide range of vehicles and which one to choose usually comes down to the number of people you want to take and how much luxury you need.
If you're traveling with a group of 10 or more people, you might want to consider choosing a passenger van or luxury minibus for your trip. For those in need of large group travel arrangements (40 + passengers) you should arrange to have full sized motor coach transport your group. Many limo companies also run bus fleets as well, so look for a provider who has both.
For a more typical small group of 6 or fewer passengers, you have the most options available to you in terms of vehicle choice. For 2-3 passengers, you could go in Lincoln Town Car, or a Mercedes luxury sedan. Three to six passengers would be more suited to hiring an SUV like a Cadillac Escalade or even a stretch limo. Going in a stretch is always a fun way to go, there's plenty of style and comfort and legroom to boot! I wouldn't recommend hitting the onboard bar before wine tasting though. That might be a little excessive!
Brilliant's Wine Tours
For the customer who is seeking the ultimate in luxury and comfort, might I suggest a final option for your wine tour: using a Brilliant Van from Brilliant Transportation. The Brilliant Van is our 7 passenger luxury Mercedes Benz Sprinter van. The closest analogy to using this van I can find is like traveling in your own private jet.
Seven passengers can journey in the utmost comfort, luxury and privacy. You have four captains chairs as well as a back bench that makes down into a bed in the passenger cabin. Leather and wood materials and accents are used throughout the cabin. There is also two large flat screens hooked up to over 180 channels of DirecTV or a DVD of your choice. A premium sound system, wet bar and minifridge, and WiFi come standard. You can rent the van by the hour or keep it for the weekend if you please. There is no more exclusive way to travel.
Being the most exclusive way to travel, the Brilliant Van also has prices to match. So it's not a service that is suitable for every budget, but rather those who are looking for the best. For those looking for a more affordable price range, we can also offer service in our SUVs, or you can always select another provider as well.
Other Options in New York and Long Island
There are dozens of great limousine services, based both in New York and Long Island that would be happy to make the trip for you. For those who would like to explore other options, I can provide a few recommendations for you as well: Partners Executive Transportation, Executive Town Car & Limo and Bermuda Limousine are all NYC based companies that would do a fine job providing you with limousine service for your wine excursion. TCI and Carey are also large national limousine companies that would also provide good service.
So, there are many options to choose from. If you're really leaning towards experiencing the Hamptons in your own luxury Sprinter van, we'd be happy to put a quote together for you or you can give us a call at 1-800-543-1001.