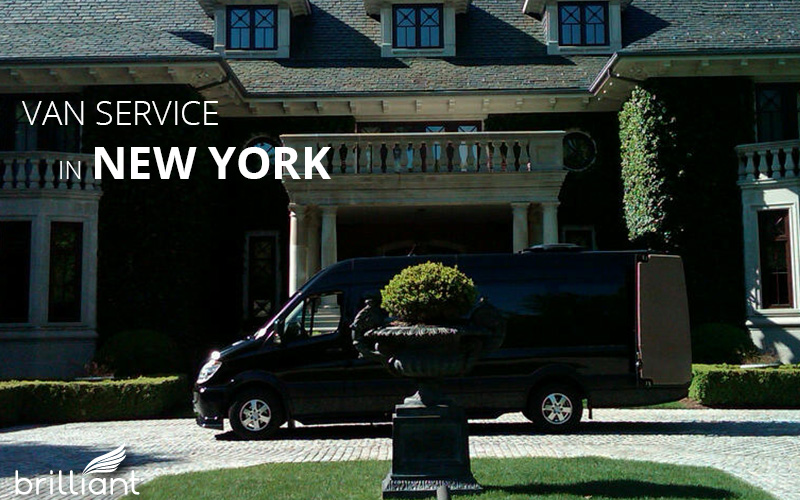 Black car service is a popular option for getting around town both for busy travelers and business executives in New York City. It's great and comfortable way to be able to have your own private vehicle and driver and be able to take care of several appointments in day, or perhaps just get ride home as well.
To those accustomed to chauffeured transportation, the black car service is by no means the final word in car service. For whatever your travel needs are, using a Sprinter van limo service can do all the same things a Town Car can do but offer you more as well: more room, more passengers, more cargo and more luxury.
Black Car Service or Limo Van Service: Which is Better for You?
One of the main limitations of the Town Car or any black car service is the size: these four door sedans will only hold 3 passengers, plus the driver and roughly 2 suitcases per person. If you need something beyond that and you have you definitely need to switch to a larger vehicle.
So for small groups of anywhere from 4 to 14 passengers in size, the Sprinter vans can be a terrific alternative. There are some limitations however. The Sprinters are a fairly large sized passenger van. They will fit in a standard size parking space (with a little bit of overhang) but the tall ones are too large for many covered parking garages, even at the airport. So if you need to get into some tight spaces or parking is going to be limited, especially if you have to parallel park it on a crowded city street, it might be more difficult to maneuver with this vehicle. Although this would be the case with many other larger vans as well.
Unlike Fords or Chevy vans, the Mercedes Sprinter come with an available tall roof. This makes them extremely roomy and comfortable inside (you can stand up!), but also limits the places where you can park them. Mercedes does offer a version of the Sprinter with a flat roof (this is standard version) but not too many of those are in use by livery companies since the tall roof version is so popular with customers. Plus when you consider that we're talking about a chauffeured vehicle, parking problem become much less urgent because you have a driver who can double park, or go find a parking lot around the corner while you attend your business.
Different Sprinter Van Versions in New York
When considering Sprinter limo service, there are also two basic 'flavors' or version that you could choose between as well. There is the standard 14 seat passenger van (also known as the minibus version) and then there is a luxury van version as well. Now the luxury van version is not a standard factory vehicle.
There is no factory Sprinter that comes with an interior like a Mercedes sedan because in Europe the Sprinters are used primarily as work vehicles and minibuses. So in North America, the luxury Sprinter are all custom converted vehicles. Sprinters are an endlessly flexible platform for customization of passenger and commercial vehicles. There is even a Mercedes factory RV version available in Europe!
For the limousine client, why this lack of factory option matters is because since the luxury vans are custom conversion, each limousine company could have a different version. It is very unusual to find two Sprinter luxury vans that are alike, unless they're made by the same builder. There is no standard Sprinter passenger van, other than the 14 passenger minibus.
So if your luxury transportation needs are quite specific and demanding, before you reserve one, you should inquire with your limousine company about vehicle specifics, like vehicle color (interior/exterior - black on black is very common in the limo business), seating configuration, optional equipment and specialty features like TVs/video screens, satellite TV, in-vehicle bars, etc.
Premium Luxury: Customized Luxury Sprinters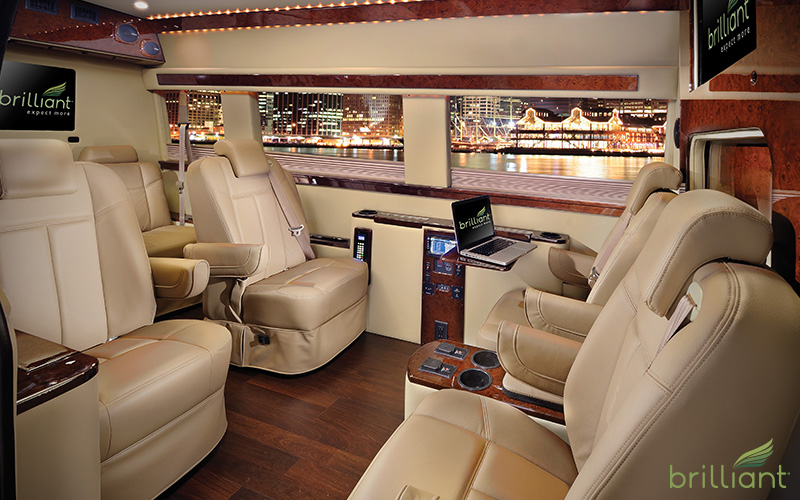 Brilliant Transportation specializes in Sprinter limo vans. We have a large all-Sprinter fleet on both coasts, both in New York and Los Angeles. We carry both the 14 passenger Sprinter minibus as well as our own custom converted luxury vans.
Without being boastful, I'd have to admit that our luxury Sprinter vans are simply outstanding, quite simply the best in the industry. Our luxury vans have a gleaming black exterior and a lovely, cream/beige interior that is extremely popular with business VIPs and celebrities. They love the fact that the interior of our vans look like the interior of a high-end private jet, which many of our clients also use frequently.
Our luxury Sprinters come in 7 and 9 passenger variations. The 9 passenger has two rows of leather captains chairs going fore to aft. This 9 seat version has minimal luggage space however, so it is not recommend for airport transfer or people going to the cruise terminal.
Our 7 passenger is more flexible, with a large luggage compartment (tall enough to stand in!) as well as long and short wheelbase version. The cabin space inside is the same, the long version has a bigger trunk and is ideal for travelers who bring plenty of luggage or tall items like skis, surfboard, golf clubs and the like. The 7 passenger also comes with 4 facing captains chairs (great for face to face interactions) plus a comfortable back bench that can lie flat like a bed.
Our luxury Sprinter are also optimized for the business traveler. In addition to all of the wonderful entertainment equipment that comes standard: WiFi; DirecTV satellite TV with 185 channels; Sirius satellite radio; DVD player; Sony Playstation; a teleconferencing phone; each seat is also set up like a mini-workstation. Each passenger has a foldaway desk, reading light and outlets for their laptop or iPad. It is simply a great space for getting work done while you are on the road, or just merely for entertaining guests.
Which Is Best Choice? You Decide!
Let's see any Town Car match that! Of course, there is no comparison, the Brilliant Sprinter van is hugely superior in so many ways. Naturally that makes it much more expensive as well. So your choice is this: go for small, basic, inexpensive transportation in a black car service for a maximum of 3 passengers, or opt for one of the Sprinter vans which gives you more room, more people and tons more luxury and comfort!
How this choice lines up with your personal interests is a matter for the individual consumer to decide. Sometimes smaller and cheaper is better. In other cases, you might need 'the works!'. It's good to know that you have choices. If you'd like to give our Brilliant Sprinters a try, contact Brilliant Transportation at 1-800-543-1001 for a custom quote today.