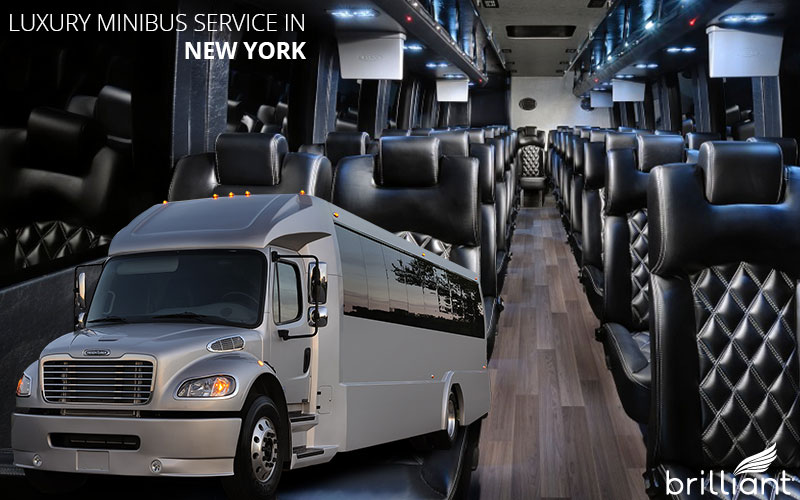 When you need to move a large group of people at one time for a private function or corporate event, you can't rely upon the usual options to get around. Car or van service won't work, they're not large enough; even a fleet of taxis wouldn't work, it's too impractical. Ditto with public transportation, it's too slow and plus they might not service the locations where you need to go.
You need to to turn to a bus service. Aside from actual bus companies, limousine companies can actually be a good source to rely on as chauffeured transportation takes many forms. Many executive car services and van services also run minibuses and large coaches as well.
Luxury Minibus Charters in NYC
Minibuses and mini-coaches are smaller than full sized coaches that seat up to 60 passengers. The minis handle groups in size anywhere from 20-40 passengers. Within that range they come in many different sizes: 21, 24, 28, 30, 34 and 36 passengers models are common. And unlike unibody coaches, minibuses are usually based on a truck chassis with a passenger coach added to the back. They are designed exclusively as people haulers but they're pretty versatile in terms of the types of trips they can do. They're great for large sporting or corporate events, conventions, weddings and festivals, commuter shuttles, airport transporters, the list can go on and on.
There are many different makes and models with varying external appearances. What most passengers will notice however is the interior. And just like with a car, you find minibuses with different levels of interior quality, offering something like the interior of a public transit bus on one hand to the other end of the scale with a plush interior interior that would be a home in a deluxe limousine, only much bigger.
In fact, there is also a category of minibuses called limo buses, or sometimes party buses, which are almost like a nightclub on wheels! But for the purposes of this blog we'll focus on the uses of passenger and executive minibuses. You won't find any dance floors, mirrored bars and disco balls here. These buses offer rows of individual bucket seats that are commonly used by business clients.
Typical Features of Custom Mini Buses
Just like long-distance buses, these minibuses will often provide overhead and under-seat storage for baggage. Unlike big buses, minibuses don't have undercarriage luggage space so interior storage becomes important for long trips. Many minibuses do come with a rear luggage compartment, but some do not. Typical cabin equipment includes items like a PA system, stereo and a large screen TV and a DVD player. The larger sized minibuses also can come with a lavatory.
As there are many different kinds of vehicles available, It's a good idea to try to match the style of the minibus to the style of your event. For example, if you were planning a high end wedding or corporate event, look for an operator who has a luxurious version of a minibus so that you're well-dressed guests would not look out of place riding it. If your goal is to move a softball team to a game, then the luxury component would obviously not be as important.
Finding Luxury Quality Bus Services
But regardless of which size or type of minibus you end up using, perhaps the more important factor is finding a company that will provide top notch customer service. After all, even if a company provides the nicest bus in the world, if the service is bad, it won't matter too much to your guests and the event could potentially be ruined if the bus is late or gets lost.
Thus finding a company that can execute consistently is important. As the above example demonstrates, good customer service is much more than smiles and pleasantries. Above all, good customer service is about getting the job done and getting it done correctly.
Most transportation companies can handle a bus reservation reasonably well. But doing a perfect job for each and every customer every single time is where the challenge lies. Some reservations are more challenging than others, particularly those with multiple vehicles and locations.
So it's important to find a company with lots of experience and a good reputation. Use online reviews and personal recommendations if you can to narrow down the choices. But often it can be hard to tell who's really good just by looking at a web page. That's why I recommend asking the representatives directly about what training and quality control programs they have in place to ensure that reservations don't get messed up.
A quality transportation provider will have extensive measure in place to make sure the best customer experience is attained every time. And they don't have to be large companies either to do this, with the proliferation of mobile technology and transportation tracking software, even small companies can use real time information about how their fleet is performing.
Brilliant Transportation is one such small (but growing) outfit that has invested in the latest technology to track every metric possible about our external and internal performance. We use the data to continuously improve our performance as well as modify our driver training programs to the latest conditions. Brilliant spends a lot of time and energy making sure that all, not just the newest of our drivers and other staff members are up to par. This is important, because to adapt a phrase from the movie business, you're only as good as your last reservation!
The Brilliant Premium 28 & 36 Passenger Mini Buses
Brilliant Transportation believes in providing not just first class, but the best customer service possible. That also extends to the quality of our minibuses. Our minibuses are luxury minibuses, using the best coach builder and quality materials available. The Brilliant Luxury Minibus fleet is built by Gretch, a quality coach builder using the Ford F550 and Freightliner platforms. The exteriors of the vehicles are painted a tasteful metallic silver, an upscale color for coaches of this size.
The interior of the vehicles also features luxurious, real leather captains chairs, highlighted the with 'Bentley' or diamond shaped stitching. The bus also features an attractive hardwood floor, full standing room, a large flatscreen TV in the front as well as LCD monitors throughout the cabin and a DVD player. The minibus also offers WiFi (upon request), a PA system, electric outlets at each seat (this is a very popular and hard to find feature in many minibuses), also tinted windows, window shades and spacious overhead compartments. The 36 passenger even sports an onboard lavatory for long trips or emergencies.
These buses really have everything that you could want in a luxury minibus of this size. The minibus would look wonderful at a convention, pulling up to a 5 star hotel or even a red carpet event!
These exclusive vehicles do come with a premium price, as we aim to serve the best with the best. We realize this may not be a good fit for every customer, many times a client will have similar requirements, But then again, there are many possible transportation companies one could choose from in New York City.
But when you realize that nothing less than the best executive transportation will do for your next event, contact Brilliant Transportation for a custom quote.