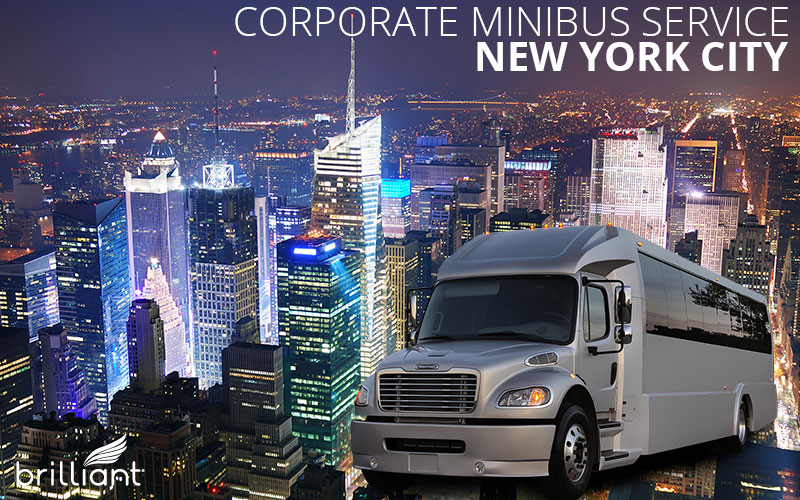 With so many big banks, institutions and major corporations located in New York City, executive transportation is a big business in the Big Apple. The most common use of executive transportation is usually black car or van service to ferry around individuals and small groups around the city.
But sometimes companies also need to move larger groups around and obviously using sedans or vans to move large groups around is impractical. That's where the minibus steps in. Minibuses are a category of buses one step below a full sized motor coach. There is wide range of sizes and styles but the category refers to buses that can carry between 20 and 40 passengers at a time. They are the ideal size for groups in the range, and their use, particularly luxury minibuses is becoming more prevalent than ever. Sometimes these minibuses are referred to as corporate shuttle buses.
Luxury Corporate Minibus Service in NYC
Being in the executive transportation business ourselves, many potential customers have approached us about the cost of using corporate luxury minibuses. The answer of course is, it depends because there are so many different choices one could make. Certainly the cost will vary from transportation provider to provider as there are many different firms in this arena.
Minibus Pricing and Billing: How Does It Work?
But the cost will depend upon the size of bus you use, the level of luxury and service required, as well as the duration of service required. In this blog, I'd like to go over the the many variables in more detail so that when it comes time for your corporate travel department to reserve one of these vehicles, you'll feel more comfortable about the whole process.
The first basic variable to review is time. All executive transportation companies will charge you for trips in a minibus on an hourly basis. Minibuses come with an hourly rate, and usually an hourly minimum as well, and you will be charged on the basis of how long you need to use the minibuses. Obviously the longer the time required, the more such a reservation would cost.
The major exception to this area would be if your company would be bidding for a fixed contract. The terms and duration of the contact would determine the price, as negotiated by both parties, but again, the unit price will still be based on the expected number of hours of use.
The other possible exception to the hourly billing would be when a transportation company offers you a flat rate to run a well established, in demand route, like New York to Boston or New York to D.C. Sometimes client companies can save a little money using the flat rate offer.
Since minibus companies are doing these same trips on a regular basis, they already know what the costs involved are going to be, so they will can offer you a flat rate. Even if one trip is longer than normal because of bad weather or traffic conditions, the bus company might lose a little bit of money because of the extra time, but they can usually count of making up the difference on a good day with the next trip.
The other important time variable for clients to understand is the use of hourly minimums. Most, if not all executive transportation will charge an hourly minimum for the use of their vehicles. This is a common industry practice because corporate trips, like any charter trip have to be pre-arranged affairs on a per-client basis and they happen less frequently than regularly scheduled bus service in the public sphere, and certainly there is much less turnover than you would find in the taxi industry.
Yet charter companies still have fixed costs to run those large minibuses, so the hourly minimums are used to keep the wheels turning and they allow charter companies to provide the good, on-demand service that clients expect.
Hourly minimums are also typically longer for the minibuses and motorcoaches than you would find with van service companies or limousine operators. A 3-5 hour minimum is common for the minibus category. The rule of thumb is the bigger the vehicle and the more passengers it holds, the higher the hourly rate and the longer the hourly minimums. Larger vehicles are more expensive to operate. This is just common sense.
Typical Charter Rates for Minibuses in New York City
Now in terms of the actual hourly rates, each company sets their rates separately based on what their costs are, so in order to get an accurate estimate, you need to contact several different executive transportation companies directly to get an idea of what the estimate would be for your company's upcoming trip. But generally in the New York City region, rates for minibuses will range from anywhere to $90 per hour to up to $300 per hour, depending upon the size of vehicle.
Quality Matters in the Long Run
But regardless of the size or style of minibus that you end up choosing, beside the vehicle specifics, the most important consideration when booking a minibus service is finding a quality provider who will provide excellent customer service. Just as in the retail world, customer service is just as important, if not more when dealing with corporate clients. You're likely to be dealing with some pretty important people, and they won't be happy if the bus arrives late or the driver gets lost, which can happen, believe me. In this scenario, if you have received poor service, you might want to ask yourself, when you booked this service, did you go with the lowest cost provider. Sometimes judging a service by its price isn't always the wisest decision, because if poor service results, then regardless of what you paid, you didn't receive a good value from it!
The Brilliant Corporate Transportation Options
Brilliant Transportation believes in providing not just first class, but the best customer service possible. That also extends to the quality of our minibuses. Our minibuses are luxury minibuses, using the best coach builder and quality materials available. The Brilliant 28 passenger minibus is built by Gretch, a quality coach builder using the Ford F550 platform.
We also offer a 36 passenger minibus with same interior as the 28 passenger, but built on the larger Freightliner truck platform. The 36 passenger also has an on board lavatory, which comes in handy for long trips!
The exteriors of the both sized minibuses are painted a tasteful metallic silver, an upscale color for a coach of this size.
The interior of the minibuses also feature luxurious, real leather captains chairs, highlighted the with 'Bentley' or diamond shaped stitching. The buses also feature an attractive hardwood floor, full standing room, a large flatscreen TV in the front as well as LCD monitors throughout the cabin and a DVD player. The minibuses can come with WiFi (upon request), a PA system, electric outlets at each seat (this is a very popular and hard to find feature in many minibuses), also tinted windows, window shades and spacious overhead compartments.
These buses really have everything that you could want in a luxury minibus of this size. The minibuses look fantastic at a convention, pulling up to a 5 star hotel or even a red carpet event!
These exclusive vehicles do come with a premium price, as we aim to serve the best with the best.
Our 28 passenger minibus goes for $250 per hour with a 5 hour minimum. Our 36 passenger minibus goes for $275 per hour and also has a 5 hour minimum.
We realize this may not be a good fit for every customer, many times a client will have similar requirements, But then again, there are many possible transportation companies one could choose from in New York City.
But when you realize that nothing less than the best executive transportation will do for your next event, contact Brilliant Transportation for a custom quote.