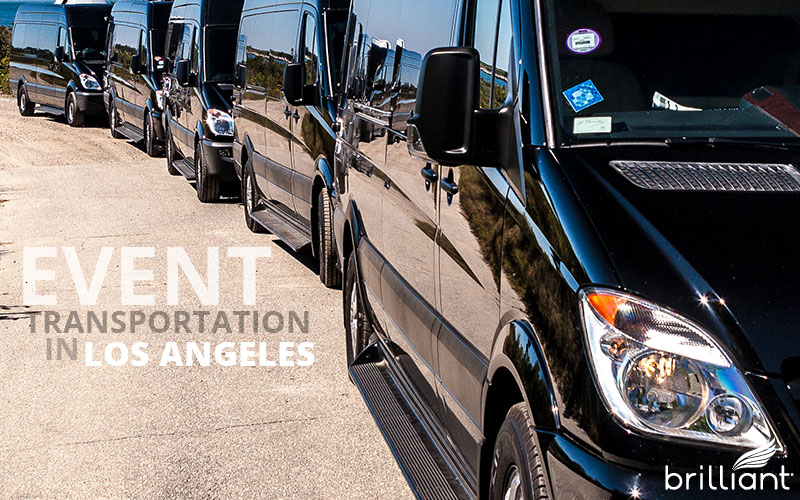 Planning a large event can sometimes get a little hairy, especially if you you have a lot of moving parts involved. Often transportation can be a critical part of your event planning as well, and it's important to find a transportation provider that you can feel comfortable working with as well as including them in early in the planning stages of your event.
If moving large groups of people to different venues is a central part of our event, you don't want to be let down by using an inexperienced transportation provider who could ruin your event by not showing up on time or otherwise botching the job.
Event Transportation Using Luxury Vans in Los Angeles
Being in the transportation business, we are often asked by potential client about what the price of van service would be for a corporate or private event in Los Angeles. Since there are many ways to service and event and different vehicle options involved, there could be many answers to this particular question. For this blog however, I'll try to give you a basic idea of what van service might cost, as well as provide an introduction to basic limousine or chauffeured service billing practices to give you more familiarity when it comes time to arrange transportation for your event.
Planning Your Event
One of the most important basic concepts to familiarized yourself with is the practice of hourly billing for van or limo transportation. In a way, this makes estimating the transportation costs for your event easy, if you can get a grip on how much time is required to service your event and approximately how many people will be requiring transportation. Obviously the longer you need service for and the more passengers are involved will reflect in a higher price. It is really important to get a handle on these figures before you go out to bid, otherwise you won't receive accurate pricing information to plan your event.
Another central concept to understand in planning chauffeured transportation is the use of hourly minimums. Just about all limousine and van companies will require some kind of hourly minimum in order to make a reservation, usually it is 2 or 3 hours per vehicle. Many times for an event if clients are using vehicles for an entire day or more, the issue of minimum does not come into play. But when you have a client that only needs one or two short transfers, they may fall short of the hourly minimum. In that case, if the use is really minimal, the client still has to pay the hourly minimum in order to book the job.
The reason for the minimums is that limo and van service companies don't operate vehicles continuous shifts or offer regularly schedule service like a taxi or bus. Instead, limo trips are pre-arranged charters; they only go out on a job when a client books them in advance. There are many fewer opportunities for unscheduled trips, and often a limo vehicle will go far out its usual area to pick up or drop someone off. So in order to make up for the less frequent turnover of passengers and the extensive preparation that goes into each trip, providers use minimums in order to meet their operating costs. On demand limousine service is a luxury good, and it costs more to provide than regularly scheduled service, so customers should not be surprised by the extra expense.
Luxury Vehicle Types & Charter Rates
Another factor that will impact the cost of your event transportation budget is the type and quality of the vehicles you select to use, as well as the number of passengers that need moving. Van service doesn't charge per passenger, but a higher number of people to be moved would call for a larger vehicle, which in turn would have a higher hourly cost and sometimes a longer minimum hourly use as well.
To start at the more economical scale of things, your basic van service would start with the standard 14 or 15 passenger van. The vehicles offered in the segment are usually a Ford E-series Wagon (van), or a Chevy Express 1500 passenger van. These are standard factory vehicles that come with normal vehicle comforts and equipment and not much else. They're not fancy, but they provide practical small group transportation. Many car rental companies also offer these vehicles for car rental customers, but to hire one with a driver will generally cost you around $65-$75 per hour in Los Angeles.
If you don't need to move up to 15 people per vehicle, another possible option might be to hire an SUV, such as a Cadillac Escalade or Chevy Suburban. These vehicles seat up to six people and starting costs to hire them are around $75-$95 per hour.
Luxury Vans for Events in LA
For high end events, it's also possible to hire a luxury van or sometimes known as a limo van, which may look like standard van on the outside, but would have a vastly upgraded interior to offer passengers for their trip. A nicer paint job will offer distinguish these luxury vans from the standard variation. A plain passenger van will often be painted white, or perhaps gray or brown, whereas a luxury van would more likely be painted in standard livery black, or perhaps another dark hued color.
For a luxury van, the interior features should include things like captains chairs, high end materials used in interior paneling like leather, felt or wood, as well as premium entertainment technology, like satellite TV and WiFi.
The Premium Brilliant Van for Events in LA
Brilliant Transportation is luxury transportation specialist with an exclusive fleet of Mercedes Benz Sprinter vans, all custom luxury van conversions. Using the Sprinter vehicles, we are able to offer more legroom and headroom (a full 6'3") than any other competing class of vans. Our vans also feature reclining, leather captains chairs which come with a workstation like set up: stowable desks, outlets, storage spaces and reading lights. We also feature hardwood floors and privacy shades, and a full partition between driver and passengers. Our luxury vans come with standard with satellite TV, large flat screen displays, a premium sound system and onboard WiFi.
The vans are terrific as a mobile office for busy executives on the go, or as a mobile entertainment lounge which is great for entertaining clients, or just a private night on the town. Hourly rates for these exclusive vehicles are $225 per hour with a 3 hour minimum.
We understand that with our exclusive vehicles and luxury pricing, we may not be the right option for every client who comes our way, and certainly there are lower priced alternatives that are easy to find.
If you need to make just the right impression or have a very special friend who deserves the best, then you should consider going Brilliant! For more details and to receive a custom quote for your next event, contact Brilliant Transportation at 1-800-543-1001.