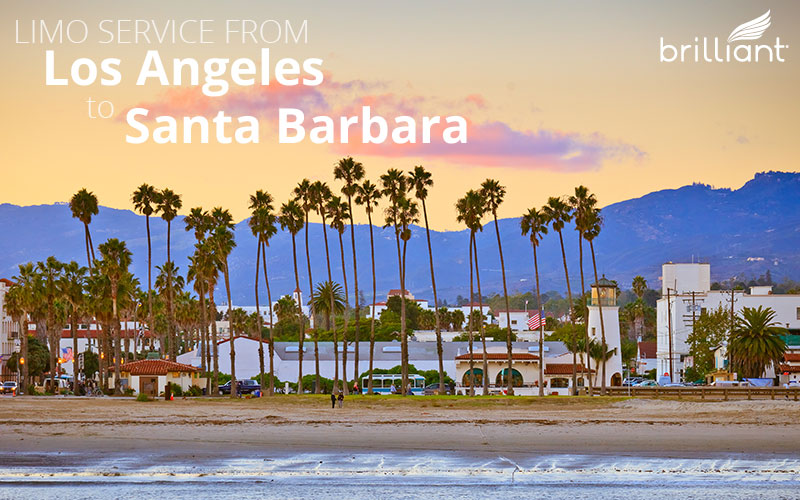 One of the most pleasant trips you can take from Los Angeles is a run up the coast to Santa Barbara. It is only two hours away by car but it feels like it's a whole world away.
Beautiful beaches, mountains, grand vistas, and lovely Mediterranean architecture await your visit. Santa Barbara and its surrounding areas are also known as "The American Riviera" and once you've seen it you'll understand why.
Walking down the street, you might feel transported back to a beach town in Spain or Italy. Santa Barbara is also an excellent and ever popular choice for wine tours as well.
Limo Rentals Between LA and Santa Barbara
Here in Los Angeles, we often get asked by potential clients about the costs of limo service around LA and Santa Barbara. As this is the business we're in, we feel obliged to give you as complete an answer to your questions, whether you end up using our services or not.
To begin to answer this open-ended question, let's start with the fact that limo companies charge hourly for their services. So the length and time of your trip will have a lot to do with how much it ends up costing.
The average limo transfer from Los Angeles to Santa Barbara might start around $350, and for fancier or bigger rides it could be much more.
Quality and Service: How to Find the Best
Of course the quality of the provider you choose will also play a big role in pricing. Although most limousine companies advertise themselves as 'luxury services', in reality there are companies that operate on the bargain end of the market as well as those who concentrate on providing exemplary service for the wealthy.
How can you tell the difference?
Just doing a little online research as well as contacting these companies directly should give you a pretty good idea. Ask about their hourly rates. How do they compare with other services, are the prices high or low?
Presumably if you care enough to check the quality of the service and the vehicles before you start your reservation, that's sign you're more of an 'experience' shopper rather than a 'price' shopper. You would probably be better off going with a higher price vendor who emphasizes quality, rather than pricing alone.
Give the vendor in question a call to find out more about their services. How they treat you on the phone is an important indicator of the quality of their customer service. Do they seem to rush you, as if you were ordering a pizza? Or do they offer you plenty of time to ask questions, and provide extensive information, like they care about you as an individual? These are all things to keep in mind.
Also the quality, age and type of vehicles they have on offer will be a big clue. Do the vehicles seems out of date, plain jane, or even slightly odd? Or do they really look impressive?
Of course nothing beats an in-person inspection, but that may not always be possible for you, so look closely at the photos provided on their website. If the company doesn't even offer current, actual photos of their own vehicles on the site, but instead offer generic, stock photos of a vehicle type, that could be a dead giveaway that they don't really care what they are offering you!
The type of vehicle you select as well as the number of passengers you're bringing along will also have a major impact on the cost. The larger the vehicle, the more passengers it can carry and the fancier it is, are all factors that will push up the price of the vehicle.
Understand Limo Service Pricing Policies
One thing to understand about limo pricing for out of town trips is the importance of garage to garage pricing. This practice is an industry standard and it means you are charged for time as soon as the limo leaves it garage and the clock keeps running until the vehicle returns to base.
What this means for your trip to Santa Barbara is that even if you are only going one-way, you will still be charged for a round trip. So a two hour ride for you will require 4 hours of billing. The extra two hours billed would be known as 'travel time' for the return to base.
The reason for this is that limousine service is different from taxi service. Limos don't just drop off one passenger and then drive around the area looking for another fare. Not only would this be futile, but they are actually barred from doing this by state regulators.
All limo trips are pre-arranged charters. So if a customer's trip takes a limo out of its normal service area to Santa Barbara, that limo is not free to accept another reservation until it comes back from its current trip, and the limo has been cleaned and restocked. So due to the fact that limo companies cannot operate on the same model as taxis, garage to garage pricing is used to make sure limo companies can cover all their costs.
The Premium Category and The Brilliant Option
Lastly, there is the premium category to choose from for our high end travelers. Prices in this category start around $150 per hour and up to $200 per hour and even more. Vehicles in this class would be like a Rolls Royce or Maybach sedan, or maybe a tricked out luxury van.
Brilliant Transportation has an outstanding fleet of converted luxury vans using the Mercedes Benz Sprinters. In Los Angeles we have the 7- passenger luxury versions as well as 14 passenger minibuses. The interior of the 7 passenger is done up like the interior of an exclusive private jet, only with more headroom, 6'3" to be exact.
Passengers will be nestled in their leather covered captains chairs that recline and come with electric footrests, as well as their own foldable table and lights and outlets for productivity or leisure. Passengers can also enjoy the satellite TV on 2 large flat screen displays. WiFi comes standard too.
The transfer rate to Santa Barbara from L.A. in the Brilliant Van is $750. This is a premium price to be sure, but it is for a unique, top of the line vehicle that you won't find in any standard limo fleet. With the clients we deal with, they are more concerned about the quality and convenience of the service than they are the price.
We understand that what we have to offer may not be for everyone's budget or needs. And there are plenty of other limousine companies around who could also provide good service. It's all a matter of what your needs and desires are.
If you desire to have the best, most exclusive ride possible, one that will provide a mini-vacation on the road instead of mere transportation, then please contact Brilliant Transportation at 1-800-543-1001 to receive a custom quote for your upcoming itinerary.