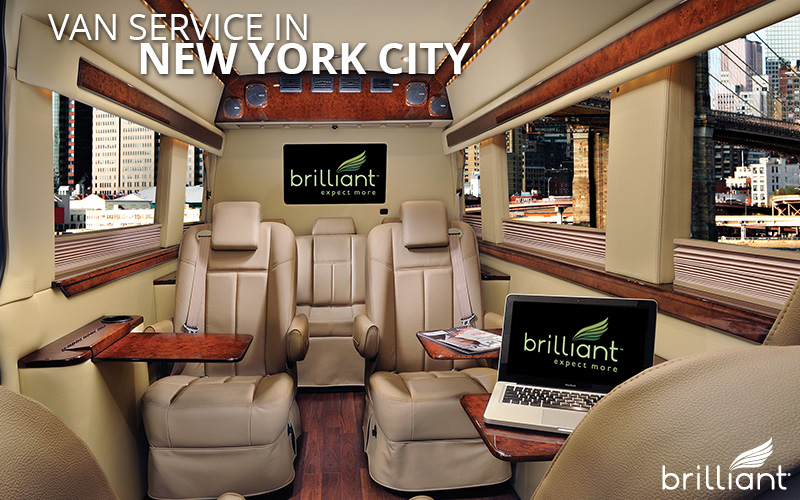 Many times clients are looking for something new and different in limousine service but can't figure out exactly what they are looking for. They may want something bigger and better than an executive sedan, like a black Lincoln Town Car, but aren't interested in stretch vehicle that's two blocks long either. Perhaps even an SUV isn't quite the right size or its just too pedestrian.
Limo Van Service in NYC Pricing Information
So what other options are there? An emerging new category of vehicles in limousine fleets are luxury vans, and they offer many advantages that you won't find with other vehicles. These vehicles have a lot of practical interior space without being too large, too long or too awkward. They also come with a lot of premium passenger features that you won't find in standard sedans or SUVs. They also offer a transportation experience that is new, different and refined.
Being a transportation specialist, many times potential clients have come to us and asked about the cost of luxury van service in New York City. Prices can vary by a wide margin in the industry and there are also many different factors which could impact the price of your reservation. In this blog I'd like to go over what some of the those price factors are so that when it comes time to make a reservation, you're more comfortable with whole process.
Hourly Prices for Van Service
One the most basic and relevant concepts in van service and limousine pricing pricing in general is that billing is done on an hourly basis. Regardless of package pricing or flat transfer rates, all jobs are calculated on the basis of how many hours the vehicle will be engaged to complete a certain job. Even if you are given a flat rate for a certain amount of time, if you exceed that time you can bet that you'll have to pay extra. And the way those times are calculated is done on the basis of the hourly rate.
Another important concept to review is the use of hourly minimums. Limousine companies and van services will use hourly minimums as a matter of industry practice. Most companies will charge you a minimum of 2 to 3 hours to use their vehicles, even if your trip only requires 30 minutes.
It is the way trips are structured that's the issue. Limousine service companies don't operate with the same model that taxis or bus/shuttle services use. There is no regular schedule, and each trip is a pre-arranged charter by a specific client. Unless chauffeurs and vehicles are working on a specific assignment, then they are not working. So with no regular shifts and with the preparation and cleaning that is involved with each reservation, it is impractical to call someone into work for just a 30 minute job. Limousine companies use the minimum hourly requirements to cover the cost of providing on-demand service, as well as providing the best possible service for each customer.
Vehicle Choices, Sizes and Typical Rental Rates
The other major factor that will impact the price of your reservation is the type, quality and size of the vehicle you select. There are many different types one could choose from, depending upon how many people you need to transport, but for the purpose of this blog we'll focus on the luxury van market. In terms of the category size, passenger vans are built to hold anywhere from 4 to fifteen passengers.
In comparison, the smallest chauffeured vehicle you could hire would be a four door sedan, typically a black Lincoln Town Car. These hold only three passengers maximum and they start with the lowest hourly price, around $55 per hour on the low end. The next size up would be an SUV like a Cadillac Escalade or Chevrolet Suburban. They hold up to six people, can handle more luggage and generally go for $80-$90 per hour.
Then you have your van category. The most common type of passenger van for chauffeured companies is the 14 or 15 passenger van. These are commonly used for small group transportation on trips like airport runs. These are unadorned factory vehicles with basic passenger amenities that will cost around $65-$75 per hour. Typical vehicles in the category are the Ford E-Series Wagon and the Chevy Express 1500.
If you need to take a larger group, then next size up are the minibus fleets that can handle anywhere from 20-40 passengers at a time, depending upon the specific model. Rates for the minibuses are in the range of $100-$300 per hour, and they usually have longer minimums, in the 4-5 hour range.
Luxury Vans Are The Hot New Ride!
Getting back to our luxury vans, these vehicles are a special breed. Most of them are custom converted vehicles with upgraded interiors and lots of special amenities. For the luxury versions, the bench seats have been taken out to create more room and bigger seats for the remaining passengers. Capacity for these luxury vans varies anywhere from 4-12 people. Hourly rates will depend upon the specific vehicle, the level of service provided and the company you choose, so the range varies anywhere from $90 up to $250 per hour.
Brilliant's Premium Sprinter Van Limos in NYC
Brilliant Transportation is a luxury van specialist. Our company helped pioneer this emerging luxury category when these types of vans started being introduced five years ago, in both California and New York. In fact, our all Mercedes Benz Sprinter van fleet has the finest luxury vans available on the road today. The Sprinter van is the class leader in terms of interior space, headroom (a generous 6'3"), vehicle performance, optional features and build quality. They provide an extremely inviting environment for any type of trip that the discerning executive or world traveler might want to take.
Our vans feature reclining leather captains chairs, with electric operated footrests. We have two luxury versions, one that seats 7 passenger and one for 9 passengers. The 9 passenger van features captain chairs only, with two rows on either side like a private jet. The 7 passenger has 4 captain chairs which face each other, making a nice conversation space, with a comfortable back bench that can fold down into a bed. Both versions feature rich leather paneling and beautiful blond hardwood floors. Each seat also can function as it own workstation, with a foldaway desk, reading lamps and outlets for your electronics.
For entertainment equipment, each van comes with onboard WiFi, satellite TV provide by DirecTV with 185 channels, audio/visual plugs and USB connectors for additional equipment and a premium sound system with speakers placed throughout the cabin.
The set up is perfect for a mobile office on the go or as an entertainment lounge on wheels. Hourly rates for these exclusive vehicles are $250 per hour with a 3 hour minimum.
Choosing the Right Van Service for Your Needs
We realize that with these special vehicles and our premium pricing we are focused on a very exclusive market in the transportation industry. Our offerings will not be the best fit for every customer who come down the road. However, for customers who are looking for that something special that is different and exclusive, this could be the perfect fit!
In the end, it's not the price you pay but the value you receive that is important. Using one of these vehicles could provide the perfect experience for a valued family member or business associate that will make all the difference in the world!
Receive your custom quote.