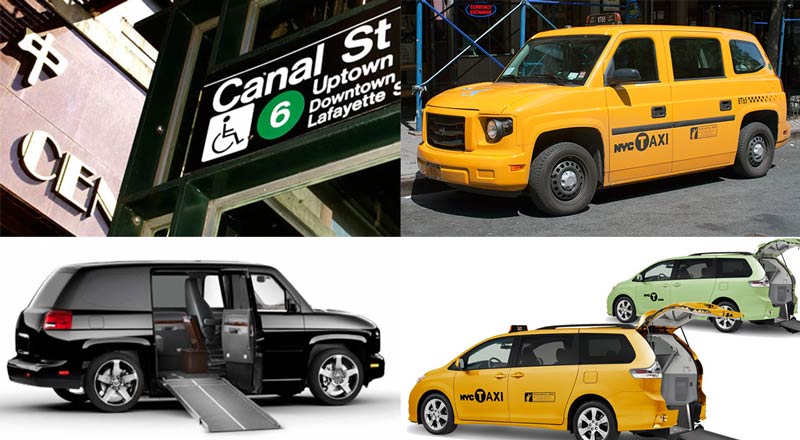 There are many ways to get around New York City. Unfortunately, those options are limited for wheelchair users, but don't fret. We've listed a few options below that each provide completely different experiences at different price points.
Different Wheelchair Transportation Services in NYC
---
New York City has improved it's accessibility to wheelchairs users over the years, but is still extremely limitied. In most cases you need to be near a major station in order to board the subway. Even then, you have navigate around according to where the elevator happens to be placed. I wouldn't recommend this method of travel to any wheelchair user - especially if you're visiting.
Access-a-Ride is a city run para-transit system. You can call 877-377-2017 two days before your scheduled trip and a driver will pick you up in either a WAV minivan or a Yellow Cab MV-1. These vehicles serve their purpose and get you from A to B but that's about it. Normally, you'll find the ride to be very noisy from the in-board ramp clanking around inside. The vehicles aren't very discreet and can draw attention as well. It is lower cost than the next option and definitely a much better than public transportation.

This is the option we at Brilliant Transportation offer. We call our vehicle the Mobility Van. That's the solution it provides (mobility) versus a physical description of the vehicle itself (wheelchair accessible). Not only is the Brilliant Mobility Van incredibly gorgeous, luxurious and comfortable, but also it feels and rides much more similar to a luxury sedan than a Wheelchair Accessible Vehicle. In fact, even the access to and from the van is a superior experience. The vehicle features a side entry ramp that slides from beneath the van chassis when stowed. One does not have to ride with a rattling hunk of metal inside the passenger cabin like most Access A Ride vehicles. And, we've upgraded our van to include a Jumpseat so a caregiver can ride next to the wheelchair to provide care and support while enroute. So, the journey itself is a very pleasant and brilliant experience. We can standby throughout your day providing you the mobility to go anywhere you want in the city at any time.
If you'd like a quick quote on the Mobility Van please call 800-543-1001 or fill out the form here.