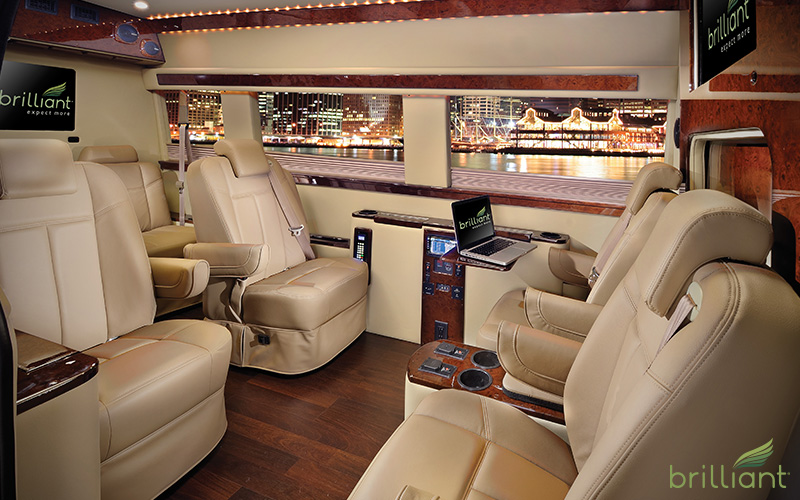 Event transportation is an important part of the repertoire of transportation companies. This can cover both corporate events like trade shows or conventions, but also private affairs such as weddings and other celebrations. When planning an big event with transportation, usually there is a fair amount of logistics to go over, so it's important to work with a company that has experience working on large events with multiple vehicles and multi-day schedules.
In terms of event transportation pricing, because each event is unique and involves a different number of days and vehicles, one can't do much more than generalize absent more specific information. However, there are a couple of principles of van service pricing and operations that I'll try to make you familiar with in this blog so you can be more comfortable in approaching companies in order to solicit price quotes.
Event Transportation Van Service NYC
One of the most important and basic principles about van service pricing is that it is done on an hourly basis. So in order to get a ballpark idea on what your event transportation is going to cost, you first have to figure out how many vehicles you will need to use and for how many total hours of service. Then you take those two numbers and multiply them together with the provider's hourly rate, and that will give you your basic event transportation estimate.
Of course, in order to figure out your vehicle plan and schedule, the event planners first need to get an accurate count of how many people will be attending the event, and critically, out of those, how many people will require transportation. Once you have that number, then you can start to work backwards to get the vehicle count and thus ensure that you have adequate coverage.
Hourly Transportation Rates
Another important billing practice to be aware of in event transportation is the use of hourly minimums. Almost all van service NYC companies will have hourly minimums that you need to work with. A three hour minimum reservation is very common in industry.
Where this might become an issue is if your event only requires minimal transportation, for example a point to point transfer in the morning and then one in the evening. The transfers could be long or short. For example, a typical corporate transfer we might do in New York is taking a group of executives from a hotel in midtown Manhattan to a financial firm downtown in the financial district. This would normally only take about 15 minutes. But with the minimum reservation, the client will end up having to pay for the 3 hours of service. Again, when the return transfer is made in the evening, it may only be a 15 minute drive, the client would likely be charged for another minimum 3 hours of service.
I say likely because there is some variation among companies about how they calculate their minimums. Some companies will charge you the minimum per use, or for each garage out, while other companies may allow you to use separate transfers towards the total 3 hour minimum. Check with your provider beforehand.
Again the issue with minimums would only be tricky for the client if there was only minimal use planned during the event. Quite frequently, for large events, the event provider will easily exceed the hourly minimums, using the vehicles for the entire day and so forth for multiple days. For large events like conventions, the livery vehicles often serve as shuttle vehicles, ferrying passengers from venue to venue on a continuous loop throughout the day.
Vehicle Types and Passenger Sizes
Besides time, the major factor affecting the cost of your event transportation will be the number of vehicles you choose and the type of vehicles. You need to match your vehicle specifications to the logistics and style of the event you are planning. For cost and logistic efficiency, you usually want to put as many people as possible to a vehicle as you can, thereby reducing the total number of vehicles you need.
For example, if you have a large number of attendees, it would be better to use larger vehicles, from 15 passenger vans to 28 passenger minibuses all the way to full sized motor coaches, which seat 60 people at a time.
But for style reasons, for some events, particularly if it is a smaller size, a couple of black sedans taking 3 people each might work for you. For a person's wedding for example, they might not want to use buses for aesthetic reasons, preferring to use sedans or SUVs. For medium sized events, you could still use smaller vehicles and also scale it up by using a small fleet of cars. But again for large group transportation, the larger vehicles like vans, minibuses or full sized coaches will usually give you a better cost/benefit ratio.
Average Rental Rates
In terms of pricing for the vehicle classes in the New York market, the rates usually break down along the following lines. Sedan service, using your basic Lincoln Town Car generally go from $55-$75 per hour per vehicle. The next size up would be going with SUVs, good for up to 6 passengers apiece. Rates for these tend to go from $75-$95 per hour. The next size up would be the 15 passenger van; rates for these average $65-$75 per hour.
For minibuses, which generally hold from 20-40 people depending on the model, costs are usually around $150-$300 per hour. Costs for full sized motor coaches are usually in the $200-$300 per hour range. It's also important to note that longer minimums usually apply to the bigger buses. 5 hour minimums are not uncommon for the minibuses and motor coaches.
Premium Transportation
A further category worth exploring is the luxury van and luxury coach category. Most of the vehicles categories that I mentioned above are for standard people movers, meaning the vehicles are fairly standard in terms of their passenger amenities. Usually that means cloth seats, a radio and DVD player, PA system and not a lot else.
Whereas in the luxury category, you can often find these larger vans and minibus decked out with premium passenger options, like leather seats, upgraded interior materials, satellite TV, extra entertainment equipment, outlets and cable connections, etc.
Brilliant Van Service in New York
Premium, luxury group transportation is what Brilliant Transportation specializes in. Our Mercedes Sprinter vans for example are custom converted vans that offer features not found in standard, factory vehicles. Our Sprinters come in 7, 9 and 14 passenger variations. The 7 and 9 passenger vehicles are our luxury version and they come with hardwood floors, leather captains chairs, foldaway desks, extra reading lights and outlets for each passengers, as well as premium entertainment technology like satellite TV and WiFi. The rate for these exclusive vehicles is $225 per hour with a three hour minimum.
Brilliant Minibus Service in NYC
In addition, our larger minibuses, both the 28 and 36 passenger models, come with luxury outfitting as well: leather seats, hardwood floors, multiple video monitors for the DVD entertainment system as well as premium paint job on the exterior. Rates are $250 per hour and $275 per hour respectively for the two sizes and both come with 5 hour minimums.
While these premium vehicles cost more than standard vans and minibuses, they can be an effective choice for the client when they are putting on a high end event, or perhaps wish to transport celebrities and VIPs to their event, favoring them with a higher class of vehicle than they might offer over their more average attendees.
Our services might not be the right fit for every client who walks through the door, but for a certain subset, these premium vehicles are a perfect match, creating a wonderfully exclusive and luxury attendee experience.
In order to experience this brilliance for yourself, fill out a quote request to see what we can do for you!