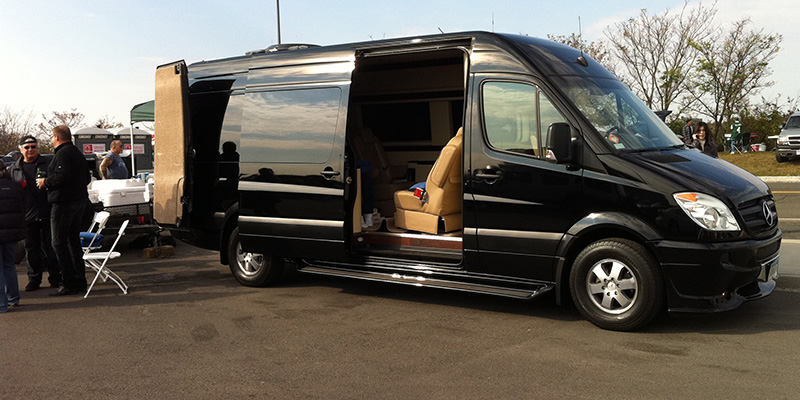 The holidays are right around the corner and you know what that means: Football season is in full swing! For regular game goers, that means it's time to tailgate!
Brilliant Transportation is right there with you! This year we're stepping up our game as the Superbowl is headed to the Tri-state area for the first time since 1962. We thought it appropriate to offer our Mercedes Benz luxury vans to football fans in order to create a new luxury experience when it comes to enjoying the games.
Many parking lot BBQing aficionados may be used to hauling out their old Station Wagon or Suburban for the festivities. But why should we let our blue collar friends have all the fun? We know our well-heeled clientele love the game as well and have enjoyed tailgates in the past.
Want a more stylish option?
I suggest you use our awesome Brilliant Vans to take to your next tailgate party!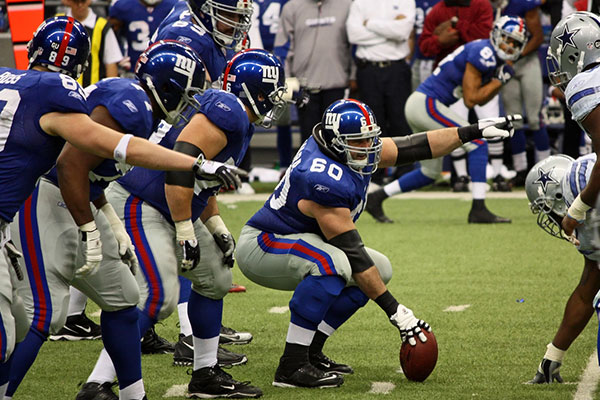 Consider this, a gleaming black Mercedes Benz Sprinter van, driven by one of our professional chauffeurs, rolls up to your residence a few hours before game time. You board your personal luxury vehicle, transporting your favorite fans in absolute comfort.
Once everyone is comfortably settled, with ESPN dialed in on the satellite TV, or perhaps your favorite music thumping through the many speakers on our satellite radio, it's time to break out the beers, or maybe even champagne. You head out to New Jersey to MetLife Stadium to get ready for a great time of friends, fun and football.
If you think a tailgate party in a Brilliant Van sounds great, imagine how incredible a Brilliant Super Bowl would be!
The Brilliant Van is a first class private lounge on wheels, so the party doesn't have to start and end at the stadium. Instead, the fun begins as soon as we pick you up and doesn't stop until we drop you off again. It's perfect for entertaining family and friends on the go, as well as corporate clients.
Luxury Tailgating in Southern California
These good times aren't just reserved for our clients and Giant's fans in New York either. With our West Coast base in Los Angeles, home to many rabid USC Trojans fans, the Brilliant Van is a terrific option to travel to the LA Coliseum to watch the Trojans fight on, in addition to enjoying the epic tailgate parties they are known for.
It doesn't really matter if the football venue is a high school, university or the NFL, with the Brilliant Van on your side, you're likely to become the center of the party.
On game day our large capacity luggage areas can hold all the coolers and food and beverages you wish to bring. All you have to do is open the large sliding door, crank up the tunes and sit back in your leather chairs while you enjoy the festivities.
In fact, while you're at the game, you may be having such a great time in the parking lot ensconced in your own private luxury cocoon, you might actually be in no great hurry to get your stadium seats, unless perhaps you have your own luxury box waiting for you!
With the 6'3" standing headroom inside the passenger cabin, and easy access boarding, the Brilliant Van provides a surprisingly comfortable space to entertain guests, even while standing still. It can act as the hub of any celebration, whether at the game, the beach, the polo grounds, perhaps even the back 40 of your own property.
If you choose the leave the game early to avoid the traffic and crowds, you can be transported home in luxury while watching the end of the game live on large flat screens with the on-board satellite TV.
Of course, the Brilliant Van is a comfortable and stylish way to go to any game, regardless of the venue, city or team playing. In fact, this year our Brilliant Vans have transported numerous clients to the U.S. Open Tennis Championships in Flushing Meadows, as well as numerous NFL, MLB and NBA games on both coasts.
It's not just the for the fans either. We have famous athletes (who shall remain nameless) who use us on a regular basis for their transportation needs, whether it's just going to practice, or taking a trip out of town.
Regardless of who you want to bring along, or what type of sporting or social event you plan on attending, a Brilliant Van can really enhance your experience and deliver a new standard of comfort and convenience to your next outing. Don't be afraid to try something new and exciting.
It's better with Brilliant! Check out these tailgate photos!