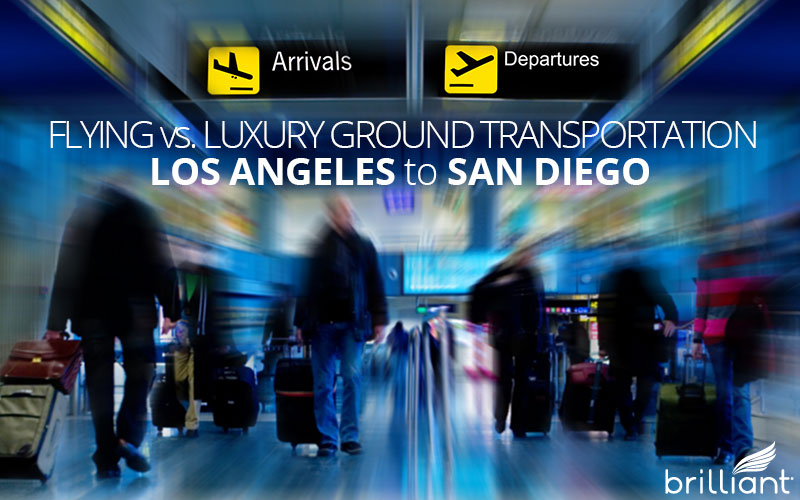 San Diego to Los Angeles and vice versa is a very popular route for both tourist and business people alike. San Diego is a great weekend destination for those staying in Los Angeles and the same is true in reverse as well. Angelino like to go down to San Diego to experience a more relaxed beach scene and great outdoor activities, while San Diegan like to come to Los Angeles for our entertainment scene: museums, clubs, TV show tapings, celebrity watching, concerts, shopping, you name it.
As San Diego is fairly close to Los Angeles, there are a couple of different transportation options you could choose to travel between the destinations. You can drive, be driven, take the train, or fly in a plane!
Luxury Travel: Flying Versus Luxury Ground Transportation
For the first class type of travelers that we're used to dealing with, often we have been asked by potential customers about the pros and cons of flying versus driving. Which is is the better option? That being a highly subjective question, one has to really throw the question back to the customer: what do you want to do? Because the answer is it depends. It depends on your preferences and what your particular need at the moment is. That being said, we can explore this issue a little further to get an idea of what the pros and cons of both situations are.
In terms of luxury travel, there is only really one comparison to be made: flying or using a chauffeured ground transportation in a luxury vehicle to get you where you want to go. Of course driving yourself or taking the train are always possibilities too, but they are not the true luxury options for someone who would rather have someone else take the responsibility of arranging the transportation and taking you around.
The Convenience of Flying
Flying is pretty straightforward. It is obviously the quickest method of getting to San Diego. The cities are only about 100 miles apart so a direct flight takes only 50 minutes. And you'll have a great view of the ocean as you fly if you have a window seat. Driving to San Diego takes about a minimum of two hours, depending upon exactly where you need to go and the day and time you want to leave. During rush hour on a weekday, this trip could take considerably longer as you fight lots of traffic through Orange County and on your approach to San Diego.
In terms of practicality however, when you factor in the time to get the airport, parking, etc and the check in one hour before your flight, the timelines tighten up considerably. Because it is such a short flight, many airlines do not even offer a first class seating option, so that might present a slight problem for someone who wants to travel first class all the way.
Cost of Flying vs. Cost of Chauffeured Transportation
Cost for such a flight in coach with no two week advance would cost in the $350 per seat range. Then of course, assuming you have places to go in San Diego you will still have to arrange for ground transportation while there, or at least rent a car. So there would be an additional expense there as well.
If you have several people in your group, and you all want to fly first class, it is obviously going to cost more the more people you have in your group. If you arrange for limousine transportation to San Diego, you will pay an hourly rate for the vehicle for the number of hours you use it for, but it won't cost you more per passenger. For example, if you were to hire a 7 passenger luxury van to take a small group down to San Diego, even if the initial rate for the luxury van is high, if you divide it among the cost of transporting 7 people, it can actually start to make more sense than flying all those people.
How to Travel Well on the Ground
So if you look at the total cost of transportation and the time factors involved for an entire trip, whether it's a weekend or something more like a week, the use of chauffeured transportation begins to look more reasonable when you consider the cost of car rentals, airline tickets and all the other associated expenses.
But beyond the cost factor, it is also important to consider the value you are receiving for your money. Chauffeured transportation is luxury service. Sure, you could spend less if you decided to do everything yourself and drive everywhere, but that is not what you are paying for. You are paying something extra, but in return you receive convenience, comfort and luxury. Those can be valuable attributes and it frees you up to think about and do other things that are important on your trip.
Not to mention that it's a lot of fun to have your own car and driver to take you around town! It can also definitely project a very favorable impression as well, if that's important for business or social reasons.
Consider a Sprinter Van Limo
Luxury ground transportation can also give the customer a decided advantage over flying and using other forms of public transportation in terms of positive experience it provides the travelers, along with total privacy, exclusivity and convenience. Consider the tremendous style you could enjoy by traveling between L.A. and San Diego in a private luxury van!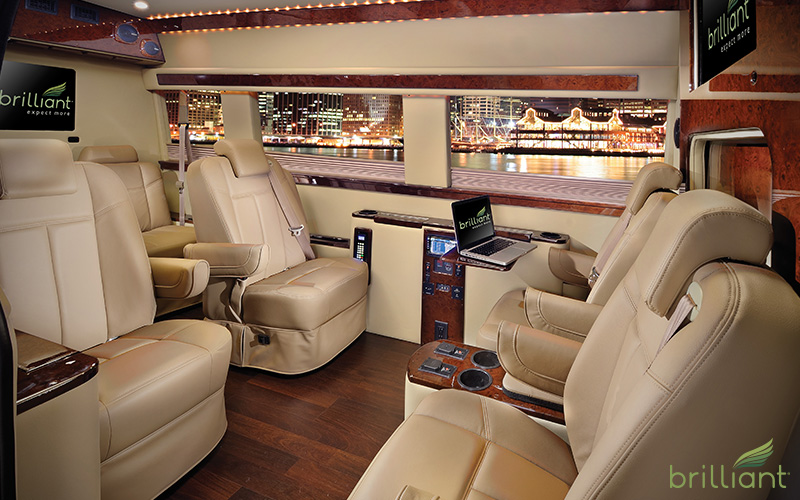 Brilliant Transportation for example is a Sprinter van limo specialist. We helped pioneer this market for exclusive luxury vans on the West Coast when we started only three years ago. Our all Mercedes Benz Sprinter fleet of custom luxury vans are class leaders in terms of interior space, headroom (a generous 63"), as well as vehicle performance, awesome passenger features and overall build quality. Our vans provide an exceptionally inviting environment for any type of trip that would make even the most demanding luxury travelers sit back and enjoy the ride!
Our Brilliant luxury vans would make any trip, long or short worthwhile with our incredible interiors featuring reclining leather captains chairs, that also have adjustable footrests. Our 7 passenger luxury van version is configured so that the four captains chairs face each other in a kind of salon arrangements. The remaining 3 passengers have room on a comfortable back bench that can also fold down into a bed. The interior is also richly appointed with wood and leather surfaces throughout the passenger cabin and tinted windows, windows shades and a full driver partition maintain complete privacy.
A Mobile Office or Board Room for the Road
Another advantage is that each seat comes with a foldaway desk, outlets for plug ins and reading lights making it possible for each seat to be used like a miniature work space. In fact our 7 passenger vans can transform themselves into a productive asset by functioning as fully workable mobile office. For connectivity, the vans come with on-board WiFi standard as well as satellite radio and TV channels, a DVD player and two large flat screen TVs. In addition to entertainment, these large screens can be plugged into a laptop in order to project a business presentation.
So the practical advantages and comforts of using one of these luxury vans are becoming very apparent. Not to mention the fact that by using the same vehicle for the city to city transfer as well a local get around, you save time and effort by not having to switch vehicles or modes of transport.
Looking at your trip in these terms, it is clear that luxury ground transportation, especially considering the remarkable flexibility of the luxury van format can a very wise and competitive form of travel for intercity trips and beyond.
Brilliant Has Redefined Premium Luxury
As Brilliant's luxury vans are very exclusive, they also come with an premium price so that we can continue to offer first class service to the most discerning and demanding level of clients. While we understand that this pricing and these features might not work for every clients, we encourage travelers to seek out other companies and modes of transport when it becomes apparent that we cannot provide the best match under every circumstance.
But in the end it's the value received and not the price you pay that we believe is the most consideration when you're thinking about booking a luxury transport. Using one of the Brilliant Vans could provide an extraordinary experience for an individual, their valued family members or important business associates. The choice is your but the pleasure of providing outstanding service is all ours!
You can contact Brilliant Transportation to receive a custom quote for your next trip by calling 1-800-543-1001.