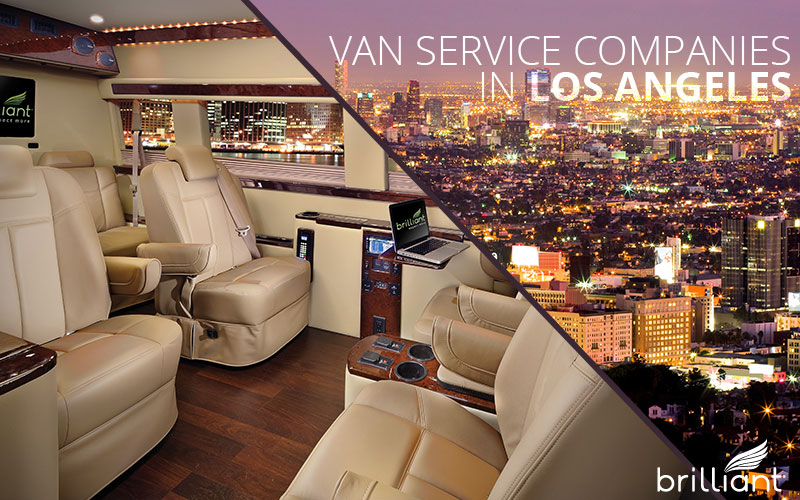 Businesses are constantly evolving, dealing with new trends, new markets and new technologies at an ever increasing pace. The same is true with chauffeured transportation. Clients are always looking for new options as well as the ability to get things done in a shorter time span. That includes being able to create productive time even when you're on the road.
That's one reason why more and more limousine companies are offering van service, because vans, particularly luxury vans have started to offer clients to ability to have a mobile office when they're on the road, with a seat, desk and WiFi connection: everything you would need to be able to work when you're traveling.
Luxury Van Service is the New Limo in LA
Brilliant Transportation is becoming a leader in the field of executive transportation here in Los Angeles with its fleet of luxury Mercedes Benz Sprinter vans. Our custom converted vans are designed to act as mobile offices, in addition to being luxury coaches, for the busy entrepreneurs and executives who realize they have no time to waste.
Our vans feature a plush leather and wood interior with comfortable captains seats in an area that is set up like a workstation. Passengers can access a foldaway desktop, reading lights, outlets and storage bins so they can work while en route to their meetings. The vans also come equipped with WiFi and satellite TV, among many other features.
But regardless of whether you hire one of our luxury vans or those from a different company, I would like to review a couple of key points that are important when you're reserving chauffeured transportation. Besides finding just the right vehicle to suit your needs, you're going to want to go with a company that is able to provide excellent customer service and performance.
Premium Customer Service
The thing about good customer service is that it's not just about making the customer feel good about themselves. While everyone responds to kindness and loves to be heard, good customer service is fundamentally about taking care of someone's needs or solving their problems. So you have to be able to deliver the goods in addition to showing up with smile.
In the livery business, this means training your drivers and staff both initially and on an on-going basis so that are able to performing consistently on job after job for the full spectrum of clients.
I recommend that new clients do some online research as well as solicit personal recommendations before hiring a driving service. It also doesn't hurt to ask pointed questions of a potential vendor about their training programs and quality control measures in order to gauge whether a company is up to par.
Different Classes of Van Service
In addition to excellent service and performance, the other major component to having a great chauffeured experience is riding in a first rate vehicle. So what are the options when you choose a van service?
First of all, it's important to understand the different classes of vehicles available. Many limousine companies offer passenger vans for small groups of up to 15 people. These factory vehicles are like little minibuses, offering bench row seating and basic amenities for people needing to get from A to B or to the airport or to your hotel. These vans are strictly people haulers and act as practical transportation: they don't offer many luxuries or entertainment features. But if you only need a short transfer, that should be adequate.
However, if you are planning to attend an upscale event or meeting or you're interested in the mobile office option, a standard passenger van won't do. You need to go with a luxury van.
Luxury vans, even though they're based initially on the same vehicle platforms, are really a different category of vehicle, transforming an average vehicle to something more elegant and stylish. They are completely renovated inside and out to create a custom luxury environment with entertainment equipment and features like WiFi or conference phones that will help you be productive.
Four Best Limo Van Services in Los Angeles
While we believe that Brilliant's luxury vans are second to none, prices can vary in the industry and each company offers something a little different, so we wanted to give potential clients a range of possible good choices for excellent van service in Los Angeles. Here are a couple of companies worth checking out:
1. Avalon Transportation
Located on L.A.'s West Side, Avalon has been providing great service for over 20 years. They feature a full line of chauffeured vehicles, including luxury vans, passenger vans, limos, sedans and minibuses as well. They offer both Ford and Mercedes Sprinter vans for their luxury and standard passenger line-up. They work great for both corporate and private events.
2. Empire CLS
Empire one of the larger players in the industry being the result of a merger of East and West Coast companies. They are very familiar with the entertainment business and have great attention to detail in terms of their vehicles and service. They also offer 10 passenger vans by Ford and the 14 passenger Mercedes Sprinter which is great for nights on the town as well corporate gatherings.
3. ITS
ITS is another long time veteran of the Los Angeles scene with a full range of vehicles choices. They have good pricing and also I like the different tour options they offer, like sighting seeing and shopping tour excursions in L.A. For their van offerings, they also carry Mercedes Sprinter vans offering an 11 seat passenger model and a 12 seat limo van model, which means the inside is like that of stretch limousine with 2 long benches and bar.
4. Music Express
Music Express is another LA institution that started out as messenger service for the music industry in the 70's. They also specialize in transporting entertainment and music industry people as well as regular folks. They have also grown to have satellite offices in Northern California and the East Coast as well. For van service, they have the Mercedes Sprinter which they call their 'Executive Van' seating between 8-11 passengers.
Choosing the Best for Your Travel Needs
Last but certainly not least, we couldn't resist mentioning ourselves among the list of the best limo van service in Los Angeles. Our Sprinter vans are unique and offer the highest level of luxury and also workplace productivity.
Of all the companies mentioned above only our 7 passenger luxury vans come with stowable work tables, on board WiFi and the most suitable setup for a mobile office or conference center.
We also offer the standard 14 passenger Sprinter as well as the 7 passenger luxury version. Whether taking a trip around L.A. or long distance to Las Vegas or San Francisco, you won't find a more comfortable or elegant van to travel in.
Brilliant may have the most exclusive van service in the world. We regularly transport VIPs and celebrities around the country to take care of their professional and personal lives.
Our top notch service and vehicles do come at a premium however. It may not be right for every customer who comes our way, which is why we went to the trouble to list other possible options above in case we're the right service for you this time! However, if you're looking to hire the best, we know we'll be doing business with you down the road.
In order to receive your custom quote, contact Brilliant at 1-800-543-1001.