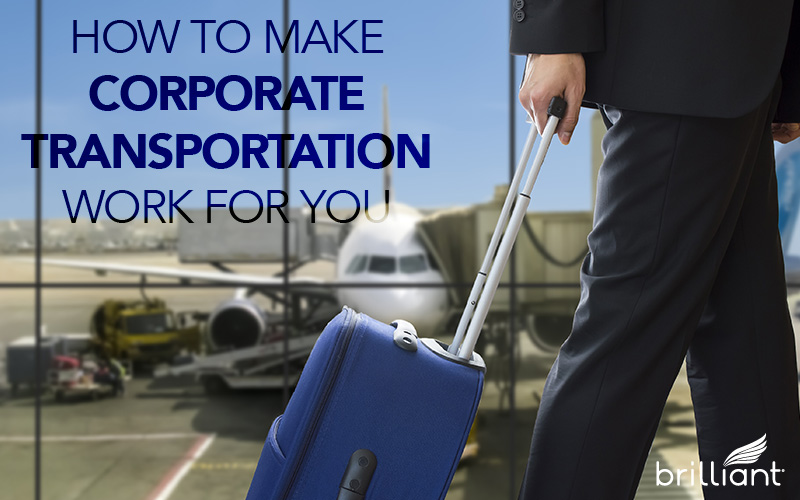 Corporate Transportation can be a enjoyable and rewarding field, as long as it's done right. Whether you're a seasoned corporate travel professional or simply an administrative assistant at a small firm looking to book ground transportation, there are a couple of issues you should be aware of in order to make your reservations easy and foolproof.
Tips for Using Corporate Transportation
Let's take a look at a couple of those issues below:
1. Work with a company that cares about the details
In order to make corporate transportation work effectively for your company, you need to choose a reliable and capable partner. Finding and selecting that transportation partner will probably be the most important decision you make in this regard. Once you have someone you can trust in place, it makes all the subsequent work and effort just that much easier.
Once we realize that not all ground transportation is the same, and not all ground transportation vendors are alike, then we can start to focus on the question of quality. One of the major signs of quality in a transportation vendor is that they pay strict attention to details. You will want to select a company to work with that is big on details and following through with those details.
You want to make sure that the company you choose will take care of every item as it affects your reservation. As client, you won't be aware of every detail and preparatory step that goes into planning a corporate trip. But you can keep tabs on your vendor by checking in frequently, making sure everything is going according to plan. One important element is to confirm and reconfirm your trip's itinerary shortly before it takes place.
You need to check up on every reservation detail or parameter, especially if you are using a new vendor for the first time. Make sure they have the date, time, pick up and drop off location correct, number of passengers, passenger contacts, route planning and directions and the correct type of vehicle you specified. These may seem like obvious and basic details, and they are, but that is also why a mistake in this area could cause you a major problem.
Avoid all this by checking and double checking, even if you become a pain in the neck, you are better off safe than sorry. And like I said, this process gets easier the more experience you have with a particular vendor or if you're doing regular trips on the same route, all of this will become pretty routine.
It is extremely important that you have good communication between client and vendor at all times. Quality transportation companies will help facilitate this communication by being proactive. They should be able to reach out first, and re-check confirm these details with you either by phone or email.
If you are working with a company that doesn't communicate well, or seems to hide from the client, that could be a sign that you could find better service elsewhere. If in doubt, communicate clearly your needs and concerns. If they are able to answer your questions and concerns efficiently and with care, then you'll know you are on the right track.
2. Be sure to plan your trip with plenty of advanced notice
Another way to make corporate transportation work for you is to plan early and plan thoroughly. By giving yourself and the vendor you choose plenty of advanced notice, both parties have plenty of time to prepare and make adjustments.
Obviously, this becomes more advantageous the bigger the trip or event is. If you're just scheduling a one person trip to be taken to the airport, that's no big deal. You could make one phone call and have this arranged in under 10 minutes. But if you're planning something more involved, like a road show or regional sales trip involving dozens of individuals, multiple days and vehicles, overnight stays and complex itineraries, then this is where the advanced groundwork will save you hassle and money in the long run.
As I mentioned in the opening paragraphs, it's important to select a reliable partner when you're planning on corporate transportation. I'll take that one step further by saying if your transportation needs are steady and predictable, then you should really be shopping for a long-term relationship or vendor contract, to make your sure needs are always covered. This makes life much easier on the corporate transportation planner. You don't want to be in a situation where you're always starting from scratch or scrambling to fill orders. Plus you expose yourself to risk by working with untested partners when you really need reliability and dependability.
This is particularly true in corporate transportation, because despite the fact that most planners know the earlier they plan the better for them, that corporate transportation doesn't always work that way. Sometimes trips have to be arranged last minute, and out to the blue. So when the time comes to arrange a trip quickly, if you don't already have your networks in place, you could be setting yourself up for trouble down the road (literally in this case)!
3. Use a vendor who emphasizes and practices good customer service
Again this may seem like a pretty obvious point, but sometimes important aspects get obscured by the rush of taking care of last minute requests. Good customer service is not a given in the transportation field. But there are many good companies that care about this deeply, because they understand the impact it has on their customers and their business in the final analysis.
Even if you get all of your trips done correctly and on-time, if the experience of traveling with this company leaves your executives or clients something to be desired, they will be less interested in using these services a second time, and you may find yourself again in the position of having to find a new vendor when you don't have the luxury of time or familiarity.
For me, as a transportation industry insider, good customer service is at least two-fold. There's the surface aspect of it: being polite and friendly, treating the customer as if they matter, and the underlying aspect, which is performing your job at a high level. Even if your vendor's employees are kind and friendly, if they don't do their jobs correct, and your passengers end up being late, or stressed or the trips doesn't come off as planned, then those surface pleasantries won't matter too much! So good job performance is just as important as good customer service, and I believe these two issues are complimentary.
Another thing to consider about customer service here is that it's important to remember that standards are higher in executive transportation than in regular or public transportation. You're dealing with a group of experienced corporate professionals, they are going to have higher expectations for their travel than if they were just taking a cab or buying a cheap seat on a commuter flight.
So it is really is important to find a partner who can deliver on this. But don't just take the vendor's word for it, you also have to hold them to account. Let them perform a few trips for you and see how they pan out. Because while many companies in this industry space will talk the talk, they don't all walk the walk equally.
4. Use the natural benefits of executive transportation to your company's advantage.
If you choose luxury or executive transportation, make it work to your company's advantage. What I mean by this is that executive transportation (including limousine services) costs more in general because they offer more. They are offering exclusivity, privacy, convenience and luxury.
These are things you won't find by taking co-mingled transportation (a seat on a public bus, train or plane). Executive providers are providing a luxury service, because in part, it is exclusive to you and your party for that time and date. You are the client, you are in charge of where things go, and a higher level of service, or at least expectation has been set forth for the higher price.
So make it count for your company. If you are taking the luxury route, use if effectively by booking it for occasions where you can further the company's image and brand in they eyes of the public, or very specifically, impressing an individual, high-value client. Just like they say dress to impress in the corporate world, transportation can work the same way.
Also, certain vehicles and services can not only impress, but actually enhance your passenger's productivity as well.
A good example of this is the Brilliant Van from Brilliant Transportation. Our luxury, executive style Mercedes Sprinter vans not only deliver executives to their destinations in comfort and style, but they also function as mobile offices too. Each van comes equipped with adjustable captains chairs, stowable work desks and equipment to create a virtual office: mobile WiFi, satellite TV and radio, teleconferencing equipment and the like.
For busy executive traveler, these features can really make the difference.
To find out how Brilliant Transportation can facilitate your next corporate trip and elevate it beyond the ordinary, contact us at 1-800-543-1001.