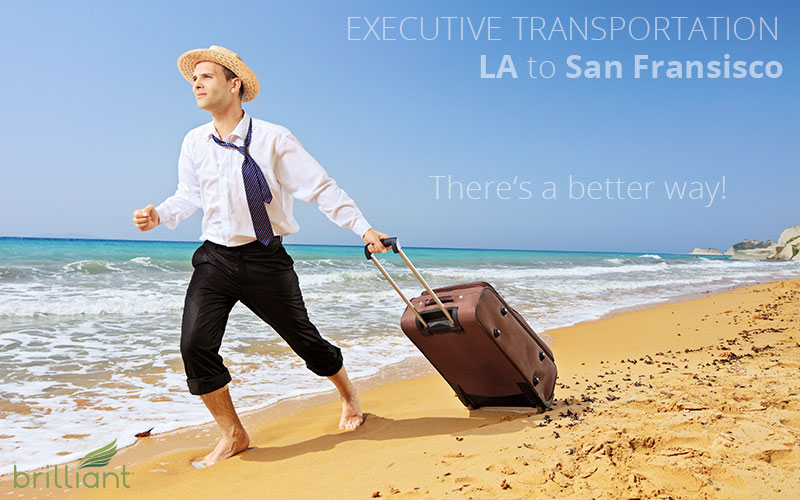 Going from Los Angeles to San Francisco is a well-traveled route for business people and tourists alike. Much of the time people elect to fly, particularly the business traveler, but there are times when it would make sense to drive it, particularly if you need to makes stops along the way, or perhaps the journey is equally important as the destination. In any case, it does take longer to drive the route, about six hours as opposed to a flight that's a bit over an hour.
Being in the executive transportation business, many times potential clients have asked us about the best executive ground transportation from Los Angeles to San Francisco. The answer to this question is it depends, as they're are many different options you could choose for getting there.
Choosing the Best Executive Transportation Service
One of the first factors that will determine the best way to go is determining how many passengers you have and the level of service and quality of vehicle you are interested in. Depending upon your answer, the transportation would look very different. But assuming for a moment it is a small group of people, 4 or less, you have many options available to you.
You could decide to go with a black car service, using a (relatively) inexpensive sedan, or if you had a slightly larger group, you could opt for service in an SUV (seating up to 6) or even a passenger van (seating up to 15). And of course when looking in the chauffeured category, it is also possible to book a traditional stretch limo (usually seating up to 6) for the long trip as well.
Another option that should be considered is taking the trip in a chauffeured luxury van. Luxury vans usually seat anywhere from 6-10 people, and are a great option for the traveling executive because certain providers offer vans that have been set up like a mobile office. Even if only one or two people are going, they will have a good amount of space and privacy to use the vehicle like a small business center.
But regardless of which type of vehicle you settle on, it is important to find a quality provider who will be able to execute the trip with precision, efficiency and of course, provide excellent customer service.
Although it might seem simple to transport paying passengers from point A to B, there is plenty of effort and preparation involved in running an efficient limousine or executive transportation service. The best way to provide outstanding service time after time is to invest a lot in the training of your employees, but particularly the drivers.
Getting Excellent Customer Service Matters
The drivers are not only the face of the limousine service but the trip is literally in their hands when a client is underway. So the driver has the ability to make the difference between a great trip and a not so great trip!
With thorough, ongoing training, the main point is to make sure that the drivers can operate safely and efficiently, but are also always prepared for that particular trip and understanding the route, as well as providing terrific customer service.
That can involve a lot of details so its important that the drivers are comfortable and experienced with what they're doing. The best drivers will make the same call time after time because they have been well trained. And the transportation operator has to ensure proper supervision and that guidelines are followed every time.
It can be difficult to determine the quality of a transportation provider before using their service, but despite this, you're best bet is to do some online research to find out what you can about said company, and it is also useful to seek out personal recommendations from friends or colleagues if possible.
If you have nothing else to go, at least talk at some length with a reservation agent or representative of the company to get a good idea of the company's level of client satisfaction and also specifically about what training or quality control programs they have in place to avoid making mistakes. Your gut reaction to what is revealed will help you make your decision.
For those who are looking for the best experience, rather than the best price, we've written an article you may be interested in. Here's a link to that article: Cost vs. Value: A Real-World Executive Transportation Experience.
The Advantages of Executive Van Service
As I mentioned before, if you are planning this long road trip for business purposes or even as a pleasure cruise, then you should definitely consider the possibility of travel in a luxury van, as the interior space and amenities of the vehicle will make the long trip worthwhile.
You may ask yourself, what exactly is a luxury van? Luxury vans are a relatively new category of transport for limousine companies that are steadily gaining in popularity. Basically an operator will take a standard passenger van and totally upgrade the interior (and exterior if necessary) to transform an ordinary vehicle into something completely superior.
The extra bench seats will be taken out and replaced with comfortable captains seats, a partition will be added between the driver and passengers and plenty of extra equipment and electronic goodies will be added for passenger convenience. It's like taking a regular van and turning into something similar to limousine, only bigger. Some companies will configure the interior to function as practical work space for long trips.
Chartering Brilliant's Executive Van Limo Service
Brilliant Transportation is one such van service company that has a made a serious commitment to luxury vans, mobile productivity, and top of the line customer service. In fact, it is our specialty, and something no other company has replicated. We feature an all Mercedes Benz Sprinter fleet, which is by far the best van vehicle available on the market.
Then we took our interiors and made them more like the interior of private jet! Beautiful tan leather and tasteful light wood panelling abounds in our interiors. Passengers enjoy comfortable leather captains chairs with multi-way electric adjustment, including footrests.
And that mobile office I mentioned? Each seat is set up like a workstation, with a foldaway table top, nearby storage space and an individual reading light and outlet for each passenger. When you combine that with on-board WiFi, teleconferencing equipment, a premium sound system and two large (32") flat screen with 185 channels of DirecTV, then you have a winning mobile office on your hands, or at least a great entertainment lounge.
To sum up, you'll feel like a movie star riding in one of these vans, and in fact many already have! These vehicles are absolutely first class and have also been priced accordingly.
You won't find a more comfortable way to travel to San Francisco, unless you own your own Lear Jet perhaps!
While this vehicle choice and the premium pricing might not work for every customer who comes along, we know that when you have to have absolutely the best transportation for your trip up North, you won't find an equal in Brilliant Transportation. Contact us at 1-800-543-1001 to receive your custom quote for your next trip!