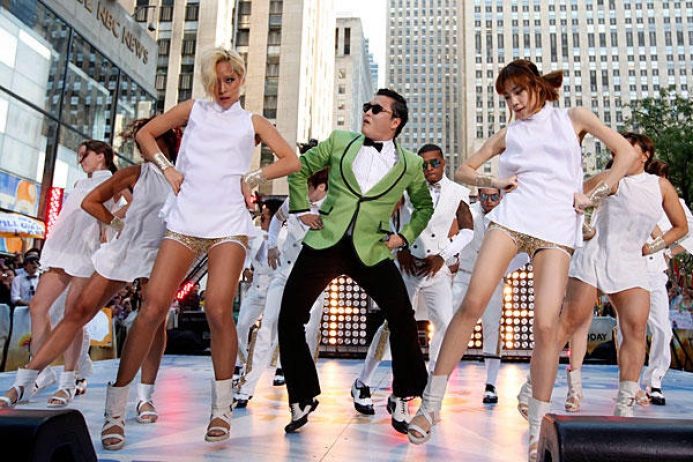 You know you wanna do it Gangnam style.
Off the heels of K-pop superstar Psy, move your body around New York this Halloween just like the creme de la creme of South Korea would.
Even if you don't want to wear that tuxedo or slick back that hair, you can at least have your entourage ride with you in a chauffeured luxury Mercedes van and dance up a storm inside of it a la this six foot Elvis (see video) while en route to one of the fabulous Halloween parties you have lined up.
If you haven't decided on your RSVP yet, it's not too late to get your tickets to three of our favorites.
1. Heidi Klum's 13th Annual Halloween Party
Probably the most anticipated Halloween Party on the East Coast, this event will feature music by Ms. Klum's favorite DJ Questlove (the drummer from the Roots) and a sea of costume-studded celebrities.
2. Playboy Mansion's Annual Kandy Halloween Party
Painted models, a 4,000-square foot haunted house, open bar? And all for charity? What more can you ask for at one of the nation's most sensational parties this season.
3. LA Halloween Dream Party
If you want to tote your tots, try this celebrity favorite child-friendly Halloween bash for a good cause, raising more than $36 million for the Children Affected by AIDS Foundation featuring a special performance by Victoria Justice. There's also a New York party hosted by Padma Lakshmi featuring a performance by Cody Simpson.
And when you have enough cognac in your system, we dare you to do the dance (Psst: here's a link to a private lesson).

Not to worry: what happens in these Mercedes luxury vans, stays in these luxury vans. And if you do want to get Gangnam for Halloween, go ahead... we won't tell on you. In fact, here are few tips.
1. Like a good Elvis costume, your hair needs to be slicked just right.
Here's a video out to help you out.
Or, simply: get a wig.
2. No respectable Gangnam gentleman or gentlewoman walks around without his or her retro sunnies.
3. Get an entourage. Send your friends and family this music video to psyche them up to be your Yellow Tuxedo Man, the Elevator Guy, or Sexy Lady.
[Photo credit: KKonnect.net]