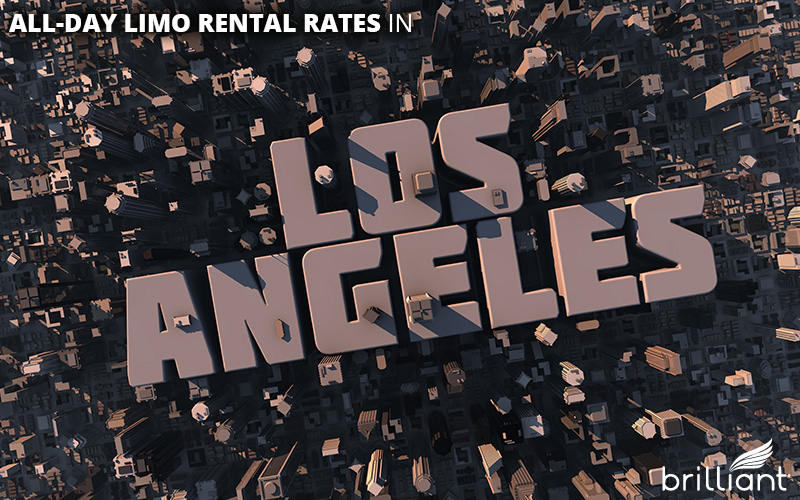 Limousine rentals can take many forms. Sometimes what the customer wants is a simple transfer going from point to point. This could be from your hotel to the airport, or from your home to a theater, or wherever you need to go. Sometimes customers will request a pre-packaged trip, like a 3 hour wedding service or a 5 hour sightseeing tour. Another very common type of trip is what's known as an As-Directed trip. This is basically an hourly reservation, good for unplanned or rambling trips, where you might have multiple stops and waits.
We get asked all the time about these different type of trip options, including, how much it would cost to rent a limo for the whole day? This would be an hourly type reservation, with the limo being in service for however many hours the client needs it. The time could be undetermined from the start.
Daily Limo Rates in Los Angeles
There isn't really a standardized day rate among limousine companies because there are just too many variables to consider from the start. In the customers' mind, the use of the a limousine for a day could mean anything from 6 to 20 hours. Other variables regarding the price include the number of passengers that need moving and the size and the quality of the vehicle you select.
Almost all limousine companies charge by the hour and that is also the easiest framework in understanding how limousine pricing works. But as I said, since the length of anyone's business during a single day could vary tremendously, always be specific upfront about how many hours you may need the limousine when requesting a quote. You may not know the answer, but at least try to provide a ballpark figure. That way the limousine company knows roughly for how many hours they will have to reserve the vehicle and driver.
Choosing the Limo that Fits Your Budget
The next factor in determining the cost for the daily limo rental is the type of vehicle you will be using. Obviously the bigger and nicer the vehicle is, the more it will cost you. Your entry level limo service would be a black sedan, like a Lincoln Town Car. These vehicles can cost you anywhere from $50-$75 an hour.
If you want something with more prestige, you could always choose a luxury import sedan, like a Mercedes or Audi. These vehicles offer more in terms of comfort and performance and so the cost is likely to be in the $100/hr range.
A larger vehicle like an SUV, usually a Cadillac Escalade or a Lincoln Navigator usually goes in the $80-$90 range. If you need something larger, like a limo bus to handle over 20 passengers, the rates on those usually start in the $150 per hour range.
Then there is the premium market. This would include special vehicles like Rolls Royces, Maybachs or other exotic and rare vehicles. The prices in this territory start in the $150-$200 per hour range. I would also include in this category premium luxury vans, like the Mercedes Benz Sprinters.
Daily Rentals Other than Standard Limousines in LA
Brilliant Transportation has an incredible fleet of luxury Mercedes Sprinter vans that are unrivaled in the industry. The inside of these vans are more like the interior of a private jet than a conventional van. Our fleet standard, the 7 passenger Brilliant Van has four facing captains chairs that recline and also come with extending footrests. Each seat also has a stowaway desk and reading lamp and standard electric outlet.
They are ideal for using as a mobile office for a busy executive on the road, or even as a mobile lounge for your friends and family during a night out on the town. The vans also come standard with WiFi and satellite TV with 2 large flat screen TVs on which to enjoy the action.
The hourly rate with these vans because they are so special, is $225 per hour. So for a day long reservation, that could entail anywhere from 8 to 12 hours, or $1,800-$2,700 in terms of the hourly fees. At our company the gratuity is discretionary, so the tip would be extra on top of that rate, as well as any taxes or tolls due.
The Perfect Fit For You in LA
We understand that our service may not be for everyone; we deal primarily with upper echelon clients, but also our company specializes in luxury vans and buses, so we don't carry black sedans or exotic vehicles. But consumers always have a choice, so it makes sense to do a little research first and find the company that best matches your budget and style.
If you feel that a Brilliant luxury van would be perfect for your next day-long limousine reservation, you can get a custom quote or speak to a client service specialist at 1-800-543-1001.