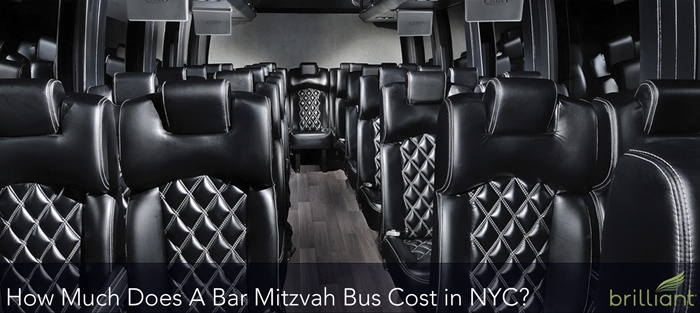 Mazel tov!
This is a special time in a young man/woman's life when they come of age and join their community as a peer. Naturally many families want to make this a very special occasion. And using a luxury bus to transport your friends and family to the big event can be a great way to celebrate!
Among the many details to arrange while planning your big party, the last thing you want to worry about is transportation. That's where reliable chauffeured or group transportation will come in handy. One of the first questions to come out of people's mouths in this regard is how much will this cost me?
I'll break down some prices in a minute, but your basic framework on pricing will have to do with the size of your group, the total time involved, the type of coach you want and the level of service you would envision to complement your plans.
As a rule, limo companies charge by the hour, use garage to garage pricing and have a hourly minimum, usually 2-3 hours per vehicle or more for any special event.
Brilliant Transportation is a premier purveyor of executive and luxury group transportation in New York City. Our exclusive fleet has many different sized vehicles to meet your special event needs.
For mid-sized groups larger than 14 people a mini coach is the way to go. This vehicle class is built for groups between 20-40 passengers. Anything larger than 40 odd passengers would require at least two mini coaches or upgrading to a full sized passenger coach which seat between 50-60 people.
At Brilliant, our luxury mini coaches come in two configurations, the 28 passenger and the 36 passenger bus. Both come with similar exteriors and interiors, the main difference being the number of seats and for the 36, an on board lavatory, great for long road trips.
Here is Brilliant's pricing for luxury group transportation in New York City:
---
28 Passenger Luxury Mini Coach $250 per hour with a 5 hour minimum.


36 Passenger Luxury Mini Coach (Freightliner platform with lavatory) $275 per hour with a 5 hour minimum.
Brilliant Transportation works mostly in the corporate and entertainment niche, so our buses reflect the needs and desires of a mostly business/talent clientele. This luxury vessels are perfect for transporting groups in great comfort and efficiency to a special event location or hotel.
We don't offer the type of 'party buses' that are often used to cater to the prom/wedding or bachelor party crowd with a dance floor or bar on board. But for clients who are looking for that sort of thing, there are many good limousine companies to choose from in NYC.
But for those looking for a high class and uncompromised quality of service, along with the best vehicles on the road, Brilliant has your needs covered. While there are many other lower cost providers you could to service your special event, we don't compete on price as we don't believe in compromising our level of service.
For those looking for first class service, and rock steady performance where failure isn't an option, Brilliant has many advantages to offer:
Imagine the big day has arrived. Everything is in place and ready to go, that includes your transportation from Brilliant:
Your gleaming silver luxury coach has arrived at your pick up location. Everyone is excited as the party gets underway. Your guests will appreciate riding in comfort and style to the venue in the Brilliant luxury mini coach. Your chauffeur is your guide and helper for the day.

We can also provide on-site coordination for loading/unloading if you party is big enough to require multiple vehicles.

The buses come with individual bucket seats with fine leather upholstery, tinted windows, privacy shades, and electric outlets and lighting for each passenger. A lovely hardwood floor in the bus sets the mood on luxury.

Your entertainment needs are handled with a large, flat screen TV up front, DVD player, premium sound system, PA system and drop down monitors throughout the cabin. Mobile WiFi is available upon request, no extra charge!

Brilliant trains its drivers and employees to the highest standards of customer service and delight. No request is too small to undertake, or too large! We have handled some of the biggest society events in New York!

Think of your luxury coach as your luxury hotel on wheels for the duration of the event, great service IS included!
If we're talking your language, then you know who to call. Please contact Brilliant by phone or online to receive a custom quote for your next event today. 1-800-543-1001 or request online quote.