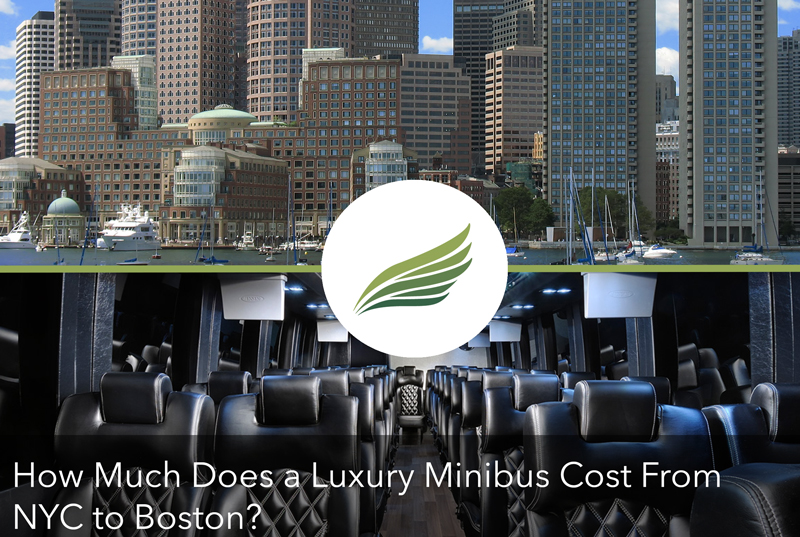 You're probably scratching your head wondering:
How can I transport a large group of people comfortably and in style?
Where can I find a reliable transportation provider that has event experience?
and of course, how much does a luxury minibus cost from NYC to Boston?

Luckily, we have answers. When we decided to adopt minibuses into our fleet a few years ago we found nothing on the market that we would put the Brilliant name tag on. As such, we set out to create a custom solution. What we created was our 36 Passenger Minibus.





How Much Does a Luxury Minibus Cost From NYC to Boston?
---


We use custom pricing for every charter. More than likely your group will need a custom service.

What I can tell you is we charge $275 per hour, but there are all types of variables that determine the final price.

The good news is we're always available to provide you with quick and painless quotes. Simply give us a call at (800) 543-1001 or fill out the online request a quote form and we'll send a quote directly to your inbox (we will be in touch to gather more details).


Imagine this:



You're in charge of transporting 30 people from New York City to Boston.
The pickup time has been set for 9AM.
To your delight you see the luxury minibus has arrived an hour early.
An on-site coordinator greets you and suggests that we start allowing passengers to board because he understands it normally takes 30 minutes to do so.
You sit back and watch the on-site coordinator and chauffeur load the bus and make sure everyone is all set.
The luxury minibus leaves NYC at 9AM sharp.
On the way to Boston, the passengers rest comfortably in leather seats and watch TV.
You come over the on-board PA system to warn passengers that the bus will be arriving in Boston shortly
The passengers arrive at the perfect time.
Your event turns out to be a huge success and you thank the on-site coordinator for making your life easier.



Does this sound like what you're looking for? If so, it would be our pleasure to provide you with a custom quote from NYC to Boston. Simply give us a call at (800) 543-1001 or fill out the online quote form.

We look forward to hearing from you soon!