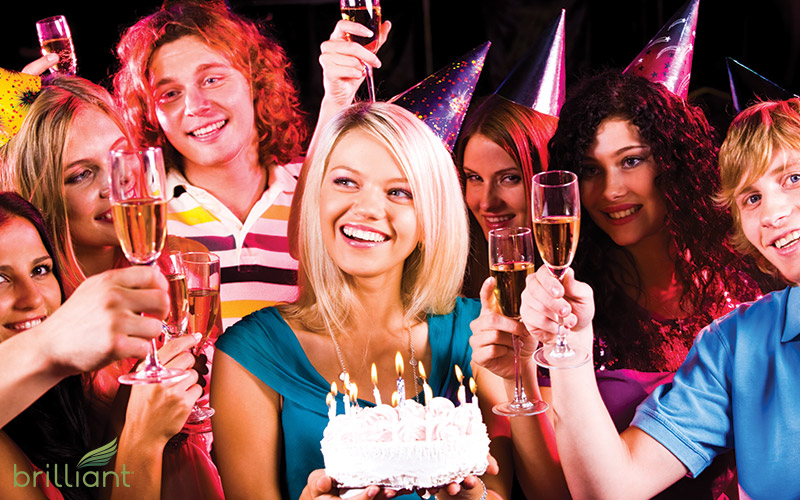 If you're planning a birthday party in Los Angeles, booking a limo service can make the party experience amazing, especially for the one you're celebrating. The extra extravagance adds an element of class to the special occasion making it seem more like a treat than a normal party.
If you're reading this article, you're trying to find out how much it'll cost. In our experience of providing limo service for some of the most lavish birthday parties on both coasts, we can only say, "it depends." From Sweet 16 parties to larger events, there is no set standard on how much a birthday party limo will cost in Los Angeles.
The Price of a Birthday Party Limo in Los Angeles
In our experience, we've found four variables that impact the cost of limo service for birthday parties in LA. Making a decision on each of these variables will allow you to get exact quotes for the kind of birthday party you're looking to have.
1. How Many Passengers Will Ride in the Limo?
We've handled parties from hundreds of attendees and we've also provided a single van for a few girls celebrating a Sweet 16. The number of passengers will impact your cost even if your party is small.
Not all limos are the same, and even the stretch limos come in different passenger seats. If you price an 8 passenger limo for 10 girls, your birthday party could end up a disaster.
We recommend booking larger capacities than number of passengers. It's always better to have more room than not enough. Even though the price will increase the larger vehicle you get, the peace of mind knowing you can accommodate an extra passenger if need-be is worth the investment.
2. How Long Do You Want the Birthday Limo Ride to Be?
Most limousine services charge an hourly rate, although some will put together a birthday party package for a flat rate. Even at the flat rate, they will limit your usage based on hours, so it all comes down to how much per hour the limo service charges for the type of vehicle you want.
Keep in mind, most high-end limo services have an hourly minimum of which you can book their vehicles. We have a 3 hour minimum at Brilliant for our vans, and a 5 hour minimum for our larger luxury buses. This hourly minimum ensures our vehicles are in tip-top shape for each booking.
Depending on your even plans, 3 hours may be plenty of time for your birthday party. If the event is longer, or if it's a larger event, you'll want to get a customized quote from your limousine service. If you're shooting for the hourly minimum, make sure to inquire as to the charge if you decide you want to go beyond the minimum.
At Brilliant, we charge our base hourly rate if our booked time is exceeded. This ensures our clients are always billed a simple, easy to understand rate. Other limo companies may charge a penalty fee if you go over the allotted time, and it could get ugly if you're not careful.
3. What Kind of Limo Do You Want for an LA Birthday?
Limo services around Los Angeles, in both LA County and Orange County, offer a wide variety of vehicles. From old, high-end classic and exotic cars to stretch limos, and even large motor coaches; your birthday party transportation can take on whatever aesthetic you want.
Choosing an exotic car, or larger group-transportation will increase prices dramatically over normal sedans or even stretch limos. Usually, a stretch limo, depending on the quality of service, will run around $80 to $200 per hour. Stretch SUVs can run anywhere from $150 to $300 per hour.
4. Quality of Service
All industries are the same. You'll pay more at Nordstrom than Wal-Mart, and you'll pay more for the Four Seasons than for Motel 6. You can get similar products, but quality will change depending on the level you choose to buy.
In the limo service, it's the same thing. If you're looking for cheapest, you'll find a lot of limo services that provide nice service. However, if you're looking for the best experience with premium chauffeurs and nicer, cleaner vehicles, a premium price tag is usually attached.
At Brilliant, we provide the ultimate in customer service and vehicle quality. Transportation is only a minor part of the service we provide our clients. Thus, our price tag is at a premium and less than half the people that come to us can actually afford it. But if you're looking for the premium quality, we're a good company to check out.
Getting the Best Birthday Party Limo in LA
Ultimately, deciding on the cost of a limo service for your Los Angeles birthday party really depends on your needs for that special occasion. The best limo company is the one that can best meet your unique needs.
Price shouldn't be the ultimate deciding factor in choosing a limo service. Keep in mind some limo companies advertise a low price and tack on extra fees in the fine print. Make sure you ask the tough questions and get straight answers when you're vetting your limo services.
In the end, the limo company that can make you feel at ease, and deliver the quality of product you desire becomes the best limo company for you. Just make sure when the day comes, your attention is on celebrating the birthday and not on wrangling with a limo company or a driver that forgot your appointment.
If you're interested in the birthday party services we offer at Brilliant, you can get a quote from us here, or call us anytime. If we're not the best fit for you at this time, we wish you a happy birthday celebration!