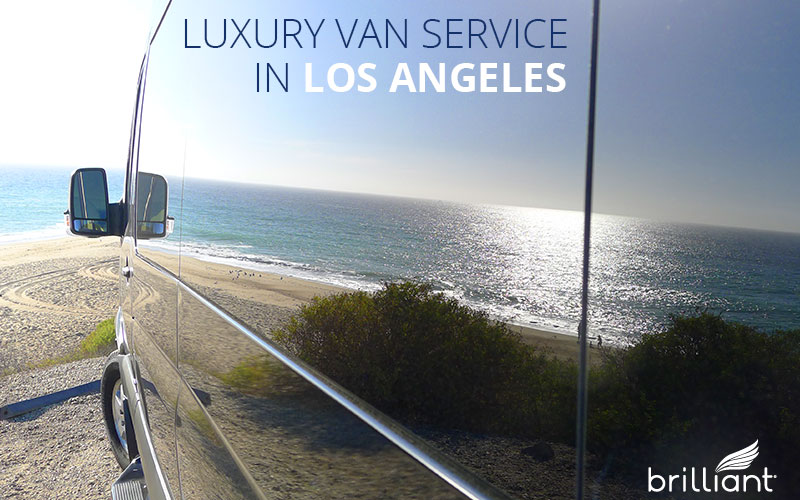 Many times clients will be interested in hiring chauffeured transportation but aren't quite sure which service is best for them. They may want something more substantial than just a simple black car service, but by the same token they are not interested in drawing too much attention to themselves with a glitzy stretch limousine. What other options are available to them?
Luxury Van Service Rates in Los Angeles
One possibility would be to go with a luxury van. This is a category that is fairly new in the limousine industry which is quickly gaining popularity because of the multiple benefits it provides. Of course, luxury vans offer plenty of luxury while also being very practical in terms of their size and the number of people they can take. They offer style and class but they're also much less intrusive than a stretch limousine would be. So the next question for executive customers who are unfamiliar with the format is, how much would a luxury van service cost, here in Los Angeles?
The answer is, it depends, on how long you need the service for and the specific type of vehicle you're interested in; also the quality of the service you deal with. In this blog, we'll review these issues and hopefully make you more comfortable with some basic limousine billing practices so when it comes time to make your next reservation, you are in the driver's seat, but not literally of course, as you seek out the best chauffeured transportation available!
LA Van Service Hourly Prices & Minimum Rates
One of the first billing practices that you need to become comfortable with is hourly billing. Any chauffeured transportation, whether it's a black car or a stretch limousine or a van service, will bill hourly. So this means that the more time you require for your reservation, the more it will cost.
Even if you are offered a flat, transfer rate for a long or short road journey, that flat rate will be calculated on the basis of how many hours or fractions thereof, it would take for the vehicle to complete this journey. So even if you were guaranteed a flat rate, if you're journey takes much longer to complete than average, because of additional stops or what have you, you should expect to be billed for the additional time.
Another basic practice you'll encounter in chauffeured transportation is the use or hourly minimums. This practice is industry wide and it frequently take the shape of a two or three hour minimum. The exception to his rule would be for short trips on the most frequently traveled routes, like an airport transfer. But frequently, I'll get customers who say, 'I just need the vehicle for 30 minutes in order to go from A to B! Why do I need to pay for a full three hours?'
This is a very common question but the answer to it is simple.
Luxury van service, just as other limousine trips, is based on a pre-arranged charter by a specific party, not regularly scheduled service used by the public. What this means is that unless a driver and a car are assigned to a specific job, they are not on the job. So to call someone in to work and get a vehicle ready for a trip, only for 30 minutes would be hardly worth the cost of doing so.
And limousines and chauffeured vehicles are used on a much less frequent basis than a taxicab or public transportation. Thus in order to cover their operating cost for a limited clientele, as well as being able to to offer exclusive, on-demand service, limousine companies will use the hourly minimum.
Comparable Vehicle Types & Typical Rental Rates
The other main factor that will affect the price of your reservation other than time is the type of vehicle you select. In this case, we're talking about luxury vans, but how would the rates and functionality of vans compare to other types of chauffeured vehicles? The most inexpensive chauffeured ride you could hire would be a black car service like a Lincoln Town Car. This type of service can only handle a maximum of 3 passengers and the starting rates for this service in Los Angeles is generally from $55-$65 per hour.
The next step up in size would be hiring an SUV which can hold up to six people and their bags. Typical choices in this segment are vehicles like the Cadillac Escalade and the Chevy Suburban. Rates usually go for $65-$85 per hour. Rates for stretch limousines can vary quite a bit due to the differing equipment and the many different versions available. Look for starting prices anywhere from $75-$100 plus per hour.
For a bigger group up to 15 people, the best size vehicle for this crowd is a standard passenger van. Many limousine companies offer passenger van service for small groups to get the airport and the like. These vehicle don't offer anything in the way of luxury transportation; they're purely practical vehicles. Standard rates for these go for $65-$75 per hour.
If you still need something bigger, for groups between 20-40 people in size, minibus would be the best option. Rates for these go anywhere from $150-$300 per hour, depending on size.
Why Luxury Van Limos Are The New Way To Go!
So you think you might want to try using a luxury van service? That's a good choice because you have the opportunity to ride in luxury and comfort, without calling too much attention to yourself, and you also have the option to bring along more people if you choose as well. Luxury vans usually hold anywhere from 6-12 people max.
They are often based on the same vehicles used for passenger van transportation, but they are extensively upgraded. The interiors are completely redone. Gone are the bench row seating and they are usually replaced by something much more comfortable, like captains chairs that give passengers more seating flexibility. Also expect to see the addition of extensive entertainment technology and more limo like amenities, like bars and mood lighting. Rates for luxury van can go anywhere from $85 per hour to over $200 per hour for the most exclusive vehicles.
Brilliant Transportation works in this exclusive realm, offering our clients the most luxurious and comfortable vehicles on the road. The van format is also very versatile, and it works in just about any environment or occasion you could think of.
Brilliant's Sprinter Limos
Brilliant Transportation pioneered the use of luxury vans in the high-end chauffeured markets of New York and Los Angeles with our all-Sprinter fleet. Sprinter is the name of the large van products made by Mercedes Benz, and they are used by all manner of commercial companies. Brilliant's luxury vans are custom converted creations, offering leather clad captains chairs for its passengers that recline and also extend footrests electrically. Leather and wood finishes are used extensively on the inside.
Our tall vans also offer 6'3" headroom and each seat is set up like its own workstation, with foldaway desks, reading lights and outlets for your personal electronics. Our luxury vans also come equipped with mobile WiFi and satellite TV, featuring 185 channels of DirecTV. Our vans provide the perfect atmosphere whether you need to transport a group of executives on a business trip or a group of friends for a night out on the town.
Use of these exclusive vans go for $225 per hour with a three hour minimum. It's not a price that every traveller can afford; there maybe other options out there that would be a better fit for someone who is looking for an inexpensive ride. However, for certain occasions and certain clients, it is absolutely the perfect luxury transportation solution they have been seeking!
To find out more how Brilliant Transportation can serve you in Los Angeles, contact us at 1-800-543-1001.