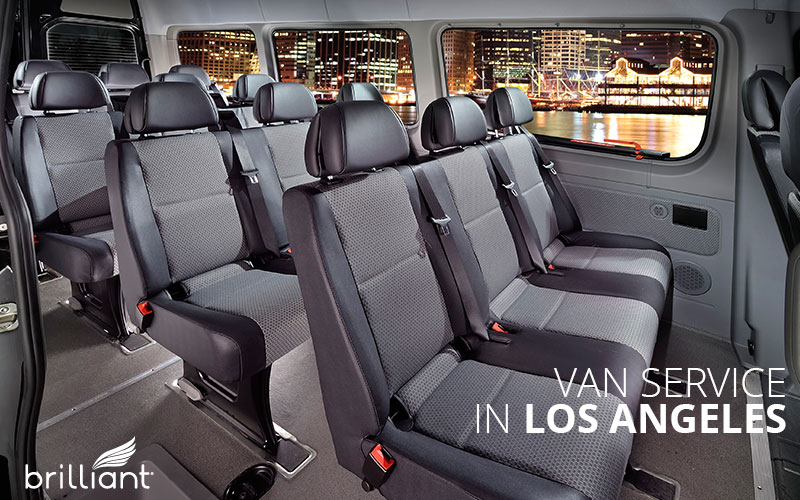 Although riding in a limousine is special treat for most people, for a few frequent consumers, the experience can sometimes be underwhelming. Perhaps they weren't particularly enthused about a just average vehicle, or they felt the customer service was somewhat flat. It can happen!
For those interested in a better experience, I would suggest that they try hiring a luxury Sprinter van for their next chauffeured trip. Luxury van trips are an emerging category in the limousine business and using a Mercedes Sprinter can offer clients a new perspective on what's possible in executive transportation. In fact, being in the business ourselves, many potential customers have approached us with the question, 'What's the best Mercedes Sprinter van service in Los Angeles?'
How to Find the Best Mercedes Sprinter Van Service in LA
That's great question and I'd like to provide you with an easy answer, however there are many variables involved with a possible chauffeured trip, so it might be worth exploring those issue sin a bit more detail. First of all, you need to define what 'best' means to you since that can mean many different things to different people. Best to some might mean the cheapest price, whereas for others it might mean the most luxurious service imaginable.
Also you need to consider how many people are in your party. The Sprinter vans can accommodate various sized groups and you'll want to match your vehicle type to size of your part. If you have a small group of up to 14 people, you would need to go with a minibus version, also known as the 14 passenger van model. That model works great as a people hauler, but as a standard vehicle it might offer less in terms of amenities than luxury version would.
Luxury versions of the Sprinter are going to be custom converted version, so the number of passengers it can hold will depend on the specific model used by the company in question. But generally those version will hold anywhere from 4 to 12 passengers. A really deluxe version featuring all captains chairs would probably not fit more than 9 passengers maximum. Some clients choose a luxury Sprinter even if they are just a single passenger. It might be considered overkill to use such a large vehicle for one person, but if a client really wants all of that space to his or herself, certainly there's no harm in that.
Regardless of the specific vehicle you choose or the company you go with, you're going to want to choose a provider that emphasizes excellent customer service. That might seem obvious as just about any limousine or luxury van company is going to say that they provide great service. However, while many can talk the talk, not as many will actually walk the walk. You'll want to use an experienced provider that has a good reputation for its services.
We've written a review on the four best limo van service comapnies in Los Angeles. Check it out for extra reading!
Finding a Premium Quality Van Limo Service in LA
Unfortunately, it's not always easy to figure this out as a consumer; online review can be inadequate, misleading or non-existent. But its worth doing some online research anyway, and if you can get any recommendations from friends or associates, that's a good source of leads as well.
One thing you can do while shopping around is to ask the service representatives directly to give you information about the companies training programs, as well as quality control processes that they have put in place. If they can give you a comprehensive answer, that's a good sign you're on the right track. A successful and efficient provider will use extensive measure to train their staff and oversee reservations and live trips to ensure that everything id done correctly.
Also try to learn as much as possible about the particular van you plan on using. As I mentioned earlier, 'Sprinter van service' could cover anything from a cargo van, to a minibus to a luxury van. There isn't such a thing as a standard luxury van, even among Sprinter fleets because this is a custom category. Each company offering Sprinters could potentially be using a different product. If you have specific needs or desires for your trip, you'll want to make sure that the vehicle your choosing has what you expect.
Different Van Versions
The difference between a standard Sprinter passenger van and a luxury version can be considerable. A conversion company will start with a passenger version and completely redo the interior and exterior. Mercedes does have plenty of nice factory options for the exterior, alloy wheels, high-gloss paint, tinted windows and the like.
The interior will be the main focus of renovations. The bench row seating will get taken out, often to be replaced by larger captains chairs for maximum passenger comfort; a partition will be added to wall off the passenger cabin from the driver; upgraded interior materials and finishes will be applied, and usually a whole host of entertainment and electronic equipment will be added. The finished product will be entirely different from the original and it will provide passengers with a totally upgraded experience.
The Brilliant Sprinter Van Limo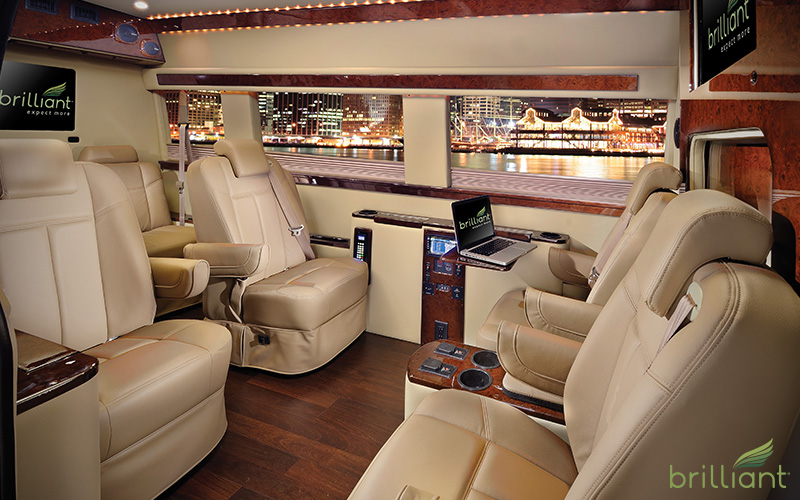 Brilliant Transportation is a Sprinter specialist, with all Sprinter fleet of luxury and passenger vans. We pioneered this business in Southern California. The experience of using one of our vans is second to none. Our van interiors are more like the interior of a private jet than a regular van. The cabin is done in a tasteful beige leather with lovely blond hardwood flooring.
Our 7 passenger luxury model has four large, leather covered captains chairs which face each other, which makes for a nice conversation area. The rear bench seats an additional 3 people and it can fold down flat like a bed. Each seat is set up like an individual workstation, with a foldaway desk, reading light and outlet for your personal electronics. In addition on board WiFi is standard as well as two large, flat screen TVs featuring 185 channels of DirecTV.
That set up makes the van perfect for acting as a mobile office for busy executives on the go, but it also works great as a mobile entertainment lounge for a night out on the town.
In addition to fielding the best luxury vans available, Brilliant puts a tremendous amount of resources in providing the best possible customer service. Our chauffeurs as well as our reservation are highly trained to create the best customer service experience. No request is too big or too small to carry out. Each client is treated like royalty, with the client's needs and schedule being foremost in our mind.
This kind of service and equipment puts us in pretty exclusive territory, and our services probably won't work for a majority of possible customers who approach us. But we're okay with that. We want to focus our time and energy on providing an extraordinary trip to the most discerning clients. For clients who don't need 'the works', there are other, lower cost services that might be a better fit.
But if it has to be the best, consider contacting Brilliant Transportation today to receive a custom quote for your adventure in private motoring. You can reach our reservation staff at 1-800-543-1001.