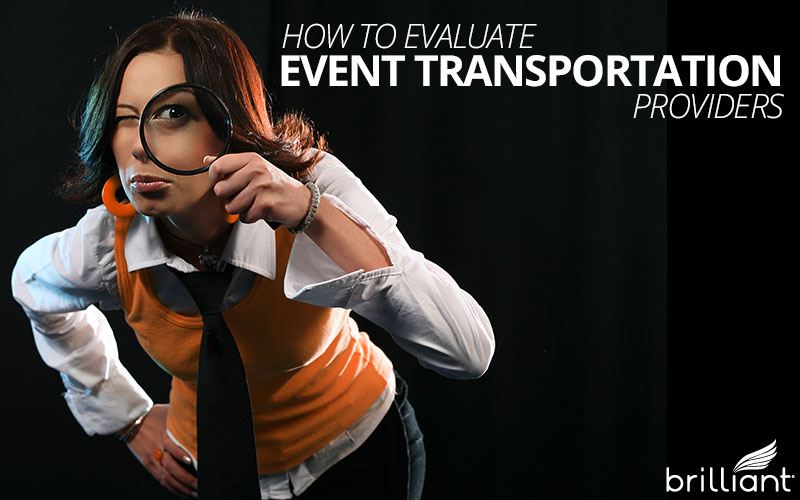 You may find yourself in this situation someday: you have to organize event transportation for your company on short notice, and you don't know which transportation company you can trust.
What do you do?
After pulling your hair out for minute, you get it together and realize this is a doable task! But it helps to be organized and have a sense of what criteria you have to follow to get the job done. This article will give you helpful suggestions to help you on your way.
Obviously, the bigger the event, the more transportation you'll need to arrange, and the more lead time you need as well. One of your biggest factors for success will be having ample time to organize everything. Hopefully your bosses aren't too cruel and dump a big assignment on you last minute. Of course in business, sometimes events do have to be arranged last minute. That's why this article is important; it helps you be prepared.
The Best Way to Evaluate Event Transportation Vendors
If you know organizing transportation is something your company has done in the past, one of the best favors you can pay yourself is to be pro-active and start your search for a transportation provider in advance, before you even have a date or event to consider. That way, when the call comes, you'll be ready!
Finding the Right Provider: Focus on Customer Service
What are some of the most important factors to consider?
I would argue that good service is the key to all successful travel. So you want to focus your search on finding a quality provider, not just any old provider who offers to do the job.
I think we are all familiar as consumers about what service is about. It is being attentive and taking care of requests and doing it in a hospitable way. But it is also fundamentally about being good at your job. In order to provide good customer service, the service part of what you're offering has to be right for the client. In ground transportation, that means being on time, not getting lost, taking the most efficient route, showing up with clean and well-maintained vehicles and generally making your passengers feel right at home.
In trying to book an event transportation provider when you have no experience, the first thing you should do is canvass your co-workers or perhaps other resources in the company, friends, other vendors or partners and see if they have any experience with transportation companies and what their experiences were. Hopefully you'll come up with some good leads. If not, no worries, you still have the World Wide Web at your disposal.
So as you start to research companies online, your first line of information is going to be what these companies say about themselves on their site. If they're on the right track, you should be able to pick up from their literature about their customer service orientation and how they go to great lengths to satisfy the customer. At least, that is what you want to see.
Don't Let Companies Over-Promise: Ask for Details and Proof!
But of course, there can be some difference between what companies promise and what they deliver. The proof is in the pudding they say! Looking from the outside in, you can never be 100% sure about how things are going to go, but you can ask some intelligent questions and try to tease out the real story.
Certainly, not all transportation companies are the same. For one, they work in many different niches and marketplace, but assuming you have found the provider who is a reasonably good fit in terms of services offered and vehicles available, you can zero in on the question of quality.
Ask your potential service provider about their experience level for the type of event you are organizing, and if you can try to get specific details about jobs they've done in the past. Perhaps it might even be possible to get some references from them regarding current or former clients
This isn't necessarily standard procedure when booking transportation, but if this is really an important event for your company, it would be good on you to go beyond the bounds of convention and ask for what you need! You really need a high quality service provider and it is your job to see that it gets accomplished. So take the seriously, ask probing questions. See if they can provide documentation for what they claim.
What Kind of Training and Trip Preparation Do They Provide?
One line of questioning that might provide fruitful is to ask them specifically about their employee and driver training and safety programs. The extent to which the provider takes their operations seriously should give you a good clue about how they really operate! A service oriented organization will have serious training programs in place to take a person of the street and turn them into a polished transportation professional!
This is important in order to maintain high standards, but also it's useful to realize there among drivers in the transportation industry, there can be a high degree of turnover. So successful companies realize they need good training programs to keep their edge. One thing you can do as a consumer is always request their most experienced driver for your job. They may not always be able to comply, but at least you're minimizing your risk of ending up with a newbie driver. It's not really that the driving is that hard, but it does take some experience to learn the ins and outs of organizing and preparing for trips, and what to do when things don't go according to plan.
In that vein, safety is also a paramount virtue in the transportation industry. Accidents can and do happen, but a well trained and safety conscious chauffeur can do a lot to minimize your risk of having problems. A company that is highly principled when it comes to safety preparation is also more likely to be serious about their customer service and how they do things in general.
Give Them Plenty of Details About Your Event: How Would They Handle It?
Another tip for planning event transportation to be give as much information and details about your event as possible to the provider early on. If you're still in the vetting stage, you can still do this, or even give them a theoretical event and put them through their paces. See how they would mesh with your plans.
If you're planning a business convention, or even a personal event like a wedding, give them detailed instructions on how you would want the event to operate. See if they make helpful suggestions, provide worthwhile advice and meet you half-way in your planning process. They they take this beginning task seriously, and you get the sense that they are knowledgeable, experienced and willing to help, then you know you're on the right track!
Beta Test Your Provider
A few more parting pieces of advice: don't put all your eggs in one basket. If you're interesting in establishing a long-term relationship with an event transportation provider, you may very well want to end up working with only one company. Don't just start with one company, but solicit several bids and try to narrow it down to five or fewer finalists. In the vetting process, you can pit one provider against another and see which one does a better job for you in the selection process.
Ideally, if you have the time and opportunity, give your potential vendor a chance to prove themselves in the real world. Maybe you can assign them a small job, like just an airport transfer for one of your executives, and see how they handle the small stuff before assigning the company the big project that cannot fail.
Start Early and Take Your Time!
In closing, the best advice I can give you is to start this process early, before you really need it. Some companies may only require event or executive transportation once in a great while, so this might be harder to do. But as an executive assistant or travel or event planner, you're in a much stronger position if you can have a ready go-to list of proven transportation providers (more than one ideally) to call upon when your organization gives you the big assignment.