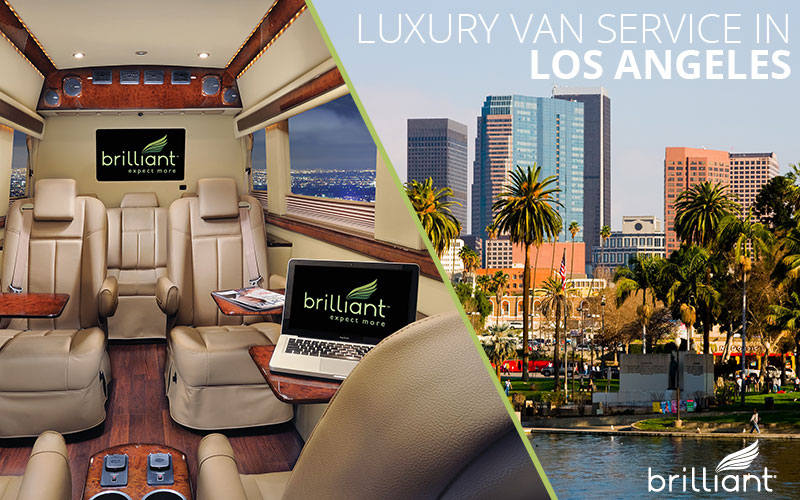 As trends evolve and fashion moves forward, personal service businesses need to keep pace too. More and more, people are on the go and they are doing their business on the go too. This creates an ideal situation for limousine operators because chauffeured transportation allows for clients to focus on other things while they're in the car.
The Best LA Limo Van Service For Your Needs
As more personal vehicles offer on board connectivity and entertainment systems, expectations for chauffeured transportation is changing as well. People expect more out of their chauffeured ride and to be able to do more as well. This plays to the strengths of an emerging executive transportation option: the luxury van. Vans aren't just for families or sports teams anymore, a luxury van can act as a mobile office, or a mobile entertainment lounge when you're planning a night out on the town.
Brilliant Transportation is a leader in the field of luxury, executive transportation, but also in the area on mobile productivity. Our luxury vans are perfectly suited for acting as a de-facto office when you're on the road. Brilliant features an all-Mercedes Benz Sprinter van fleet; these class leading vehicles are sophisticated and elegant. The tall Sprinters also offer 6'3" of standing headroom and a full partition between driver and passengers. Total privacy is assured.
Our plush leather and wood accented interiors feature adjustable captains chairs that are set up like mini-workstations. Each seat offers a stowable table top, plus reading lamps and outlets for your personal electronics. Our luxury vans also come equipped with WiFi and satellite TV provided by DirecTV.
Premium Quality Customer Service
Before you go ahead and reserve your Brilliant Van, let's take a quick look at what's involved in creating the best chauffeured luxury van service. Regardless of which company or vehicle you choose, any good limousine or van service company will put the emphasis on providing top-notch customer service.
But good customer service is more than just superficial pleasantries. It means performing the job with excellence and efficiency. And in order to do that consistently, it requires plenty of hard work and thorough employee/chauffeur training. Training should also be on-going so that good habits and routines are imprinted upon minds of the team members.
Management also needs to play a role by not only providing the training and keeping it current, but also having a quality control system to catch errors before they cause problems for the clients. While mistakes can sometimes be unavoidable, quality transportation companies will also have a system in place to resolve problems and customer complaints immediately, so that client's feel their needs and wishes are being responded to in real time!
What's is a Luxury Limo Van?
There are many consumers out there, even ones who frequently use limousine service who aren't familiar with the benefits of using a luxury van. It's important to note that while luxury vans may be based on the same vehicles used for standard passenger van service, they are actually very different types of vehicles with a totally different customer experience.
Standard passenger vans can carry up to 14 and 15 passengers and are often used by limousine companies for airport transfers or hotel drops for small groups. They are practical vehicles, but not luxurious and they don't offer any special features.
Luxury vans on the other hand have been totally re-worked inside and out to create a more elegant and comfortable experience for the clients. Gone is the bench row seating usually replaced by captains chairs, upgraded interior materials like leather and often feature special entertainment equipment like satellite TV and large flat screen displays.
There isn't a standard vehicle in use for the industry because each company has to order a custom converted van, so styles and equipment, and thus rates will vary quite a bit. Inquire with your specific provider for vehicle details and specifications.
Premium Van Limo Service on Both Coasts
Brilliant Transportation puts a huge emphasis on first class customer service as well as fielding the most luxurious and technologically advanced vans on the road. You'll feel like royalty, or at least a movie star when you move around in one.
We believe that no other company in Los Angeles can beat our premium service. These exclusive vehicles do come with a premium price as well, and while that might not work for every customer; for those who demand the finest, Brilliant Transportation offers the best solution for luxury van travel.
Contact us at 1-800-543-1001 to receive your custom quote today!