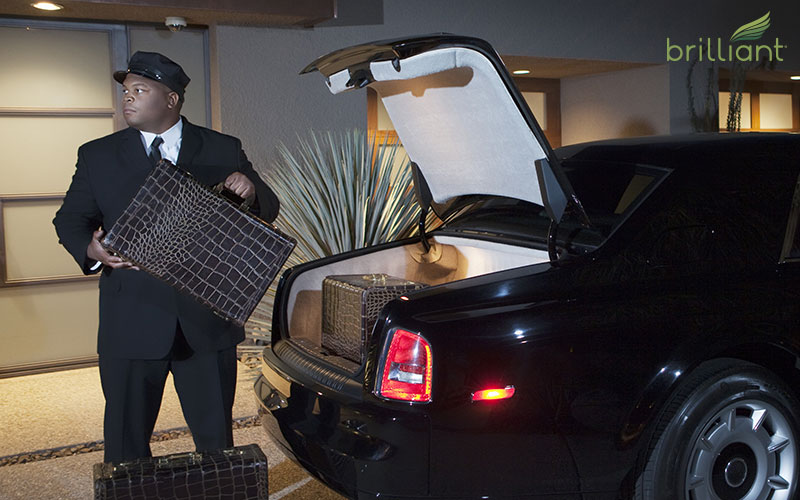 You know the expression from Forrest Gump, "Life is like a box of chocolates; you never know which one you're going to get"? Well sometimes limo service can be a little like that too. Most of the time, most limo companies will provide admirable service, but sometimes they fall down too. Hopefully that won't happen when you're in the car, or perhaps entertaining an important client.
Nothing can be more frustrating than paying extra for a service that lets you down. You don't want an important personal or business occasion which could be going really well to be spoiled by poor or inconsiderate service. It brings to mind an important question for consumers and transportation operators alike, 'which limo company has the best chauffeurs?'
We get asked this question as well and of course while we would like to say that we provide the best chauffeurs in L.A., it is also a serious question and worth looking into further.
Finding the Limo Company with the Best Chauffeurs
What makes a good chauffeur in the first place? Like many positions in a client services industry, some employees are just better at dealing with people than others. But to be a great chauffeur, it takes dedicated professionalism to provide excellent customer service over a sustained period. And professionals are really made, not born. They get to a high level in their careers through extensive training, practice and experience.
Like any good professional, it takes a lot of dedication and doing the work day in and day out to get good at what they do. And it's the level of dedication that they bring to their own work that will also help the customer get the type of service and care that they want see applied to themselves. So in addition to being dedicated, a good chauffeur will have integrity, be responsible, but also be friendly and courteous.
The way these qualities will manifest is that the chauffeur will take the basics of his or her job very seriously. He or she will be on-time, they will arrive in a clean vehicle in top condition that they have cleaned, prepared and inspected themselves. They will be fully knowledgeable about the itinerary, the client and checked weather and traffic conditions beforehand. If they are picking you up at the airport, they will have checked the flight status to make sure they met you on time.
As the driver takes you from your pickup location to your final destination, they will be fully familiarized with the route, even if it is in a new area, and they will also have alternative routing ready if you should encounter a detour or a traffic jam on the road.
When the Customer Comes First
A good chauffeur will treat you like you're the most important customer in the world, greeting you by name, helping you with your bags, opening and closing the door for you, and making sure you're comfortable once you're seated. If you give them specific instructions or if you want them to take a particular route, even if the driver doesn't recommend it, they will follow your directions explicitly without argument. If there is a problem or delay during the trip, they will take every action they can to resolve the problem before it has a negative impact on the customer. They will pay attention to the road and not be talking on their cell phones (unless it's with dispatch) or listening to the radio. And lastly, they should do all of these things with a smile on their faces.
So that's what a good chauffeur will do, and they will do these things not because they are nice people (which they probably are), but because they have been properly trained to do these things.
Proper Training Makes The Best Chauffeurs
Brilliant Transportation takes a lot of time and effort to make sure our chauffeurs are properly trained and licensed. It is a rigorous process they have to go through, and it all starts in the way they get hired. Brilliant carefully screens all of their prospective employees and a large majority of people who apply for the position get screened out long before they receive a job offer.
Once they are hired, they go through an initial trial and training process that doesn't let up once their probation period is over. We work at providing continual training, always trying to raise the standard of our drivers. We also employ a full-time chauffeur trainer and recruiter who keeps daily tabs on the development of our drivers, in addition to the regular oversight by our managers.
In addition to this rigorous training process we also have a stringent system of checks and balances to ensure quality control in all of our reservations and also dealing with customer care. Just like we have to carefully maintain our vehicles, we keep control over our drivers and make sure all of the details in a reservation are correct by going through a thorough checklist before any vehicle is dispatched. That is the easiest way to correct errors, which is to correct them before they can impact the customer!
Finding the Right Limo Company in LA
All of this takes a lot of effort and time, but it's what ends up delivering superior customer service to the person who really counts: the paying customer. Do other limousine companies do this as well? It's hard to say to be honest.
Many companies will pay lip service to the concepts of good customers service and extensive training on their websites, but can they deliver in the real world? That is the big question. It's hard to know from the outside looking in what goes on in a lot of companies. Like I said earlier, many limo companies can do a good job most of the time, but it's in those small percentage of cases where the quality of one's service is really tested.
Sometimes the best you can do as a consumer is to do some preliminary research by checking out a company's reputation online, getting referrals or recommendations if you can, and calling the provider and asking them some direct questions.
I'd like to be able to say that you can avoid any problems with driver quality by just hiring us, but at Brilliant we recognize that we cannot be all things to all customers. We are by no means perfect, but our standards are extremely high and we work hard to maintain them.
However, we only serve a certain segment of the marketplace: very high end corporate and retail customers who prefer the utility and luxury of our Mercedes Benz Sprinter limo vans. That's not what every limousine customer needs or can afford.
Knowing all your options.
I want to be able to help our potential and future clients by giving them recommendations on other local limo provider here in Los Angeles.
There are many great chauffeurs out there in the industry as well as solid limousine companies that provide great service.
Here are a few of them:
Avalon Transportation, KLS Worldwide, Winn Limousine, ITS International, Alliance Limousine.
Hopefully you will find this a useful list, but if you still need a luxury van service than is the ultimate in luxury and offers an incredible customer service experience with outstanding chauffeur performance, then you should consider going Brilliant!
If you're interested in booking with Brilliant, you can get a quote here or call us anytime!