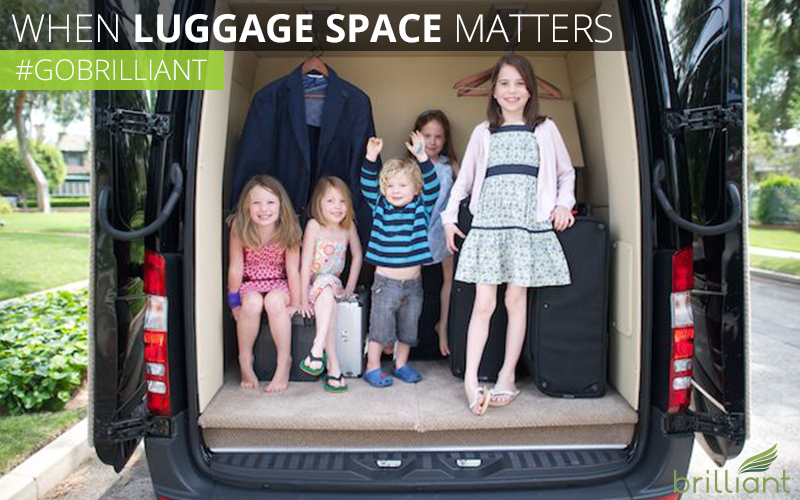 You could be amazed by the sheer variety of things people will bring with them on long road trips! At Brilliant Transportation, we specialize in luxury transportation, so we know a lot about what type of things clients do and don't bring on the road.
In fact we've even had experience dealing with wealthy clients from the Middle East who, it would seem, bring the entire contents of the household, plus servants, when traveling in the United States. Many times, for clients like these, in addition to providing personal transportation in our luxury vans, we have also had to provide additional cargo vans just to fit all of their luggage!
So when clients call to ask about which limo provider is best when you have a lot of luggage, we can definitely speak from experience. Alas, even though travelers are often recommended to travel light to ease their burden, there are always customers who simply don't heed that advice.
Luggage Space in Limos
If you are planning a long trip and will be bringing a lot of luggage with you, it doesn't have to be an ordeal, if you plan ahead and also accept that will have have to pay more for the luxury of bringing all that extra stuff with you. Ground transportation provider don't usually charge extra for excess luggage, unless you require an additional vehicle to carry everything. But considering the airlines will definitely charge for extra baggage, this is something you need to plan for.
On any ground trip, you need to size the vehicle you want to hire to match the number of passengers you have and also accommodate all of their luggage. At Brilliant Transportation, we have an advantage with our large Sprinter vans over many other limo companies that just offer sedans or stretch limos.
Other than a single large trunk that comes with the Lincoln Town Car (a standard vehicle for most limousine companies) most sedans and stretch limos don't offer any additional luggage space for their passengers. Also bags have to compete for space with a spare tire in most sedan trunks. In a less than ideal situation, you may end up riding with your bags in the back if you exceed the capacity of the trunk!
Transportation With the Most Luggage Space
Our Sprinter vans don't have this shortcoming. Each one of our vans comes with a large luggage/trunk space in the aft compartment. The tall height of our vans also confers an advantage. The luggage space is roughly 6 feet tall and three feet wide so that's nearly 20 cubic feet of luggage space available. Also this tall space works great for long bulky items like skis, surfboards and golf bags. Additionally there is room for carry-ons in the passenger compartment.
For groups where the passenger capacity of the luxury van is almost full and they are bringing a large amount of baggage with them, for example for a flight or cruise ship overseas, I recommending booking our 14 passenger van, even if they their head count is only half that. The 14 passenger has the largest luggage capacity of any of our vans, and the additional seating can be used to hold suitcases. For large bulky items, the passenger bench rows can also be removed, opening up the interior space of the van.
For anything in excess of that, there is also extra room on the passenger seat and floorboard up front with the driver. As I mentioned above, in extreme cases where an additional vehicle is necessary just to carry cargo, we can arrange that as well.
Why Limos Don't Have a Lot of Luggage Capacity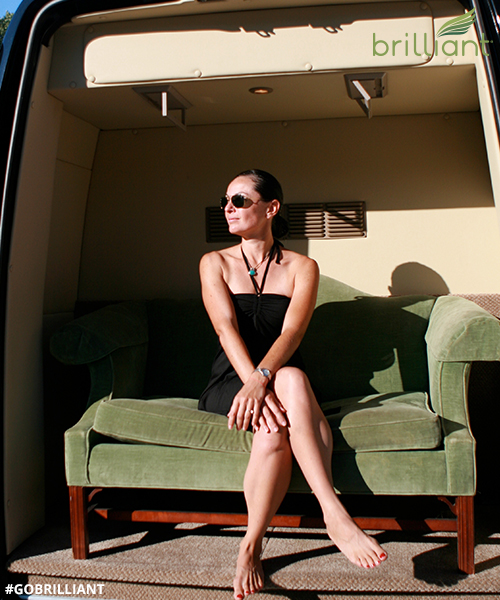 It is important for the customer to understand that Brilliant Transportation specializes in high end luxury transportation, not cargo hauling. Our prices reflect the service demands of the high end marketplace, and may not be a good option if your plans call mainly for transporting stuff.
Many times customers, not understanding what we are about, have called us to ask about van rentals for household moves! We don't do that! Not only are we unwilling to scuff up our vans to transport your furniture, but it doesn't make economic sense to use a high-end limo service to move your personal belongings. So for household moves, please call a moving service!
Alternatives to Limousines
For all other situations, like a personal trip involving a lot of luggage, and where high end concierge service may not be worth the price to you, there are many other limousine services you could choose from.
When shopping for a quote, just remember to inquire about larger vehicles to fit your luggage needs. Sedans and stretch limos are not the best options for this situation. Ask for an SUV or a passenger van if you have excess luggage. Sprinter vans are also a good bet, but the passenger ones or combination/crew vans are the best option, not the exclusive luxury ones, which are costlier.
For the excess luggage situation on either coast, I would recommend contacting large national limo providers for service as they offer service in more cities and also have the widest range of vehicles. Companies like Empire CLS, Carey, and Avalon Transportation are good places to start looking.
Yet if you're looking for the best customer service possible, and love the luxury and roominess of our Sprinter vans, contact Brilliant to get a quote on your next trip: 1-800-543-1001.