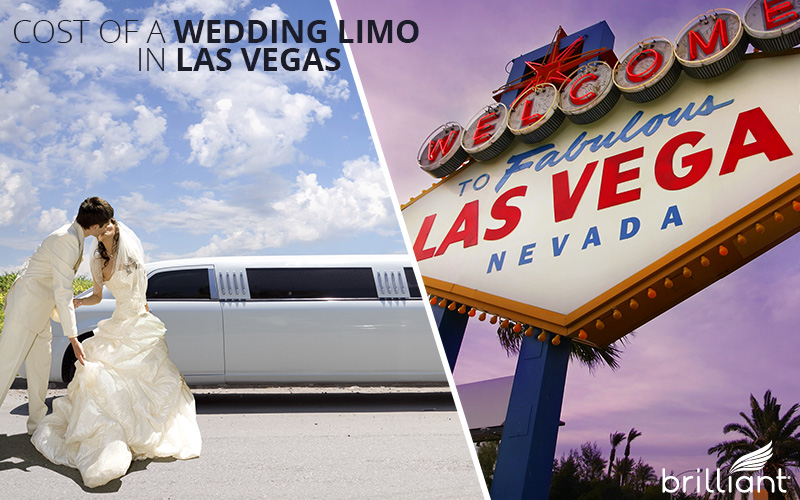 Planning a wedding can be such a large ordeal with all the details to attend to and expectations to meet! Sometimes planning for the wedding transportation can feel that way too, but it shouldn't. If you find the right company to work with, they should be able to put your mind at ease. You have enough things to worry about planning your wedding. In this blog we'll take a look at the cost of limousine service for a wedding in Las Vegas.
We get asked all the time about the cost of wedding transportation, which would make sense since we're a transportation company. We'd like to be able to help put your mind to rest as well and make planning your upcoming wedding as easy as possible. And although we are local to Los Angeles, Las Vegas is one of our most popular destinations.
To get the crux of the issue, the cost of the transportation will be directly related to how big and how elaborate your planned wedding is to be. There are so many different variables involved as each wedding is unique, so each wedding plan will require a custom quote to give you an accurate idea of the cost. Since we can't do that with this blog, I'll at least give you some basic concepts to use in planning your wedding transportation.
Price Variables in Las Vegas Wedding Limo Service
The first variable to determine is how many people are coming to your wedding. And of those people, how many will you be providing transportation for? Usually the bride and groom are a given, it's the family and the other guests you have to worry about. Once you have this number concrete, then you can figure out how many vehicles you will need to get the job done.
Even if you have dozens of guests requiring transportation, you don't necessarily have to rent multiple vehicles to cover them. If you hired a passenger van or a minibus, you could move 15-30 people at once, or more if you employ a transport vehicle as a shuttle doing multiple runs.
How and when you want to handle the details of the move is up to you. Many weddings do well with fewer vehicles doing multiple runs, but this does take a bit longer. If for style, comfort or ceremonial reasons you need to move everyone at once, you'll have to hire enough vehicles, or a bus large enough to ensure that everyone has a seat.
In terms of finding the right vehicles for your party, it's a good idea to use a full service limousine company with a fleet that has a lot of different vehicle choices. If you are looking for something specific and unusual, then it's often better to go with specialists.
Prices of Different Limo Types and Sizes
In terms of passenger size and cost, your most basic option would be to go with black car service. Some people like the idea of fleet of identical executive sedans pulling up to a location, it does look impressive, but unless cost is not a concern, this would be better suited to small weddings because sedans can't handle many people at once. Your driver(s) will be going overtime handling multiple runs if you have more than a dozen guests.
Other than your standard executive sedan (a Lincoln Town Car), specialty vehicles, like a vintage Rolls Royce sedan or perhaps a Mercedes S-Class are a nice touch and work well as the vehicle for the bride and groom.
Other vehicle options include using SUVs, which can handle six guests at a time, or stretch limos, which really say 'wedding party' and are a lot of fun. Stretches generally carry 4-8, sometimes 10 passengers. Stretch SUVs can handle more people, the bigger ones up to 18 passengers, but these vehicles don't meet everyone's idea of high style. They can be a lot of fun though for a real button down wedding. The most practical people movers of all both in terms of cost and convenience are the 15 passenger vans, a good choice for sure, but they lack a bit in the elegance department. For even bigger groups in a large wedding, using a luxury minibus that can carry 20-40 people at a time may be your best option.
Wedding Limo Hourly Rates in Vegas
In terms of pricing, limousine companies charge by the hour. So the number of hours times the number of vehicles times the unit (hourly) price is how you will arrive at your ultimate cost estimate. Just by doing the math you can see the the longer the use the vehicles, and the more of them you need, the higher your transportation costs.
Some people try to squeeze things down to the minimum to save money, but for an important personal celebration like this one, it's best to give yourself plenty of time so you can have a relaxed, enjoyable affair. Nothing makes a wedding more stressful than to have to rush around. Remember here, the real goal is to make great memories, not just counting costs.
At Brilliant Transportation, many of our wedding clients will book a vehicle for the entire day. That way you get dual use out of your limousines. They not only move people to the ceremony and the reception afterwards, but they can also shuttle people home or to their hotels or airports afterwards. This is something your wedding guests will really appreciate!
Average Wedding Limo Rates
In terms of actual rates, each limo company is different, so you should make several inquiries. But generally speaking, limo service in Las Vegas starts at around $70 per hour. A Lincoln Town Car might cost a little less, around $55 per hour. SUVs generally go for $80-$90 per hour and stretch limos range from $70-$120. SUV stretches are more, they start at around $135 per hour. Passenger vans are about $65-$75 per hour also. Minibuses will be in the $150-$300 range and for premium or exotic vehicle, that could be in the $200 per hour range.
The Brilliant Wedding Option
Lastly I will say another great option to make a wedding memorable is to use luxury vans, specifically the custom Mercedes Benz Sprinter vans used by Brilliant Transportation. These wonderful vehicles fall under the premium category and your special guest will certainly know that you cared enough to offer them the very best!
The interior of these luxury vans are like the inside of a private jet, with enough amenities to keep a millionaire happy! Reclining, leather captains chairs, a hardwood floor, large screen televisions, flat panel displays, satellite TV and WiFi are all standard. Your guests will think they are in 5 star hotel room for the duration of their short trip.
We understand that with our premium product and pricing, we're not for everyone's wedding, and there are many good limousine companies in Las Vegas to choose from.
However, should you feel the need to reserve the best, both in terms of service and vehicles, you won't go wrong by choosing Brilliant Transportation. Contact us at 1-800-543-1001 or get your custom quote online today.