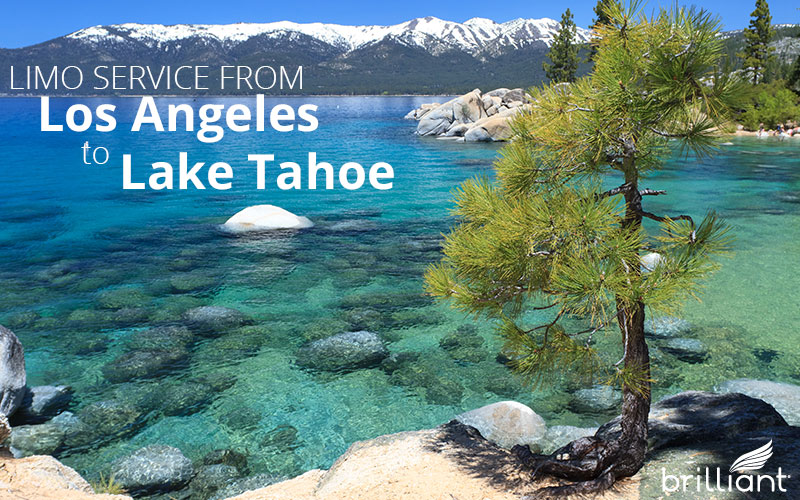 Lake Tahoe and the surrounding mountain communities are one of the crown jewels when it comes to California tourist destinations. Such a beautiful body of water set in a majestic place, plus all the first class outdoor recreational opportunities, make it hard to beat, regardless of the time of year. And each season offers its own beauty and experiences.
Being in Southern California, Lake Tahoe is good distance away for a ground transportation company, but it is an area we travel to with some regularity. Many times, potential customers have asked us about the price of limo service to Lake Tahoe from Los Angeles.
There are many different options you could look at in planning a trip with a chauffeured vehicle so there isn't a perfect answer in terms of cost. But what we've found is that, making a few initial decisions can impact the cost of your Lake Tahoe trip across the board.
Limo Service from LA to Lake Tahoe: Pricing Options
The main factor to keep in mind is that limousine companies price in hourly increments and a long road trip will cost more than other forms of limo service. For such a long road trip as this, the price could be considerable. The other factors to keep in mind are the type of vehicle you select, the quality of service you are seeking, and the number of passengers you need to transport.
Lake Tahoe is nearly 500 miles away from Los Angeles. Due to the way it is situated in the Sierra Nevada Mountain range, you could take either a westerly or easterly route by car. The westerly route encompasses going up I-5, which is fairly straightforward. Once you get to Sacramento, you have a choice of staying on the interstate, taking I-80 over the Donner Pass or choosing the more windy US 50 which also takes you over the mountains. The eastern direction takes you up US 395 by Death Valley and Mammoth Lakes.
Surprisingly, both directions are fairly even in terms of time and mileage. However the interstate route (I-5) will offer you more in way of roadside services and a smoother ride.
Limo Pricing by the Hour
In terms of your hourly costs, one important factor to remember is that, for long distance, one-way trips like this, travel time will apply.
Travel time is the time/distance it takes to reach the client if the pick up is far away, or conversely, the time back to base if the drop off is far away. For Lake Tahoe that travel time would be in the order of 7 hours, or 14 hours for the round trip. Limo companies will charge you travel time because it is industry practice to charge garage-to-garage, or from the time the limo leaves it garage to the time it gets back.
Limo companies bill this way because each limo trip is a prearranged charter for one party. There is no picking up another group to cover the cost of coming back like a regularly scheduled bus or plane trip because limo trips are not regularly scheduled. Each trip is unique and could happen at any time. It's just a part of doing business when you want to rent a limousine.
The exclusivity and convenience does come at a cost, otherwise limos would be no different than a public shuttle service.
Typical Rates and Premium Vehicle Classes
The other main factor to consider in limousine pricing is how many passengers, and what type of vehicle?
These two issues go hand in hand because going in a 40 passenger minibus is an entirely different experience than going in a four door sedan and it costs comparably more to keep those larger vehicles on the road.
Starting small, your most economical choice when ordering a limousine service would be for a black car type service in a Lincoln or Cadillac sedan. These are comfortable and no-frills (compared to other limo types) vehicles and their biggest limitation is that they only hold 3 passengers max. But that's not an issue if you only need to transport one or two people. Look for rates in the $55-$75 per hour for these types of vehicles. For something slightly fancier, you could opt for a Mercedes or Audi luxury sedan and these will cost you in the $75-$95 per hour range.
If you need something slightly larger, an SUV would comfortably work for up to 6 passengers and more luggage. Vehicles in this category include the Cadillac Escalade, Lincoln Navigator and the Chevrolet Suburban. Prices come in the $70-$90 per hour range. For groups up to 15 passenger you can opt for a standard passenger van which carry a price tag of around $65–$75 per hour, and higher for certain quality vans like the Mercedes Sprinter.
Of course there's always the throwback stretch limousine too! These vehicles tend to be used more for events and parties than long distance travel, but they come with a lot of leg room and luxury features if you're using it over the road. Prices vary due to features and vehicle age but look in the $70-$120 per hour range.
5-Star Options for This Route
Last but not least is your premium vehicle category. Companies that emphasize these types of vehicles charge more, but you usually get a better customer service experience as a bonus. These limo companies are focused on the upper end of the market.
Vehicles include specialty and exotic cars like Rolls Royce or Maybach sedans and I would also throw in premium luxury vans in this category as well. Prices in this level start at $150 per hour and go up.
This premium category is where Brilliant Transportation is making its reputation. We offer the finest fleet of luxury vans in the nation. All of our vans are custom versions of the Mercedes Benz Sprinter vans because they are simply the best in the luxury van category.
They are larger, taller and offer better performance and features than anything comparable to domestic brands.
There is no comparison really.
The interior of our vans are more like private jets than anything you'd normally see on wheels.
Our clients enjoy super comfortable captains chairs that recline and also come with a footrest and a table, a light and an outlet for every seat. They are perfect for a mobile office for executives or a mobile lounge for entertaining your family and friends. Flat, large screen TVs, satellite, WiFi and an incredible sound system come standard, as well as an interior rich in wood and leather.
The price for these exclusive vehicles are $225 per hour. It's definitely not a rate that everyone can afford, and we don't target our service for all comers. We serve the first class travelers and do so with pride.
If you think one of these amazing vans would complement your next trip to Lake Tahoe, get a quote online or give Brilliant Transportation a call at 1-800-543-1001.