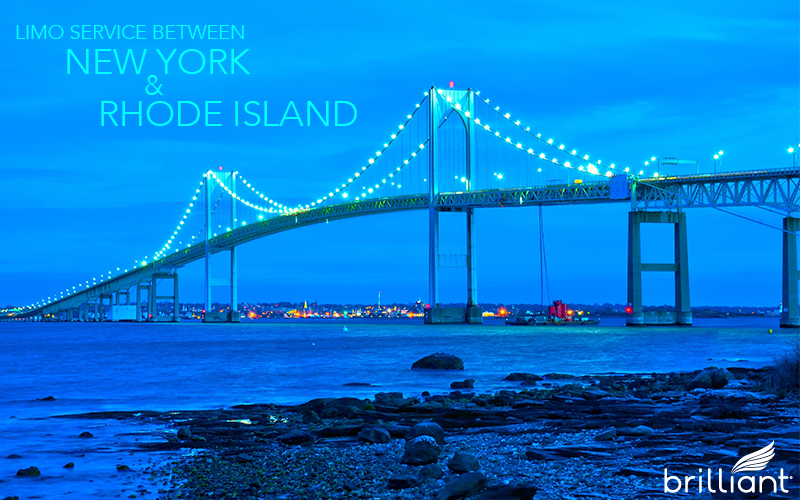 Newport, Rhode Island, also known as 'City By the Sea' is a richly historic colonial era town with plenty of tourist attractions, historic mansions, and lots to offer in maritime affairs. It's one of the frequent destinations on the East Coast that Brilliant Transportation goes to. Many times potential customers have asked us about pricing on limo service from New York City to Newport.
Distance wise it's not that bad of a trip, a bit over 3 hours drive from New York and it covers roughly 183 miles. In terms of pricing, one would have several different options to choose from for chauffeured transportation, so there isn't just one answer to this question. We'll explore price ranges shortly, but the main point of this blog is to make you more familiar with limo billing practices, so you feel more comfortable when it comes time to book your trip.
The most important point when considering a limousine trip is that companies will charge you by the hour for their services. A typical limousine reservation might run a couple hours so it wouldn't cost much more to do this long distance trip than it would to rent a limo for a few hours for a night on the town. The other price factors to consider when renting a limo is what type of vehicle would be most suitable for you and also the number of passengers you need to bring along.
Limo Rates Between NYC and Newport, Rhode Island
When taking a long distance limousine trip, one billing practice that will affect your trip is travel time. Limo companies always charge 'garage to garage' for their services, meaning that the clock starts when a vehicle leaves it base and it doesn't stop until the vehicle returns. What that means in terms of your trip to Newport is that even if you are only going one-way, you will be effectively charged for a round trip, in order for the vehicle to complete its trip and return to base, between six and seven hours.
The reason for this is that limousine trips are different than taxi service. Limo trips are pre-arranged charters and a trip to Newport would happen only if and when a customer requests it. As this is a unique trip for one party, limo companies can't easily book a return trip on the same route at the same time with a different customer. That particular vehicle won't be able to accept a new job until it returns to its base, so the one-way customer is effectively 'using' the vehicle until it can fully complete a round trip, which is why they have pay for entire trip. The return portion of the trip would be billed as 'travel time' for a one-way and the rate would be the same as the standard hourly rate.
The other major factor impacting the price of your limousine service is which type of vehicle you want to reserve and how many passengers you have in your party. You won't have to pay per passenger for your limo trip but larger vehicles have a higher hourly rate so a bigger number of passengers would affect your price in that way.
Rental Rates by Vehicle Class
If you're a small party, no more than 3 passengers, you can avail yourself of the most economical method of limousine transport, the black car service. This usually comes in the form a Lincoln Town Car or something similar. In the Northeast town car service generally costs from $55 -$75 per hour. If you want a more exclusive vehicle you could choose a Mercedes or Audi sedan which would cost a bit more, typically in the $75-$95 per hour range.
For slightly bigger parties, an SUV will seat up to 6 passengers and also hold more luggage than a sedan as well. Vehicle choices in the category are likely to be a Cadillac Escalade, Lincoln Navigator or Chevy Suburban. You can also find Audi Q7s available as well. Sometimes the Audi SUV as marketed as 'green vehicles' because it's clean diesel engine pollutes less than a conventional gas motor. Prices in the segment are usually $80-$95 per hour. If you need room for up to 15 passengers than your best option might be go with a standard passenger van. This is no frills transportation, but convenient when you have a group that size. Prices are around $65-$75 per hour for the shuttle vans.
Not to neglect the 'limo' in limousine, you can also chose to take your trip in a traditional stretch limousine. They usually hold 4-8 people and rent between $70-$120 per hour. The advantage here is style points and also numerous luxury features that you won't find in a standard sedan or SUV.
If a traditional stretch limo doesn't float your boat, you could also look at the premium category of vehicles, which includes exotic or specialty vehicles. Prices in this area start around $150 per hour and can go as high as $300.
The Best Transportation Option in NYC
Brilliant Transportation specializes in high end luxury vans featuring the Mercedes Benz Sprinters. Our custom vehicles offer the finest luxury and convenience available on wheels. The interior of these vans share more in common with a private jet than a regular passenger van. Reclining leather captains chairs with footrests, retractable desks and reading lights will keep you comfortable during your 3 hour trip to Newport. The cabin also features rich wood and leather finishes, privacy shades, and 2 large flat screens on which you can enjoy satellite TV or radio. WiFi is also standard. These vans are great for use as a mobile office or also a mobile lounge if you're bringing your friends or family along.
These exclusive vehicles also come with an exclusive price: $250 per hour. The transfer rate in the 7 passenger luxury van to Newport is $1,500. It could be a great option for first class travelers because on such a short flight from NY to Rhode Island, first class seats may not even be on offer.
We understand that not everyone can afford our rates nor would the luxury van be the right vehicle type for every reservation. There are plenty of other chauffeured options available however, starting with black car service. But if you feel the need to use the best, or just really want to make an average trip extraordinary, let Brilliant arrange your travel plans now.