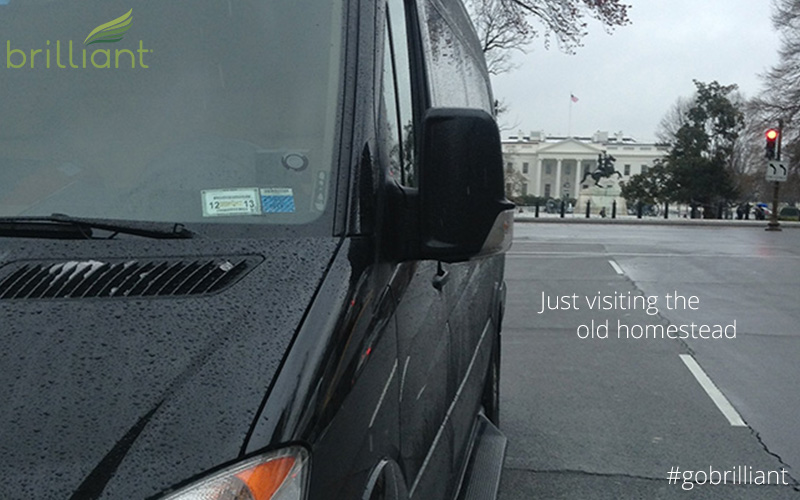 As our nation's capital and a place of great historical importance, Washington D.C. is a wonderful place to visit and has much to offer to visitors. Museums, monuments, memorials, great parks and restaurants, shopping, and of course the White House and the Capitol, all available when you arrive in D.C.
At Brilliant, we provide regular limo service between New York and D.C. and it is one of our most popular routes. Many of our clients will spend several days at a time in D.C., and in addition, we have interested customers asking us all the time about limo services that offer tour guides in D.C.
In fact, with so many options in D.C. for tourists or business travelers with a little extra time on their hands, it is a good idea to think about what type of tour and experience you're looking to have before leaving on your trip. That way once you get there, you won't have to waste time deciding on what to do. 

Limo Services With Tour Guides in Washington D.C.
There are many independent tour operators that cater to every whim and segment of the tourist trade. You can book a tour to see D.C. on foot, or on a bike. There are companies that offer a Segway tour of the Mall. You can also tour the town riding in a trolley or in an open air double decker bus. (Some of these options are obviously for the warmer months). There is a company that even offers a river boat tour of D.C.
Many tour companies will offer you a historical perspective on the city. There are themed tours, like Spies of Washington, which give you the low-down on the history of espionage in D.C. Cold war buffs and Tom Clancy fans can rejoice at that one! Nighttime tours are also very popular in because of the major monuments being all lit in a beautiful white light at night.
A good clearinghouse for all information that is tourist related is www.dctours.us. On that site you have the ability to book many different types of tour with various operators. For the traditional bus tour with a tour guide, USA Guided Tours (contact through Google + pages) is another good option.
Limo Services That Provide Tour Guides in Washington
There are several limo companies that we work with on a regular basis in D.C. that offer package sightseeing tours of the capital as well as 'limousine tours.' A limousine tour is where you pay for a several hour round trip taking your private party to all the sights around town. Sometimes the trip is narrated by the driver, other times not. They might include a DVD video for you to watch to get more background information on what you're seeing, but most of the time they will take you to the different monuments and allow you to look around for yourself.
Taking a limousine tour of D.C. is a great way to go because you can avoid the crowding and hassle of being in a large tour group. You have much more privacy and comfort, and with parking and traffic being a common problem in D.C. a chauffeured vehicle will eliminate those concerns and make your trip much more pleasant.
The Best Local Limo Services in Washington D.C.
Falcon Valet Chauffeured Services
Falcon offers luxury sedans, SUVs and stretch limos. They offer a standard multi-hour limousine tour of all the major sites in D.C. You can contact them directly for additional information.
Reston Limousine
Reston is also a good local choice. They offer not only sedans and stretches but they have a full line of buses, minibuses and full sized coaches. They also offer private tours and package tours, like winery and brewery tours, historic places, sporting events and the like. They also have a regularly scheduled D.C. tour that departs at 6 PM on Saturdays and Sundays in a luxury minicoach. The drivers narrate the tour. This is a group tour however.
Private Guided Tours of Washington D.C.
For clients who want a private tour guide in the comfort of their own limousine, that service is harder to come by. Most tour guides work for companies which provide their own tour vehicles. Most limousine companies that offer guided tours usually do so for larger groups with their group transportation or charter bus divisions.
At Brilliant, we can provide a private tour guide to ride along in your Brilliant vehicle of choice to see Washington D.C. on your own time, at your own speed. For clients looking for a high-end luxury tour option, we fit the bill exactly. You can get a custom quote from us here.
However, with that being said, our level of service and premium pricing won't be the best fit for everyone looking for a private tour of our Nation's Capital. DCTours.us has a private tour limo service that will suite the needs of many people just fine.
It's worth checking multiple limo services in Washington D.C. to inquire about their ability to provide a private tour guide for your trip. Some companies don't advertise it, but will be willing to arrange for a tour guide for an extra fee.
No matter how you end up touring around Washington D.C., the experience is always a life-changing experience, no matter how many times you go. With such history surrounding every street corner, and history still being made to this day in this tiny corner of America, it's always an exciting trip! We hope you enjoy it.