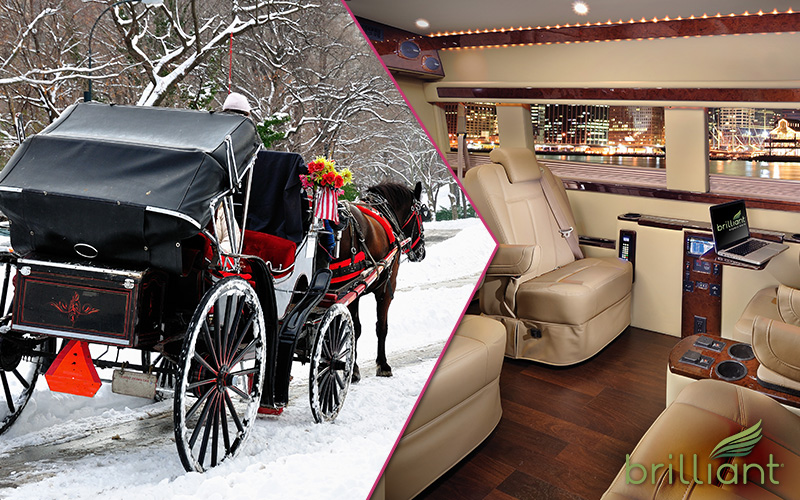 Mark your calendars Ladies and Gentlemen, Valentine's Day on February 14 is only a couple weeks away! The high point of the year's romantic date is a call to action for the many folks out there with a busy love life. For guys there's always the pressure to come up with a unique plan to make valentines day extra-special for your significant other. No pressure there!
Residents of New York City might have things a little bit easier as the city has so many offerings of fun and exciting things to do. New York City is the ideal location to spend a romantic Valentines Day. Just don't be surprised if your ShopGirl meets you on the top of the Empire State Building and ends up not looking like Meg Ryan. Don't be too disappointed, you're no Tom Hanks yourself!
A lot of our clients have asked us about options for this occasion, including the question as to whether a horse drawn carriage ride in Central Park is a better choice than renting a limousine.
Valentines Day in New York City: Limo vs. Horse Drawn Carriage
A carriage ride in Central Park is certainly a tourist classic and a great option for Valentine's Day. But whether or not it's a better option than a limousine is definitely an open question. It really comes down to a matter of personal choice and what other plans you may have for the evening.
Horse Drawn Carriages Through Central Park for Valentines Day
If you planning on booking a carriage ride through Central Park with your amour, make the reservation now if you haven't done so already! The supply of limousines in NYC far outstrips the number of available horse drawn carriages, and Valentine's Day is one of their busiest days of the year!
If you wait until the last minute to make this plan a reality you will probably find that you are too late. Most of the time walk-up rides are available, but for Feb. 14 a reservation will be a requirement.
Many visitors will notice that horse drawn carriages are a fixture of Central Park (and in the movies too!) and you will often see them picking up and dropping off passengers on Central Park South (this is where passengers usually meet their drivers, between 7th and 8th Avenues).
They are a wonderful reminder of the historical era in New York before the infernal internal combustion engine appeared on the scene and ushered in our modern world of gas-powered vehicles.
A standard, pre-arranged ride will last around 45 minutes and cost about $165. Please note that for Valentine's Day high season prices apply and it will cost you more than usual. A standard walk-up ride usually costs $50 and last 20 minutes, with $20 per each additional 10 minutes.
You can make a reservation for a carriage ride by going to www.CentralPark.com. Special add-ons like photography, flowers, and special pick-ups or drop offs are available but will cost you extra.
The route is usually no more than a mile or two and you will get to see the attractions available in the southern end of Central Park, such as Wollman Ice Rink, the Pond, the Central Park Zoo, Sheep Meadow and the Dakota Apt. Building (home to former Beatles' John Lennon).
If you're unable to book a carriage ride, a stroll through this area and visiting these venues would still make for very nice Valentine's activities in themselves. This area is one of my favorite places to visit in New York City. There are also plenty of great hotels and restaurants in this neighborhood within walking distance as well.
Limo Services For Valentines Day in New York
Renting a limousine for the day or evening on Valentine's Day might be a bit easier than trying to find a carriage ride. One advantage of going with a limo service is that the whole city becomes your oyster and you don't have to confine yourself to celebrating in the Central Park area.
With a limo it becomes easy to go several different places in a single evening and you can choose from a wider assortment of activities like going to a movie or concert, dining, dancing, drinking, sightseeing, perhaps even combing your limo ride with a short boat cruise or helicopter tour. The options are endless!
When making your limo reservation, you'll also want to consider what type of vehicle you want to rent and the level of service to fit your budget. On average days one might consider the cheaper limo options or opting for a black car service before looking at the higher end of things. But on Valentines Day in NYC, if you really want to impress your date, I would put the pull out the big guns first.
If you're going to go with a traditional limousine service, I would consider using a stretch limousine. Even if it's just two people, showing up in a stretch limo is like dressing to impress. Your date will definitely appreciate you going the extra mile, especially if you arrive with white roses. Your date will think you're Richard Gere and she'll feel like a pretty woman!
If you're looking for a little more modern, high-end style, Brilliant could be your answer. Luxury vans are an emerging category in the limo business and have started to supplant the traditional limo ride. They are much roomier than a stretch limo and often feature higher end features and amenities than a traditional limousine.
Brilliant Transportation offers a fleet of premium luxury vans based on the Mercedes Benz Sprinter van. There are several versions for seating for 7, 9 and 14 passengers. The 7 passenger Brilliant Van would be your best choice for Valentine's Day.
Although extremely spacious, the Brilliant Van can also be an extremely intimate space for two people, offering plenty of privacy and comfort. There is 6'3" headroom inside and also a back bench which can fold down into a bed. Two 32" inch flat screens with satellite TV will keep you and guest entertained when you're not busy gazing into each others' eyes. There is also on board WiFi and a minibar and fridge for a round of drinks as you travel between your destinations.
Planning the Best Valentines Day in New York City
All in all you can't go wrong with either choice. A carriage ride has the Romantic Comedy feel and is sure to make your evening a special one. On the other hand, if your plans take you beyond central park, a limo service is the right choice.
We would love to provide you with one of our premium vans for valentines day, and our level of service is sure to make an impression on your date. If you're interested in how we could meet your needs you can get a custom quote from us here.
However, we realize we're not the best fit for everyone. In that case, we recommend getting quotes from at least three limo services; getting the nicest stretch-limo you can find and make this Valentines Day the most memorable day of the year.
Make it good! Next year, you get to do it all over again.