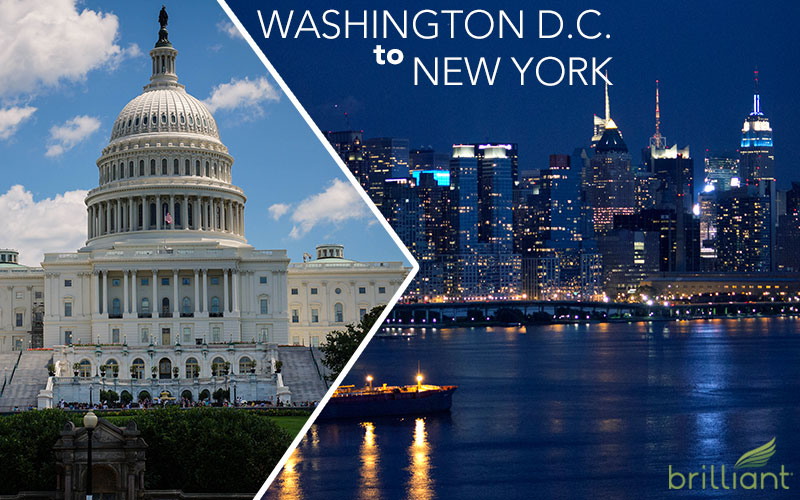 For executive transportation providers in the Northeast, the Washington D.C. to New York City route is one of the most requested and frequently traveled routes. For this reason, we often field questions from clients about which is the best service or type of service to use for this trip.
Naturally there are many options here but in terms of what's best for you, it really comes down to what level of service you are interested in and what your price point will be.
For a premium service which is the market segment Brilliant Transportation works with, we can offer you the best and most luxurious experience you will find going between D.C. and New York.
Brilliant Transportation is well known for its luxury van service providing high placed executives and VIPs with outstanding customer service throughout the Northeast.
Brilliant now offers several variants of its luxury van service, depending of the number of passengers you may have in your party. We offer an exclusive 7 passenger luxury van (the 'Brilliant Van), which can act as a mobile lounge or office in addition to being a VIP transit.
The 9 passenger Executive Van is equally luxurious with its leather captain's chairs and has a seating configuration which is more like a shuttle bus, perfect for moving a small group of executives. This van is often used as a scouting vehicle or on sales trips and road shows.
The 13 passenger Corporate Van (with black interior versus the beige interiors of the Brilliant and Executive Vans) provides a similar experience, great for getting executives to their meetings or conducting field work, but for a slightly larger group.
All of these luxury van choices provide top notch features, including reclining leather bucket seats, large, flat screen TVs with satellite channels, on-board Wi-Fi, individual lighting and power outlets, DVD players and lots of head and leg room. In addition, the 7 and 9 passenger vans provide stowable table surfaces that allow passengers to perform desk work.
However, we recognize that Brilliant Transportation serves a very exclusive demographic and our level of service and pricing may be beyond of the reach of the consumer just looking to get from A to B.
There are other great limousine companies that also serve this route and which cover a wide range of market segments and needs. Some customers might just be looking for a simple Town Car Service which we don't offer at Brilliant. Take a look at some of the options below.
Reviews of Limo Service from D.C. and NY
---
Reston Limousine
Reston Limousine is a Washington based family firm that also is the largest provider of chauffeured transportation in the DC metro area. With a fleet of over 160 vehicles ranging from the largest motorcoaches to the basic Town Car, you will find that Reston has an option to meet your specific needs.
Reston also operates a large contract fleet of corporate shuttles to serve DC commuters and government agencies, so they understand the importance of safety and reliability. While they don't offer regularly scheduled shuttle service between DC and NY, any one of their great vehicles can be hired to drive this specific route.
US Sedan Service
We recently started working with great affiliate in DC. They provide a full range of luxury vehicles including sedans, vans and mini-coaches. Being well established in the DC metro area they do regular business with both corporate clients and tourists. In particular, they are a leading provider of limousine services to the large corps of diplomats in the nation's capital and are well known to the embassies in town. They have also won praise from reviewers for being the number one choice for private aviation terminals in the DC area.
Falcon Valet Limousine
Falcon is another DC based company that is equally comfortable doing corporate transfer work or handling private occasions. They offer prompt and courteous services and also have a great selection of sedans, stretch limos or SUVs. They can also handle larger group transport if you need that as well. If you're combining business with pleasure, they can also provide you with a nice sightseeing tour of the capital from the back seat of your own limousine.
Partners Executive Transportation
Partners is your meeting and event transportation specialist in and around the New
York metro area. They have a large fleet of well maintained and late model luxury sedans (both foreign and domestic), passenger vans, SUV's and mini-coaches to handle groups of all sizes. They are also happy to provide city to city service. For corporate roadshows, they can also offer the convenience of on-site coordinators and dispatchers to make your complicated event run smoothly.
Booking Premium Transportation to D.C. or NY
Again, these other providers are great companies to work with and we are happy to recommend them. At the same time, we 're also available to those clients who are interested in our service and our custom, premium Mercedes Sprinter vans.
We provide bespoke transportation solutions to the most discerning of clients. Our luxury Sprinter vans offer you comfort and functionality like no other vehicles on the road today. You and your team can use them as a mobile office to stay in touch with headquarters while you travel, or as a mobile living room for your friends and family as you travel from DC to the Big Apple.

For a custom quote, request a quote.