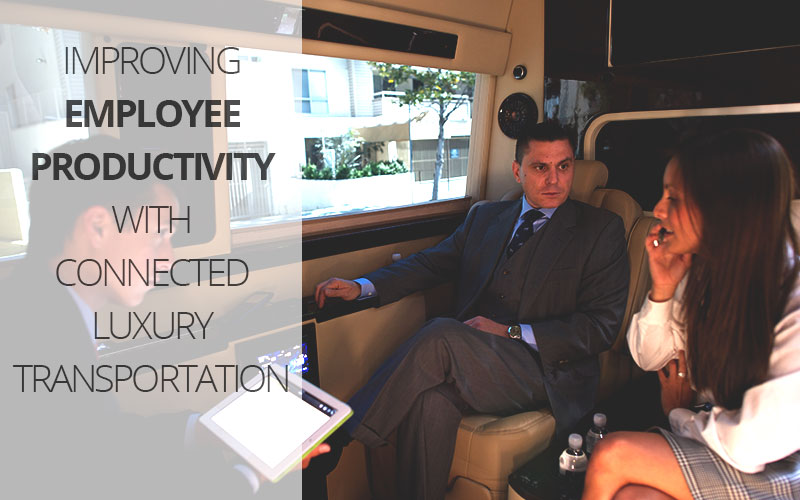 Business travel is a means to an end. It gets employees and salespeople to where they need to go, to new territories, to meet new clients and customers, and helps manage and expand businesses. But often workers and managers think of business travel in terms of what they need to accomplish after they reach their destination. All too often it is the journey itself that is forgotten. But properly managed, business travel can become a productivity tool and enhance rather than waste precious time. And corporate luxury travel can not only aid your productivity, but also boost your employees motivation as well. Let's look at a couple different ways that luxury corporate travel can do this.
First of all, not all travel options are the same. In addition to all of the modes of travel and different types of vehicle you could reserve, there are different levels of quality and comfort as well. Anyone who travels will recognize this; it's kind of like the difference between 1st, 2nd and 3rd class travel. Those who pay more get better service, more comfort, and sometimes a speedier journey as well. But paying more by those who can afford it is more than just about comfort or prestige. But it is about having a better environment, and getting into a better travel environment can make all the difference in terms of being productive.
Productive Travel Options for Corporate Employees
If you're traveling in a luxury vehicle, then you have a much better chance of having an environment that can function like a mobile office. They key ingredients here are having space, privacy and connectivity. For example, in luxury ground transportation, a new way to travel for executives that is growing in popularity is using an luxury van. A luxury van can provide you the space, privacy and connectivity you need to have a mobile office work well for you.
1. In Providing a Mobile Office, Workers Can Work On the Go!
For example, at Brilliant Transportation, we specialize in luxury vans through offering our all Mercedes Sprinter fleet. Our custom luxury Sprinters are outfitted like a small mobile office, with comfortable leather captains chairs and stowaway tables, reading lights and outlets which one can use to create a miniature workspace, so that your vehicle comes an extension of your office. The last key ingredient, connectivity is critical, because you can't have an efficiently functioning office without being connected. Brilliant's luxury vans all come equipped with WiFi, mobile conference phones as well as satellite TV and radio. These features together can keep you in touch with your home office and your clientele as well.
When you travel in this manner, your workflow doesn't have to stop because you need to spend several hours on the road while getting to your destination. Instead, you can work the whole way through your road trip if necessary, from the comfort of your mobile office, the Brilliant Sprinter Van!
2. Corporate Luxury Travel Brings People Together, Both Co-Workers and Customers
Of course travel brings people together from separate geographies; that's its purpose. But corporate luxury travel gives you a further leg up. By hiring your own, private charter service, co-workers and managers have the opportunity to travel together, in their own private space, which allows them to continue to conduct business, as well as have instant access to each other and also allows your team to socialize and get to know each other better as they travel down the road.
This not only makes work more pleasant, but the bonding time of travel allows co-workers to work on their cooperation and team building skills together, even without realizing it. Travel breaks down the formal barriers and walls we often put up in our own offices and lives.
And the same dynamic that works with co-workers also works with companies and their clients as well. As you travel from place to place, perhaps on a joint sales call with some of your top clients, you have the opportunity to build trust by getting to know one another better, and come up with new synergies and ideas. This type of quality time is not always available if you are taking public transportation, or people are traveling separately. Even if a team of people are flying coach on the same plane, it is unlikely they'd all be able to sit together, which diminishes the quality time they could have had together to discuss issues and get work done!
3. Actual Vehicle Set Up Can Help or Hinder Productivity
As I mentioned before, one of the key ways in which employee travel is boosted by corporate luxury travel is by giving the travelers the space and layout they need to work. If an executive is taking co-mingled transportation, whether squeezed in with other travelers on a plane or bus or van, it will be very difficult to get any real work done, due to the lack of physical space. And of course there's no privacy either, which makes it all but impossible to make a phone call, or to discuss sensitive business information in public.
But the actual set up of vehicle is very important as well. Is it set up with office like features which will enable you to get work done? Whether using a laptop or writing a memo in a notebook, it is very useful if not downright necessary to have a flat surface to work on; a desk in another words. It doesn't have to be very large; big enough to accommodate at least a laptop or notebook is what's necessary and of course something that is within easy reach of your seat. And then there are the other features that make an workspace complete. Does the vehicle have adequate lighting to work, outlets to plug in your electronics, and on-board WiFi so that your computer can stay connected to the home office, or the cloud? In addition to luxury features and a comfortable seat, it is these productivity features that will make your mobile office possible or not.
4. Well Managed Travel Can Increase Overall Productivity
For thriving enterprises that span large territories, business travel is unavoidable. Even if your business is wedded to one location, you will still have supply chains and far flung vendors to work with. So in many cases travel and business on the road becomes a critical extension of what you do. When you work with a transportation provider that is always reliable, on-time, efficient, and helps you get to where you need to go quicker, with less stress and more efficiency, then that provider is actually helping you grow your business. An efficient travel provider is like having another arm, it is a useful extension that you soon learn you can't live without.
In terms of well-managed and efficient transportation providers, corporate luxury travel companies often have an edge over your run of the mill transportation providers. They are better at what they do, an in turn they make you look better, because they invest a lot of time and energy in getting things right. It takes a well-oiled execution of many moving parts, and dedicated employees who know what they're doing for a transportation company to delivery service effectively.
So aside from choosing luxury, look for a transportation company that is excellent at what they do, and who puts the clients, their needs and their schedule first! That to me is the true definition of luxury. Indifferently delivered service just won't cut it when your company's future could be at stake with an important business trip.
5. Luxury Travel Can Boost Employee Morale and Wellness
And finally, a fifth compelling reason why corporate luxury travel can be good for your bottom line is not just because you are making efficient use of your employees' time while they're on the road.
This last point is about how your employees feel, and making them feel good! Sometimes success isn't just about working hard, it's also about maintaining your company's edge by allowing your employees the luxury of recharging, resting, and relaxing, so that they can perform at their peak when they need to! And by providing your employees with a luxurious travel environment, not only can you help their productivity, but you will boost their morale and loyalty to the company as well. Luxury travel is a wonderful perk to be able to offer your hard working staff.
Let's face it, travel, especially business travel can be long, tedious and exhausting. How can you expect your employees to represent the company well when they're fatigued? Well, they can't! And that's where the luxury part of corporate luxury travel becomes important. Successful business people are driven, but they need time to rest and recharge like anyone else, perhaps more so due to their hectic schedules. Sometimes the most important boost to productivity in the long run is to take a break when you need it most.
On those long business trips, whether in the air or on the road, a couple hours of rest, relaxation and comfort can do wonders! And that's what corporate luxury travel can do best: providing a relaxing, comfortable and even entertaining (in the form of the latest electronic gadgets and screens) environment which will leave our executive travelers feeling refreshed and rejuvenated when they reach their destination.
And this is where Brilliant Transportation can come to your travel rescue! We are corporate luxury travel specialist, and and our outstanding fleet of Mercedes custom luxury Sprinter vans is the finest in the nation. If you need to travel in the New York or Los Angeles areas for business, and need to go any amount of distance using ground transportation, Brilliant Transportation will not only exceed your travel needs, but provide you with an extraordinary travel experience that proves that not all travel is created equal!