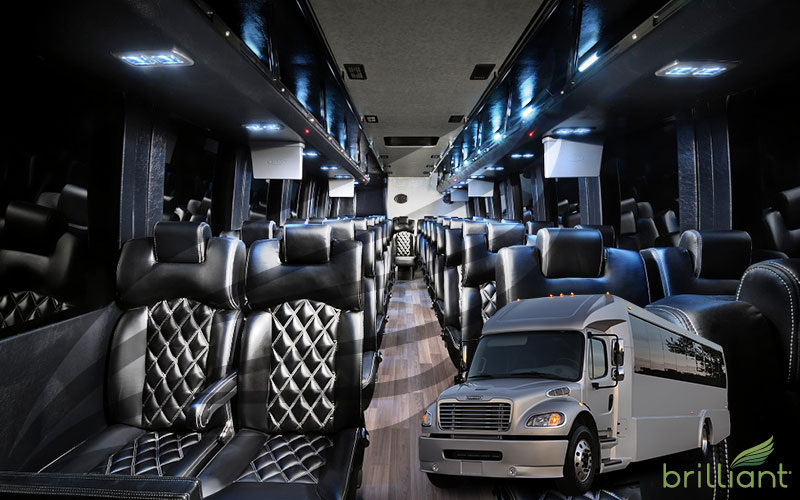 When you're in the market for small group transportation, your best bet in terms of cost and efficiency could be in hiring a minibus to move everybody at one time. Particularly if you're organizing a corporate or school outing, having everyone together in one vehicle can be the best way to go.
Luxury Minibus Reviews and Pricing Information
Minibuses come in many different models and sizes, but generally the range is 20–40 passengers per bus. Anything larger than 40 passengers, you may end up using a full sized motor coach, which offer seating capacity in the 50–60 person range. Anything smaller than 20 passengers, it's often more cost effective and efficient to look at hiring passenger vans for your move.
Determine the Size and Purpose of Your Event Before Selecting Minibus Type
As I mentioned, minibuses come in many different sizes and each type of bus is built for a specific number of passengers and so you want to find the bus that most closely matches your headcount. Not every bus or limo company will have exactly what you need, but within a certain range it's usually not too hard to match up the appropriate sized vehicle for your group.
Another consideration is finding the right style and comfort level for the specific needs of your group. Minibuses are designed for all sorts of different uses. Some are used as school buses, others for airport shuttles, some are designed to carry elder and handicapped passengers, while others are built as party buses for weddings and celebrations. Party buses are different from limo buses which might be used for executive transportation or high end social occasions.
The executive minibuses are often used for employee and commuter shuttles, of which we've heard a lot about recently in the media, particularly in respect to the hi-tech industry in California where this is a hot corporate trend.
Just as buses are specialized for specific purposes, so are transportation companies, so it might take calling a couple different firms in your area before you find exactly what you're looking for.
Brilliant Specializes in Executive Transportation
At Brilliant Transportation, we specialize in VIP and corporate transport, as well as doing varied private events, conventions and even school athletics and educational field trips.
Our minibuses fall into the luxury and executive category, so if you're looking to book a minibus to get oil field workers to their jobs at the refinery or you're simply looking to purchase a single seat on a regularly scheduled bus route, you're looking in the wrong place!
However, if you need a luxury charter bus, look a little bit closer because we have a service that might just be the perfect fit for you!
Luxury Minibuses Are A Great Fit For High End Events
In this blog, we're going to do a quick vehicle review of our company's minibus offerings, in order to help you make a decision regarding your transportation needs.
Brilliant Transportation offers two sizes of luxury minibuses in our native fleet. I mention that because as a transportation company, we are in the business of serving our customers.
If your needs involve a number or size of buses that we don't have as part of our normal fleet, such as full sized, 56 passenger coaches, we can accommodate our clients by using additional buses from our affiliate network. So your transportation needs can almost always be covered through our service.
Brilliant's custom luxury mini coaches come in 28 passenger and 36 passenger models. Our buses are special because they are built specifically with the luxury and corporate client in mind, and their outfitting and trim is of a higher quality than you will find on most buses.
Let's start with our 28 passenger model. These minibuses are built on a Ford F550 heavy duty truck chassis with and extended custom coach body. The body and trim color is metallic grey which is a very subtle and tasteful color, great for any number of classy occasions. The exterior is very clean and neat, with no extra signage or logos to detract from the look.
However, if you would prefer corporate branding or logos on your bus for a special corporate or sales event, we are willing to accommodate that on a temporary basis. The bus comes with optional suspension equipment, to provide an especially smooth and refined ride.
A Premium Interior Puts Passengers At Ease
The interior features all leather bucket seating for each passenger. These are much more comfortable than your average minibus seats, featuring rich and genuine leather upholstery, extra padding and tasteful, diamond pattern 'Bentley' style stitching and piping. The floor also provides an extra touch of luxury and custom craftsmanship with its sealed, hardwood planking. Premium materials have been used throughout the cabin and exterior to provide a real quality feel.
Each guest is also given a few extra amenities to make the trip more pleasant, such as individual reading lights, electric household outlets to plug in your personal equipment and there's also plenty of overhead storage for any carry ons.
The bus also features a premium sound system, with a PA system and DVD player and a large flat screen in the front of the bus so everyone can watch a movie or other presentation. In order that everyone has an unobstructed view of the big screen, several additional drop down LCD screens are installed throughout the cabin so no one has to miss a thing.
The 28 passenger minibus is 33' long and is perfect for small groups of that size, regardless of occasion or the length of the trip. These minibuses have been hired for jobs ranging from weddings, business conventions, road shows, sales trips, shopping excursions, intercity group transfers, employee shuttles, event shuttles, school trips, and pretty much anything else you can think of, these minibuses have performed brilliantly!
Our 36 passenger minibuses are almost identical to our 28 passenger buses in almost every respect, except for their larger size and higher passenger count.
Our 36, instead of being built on the Ford F550 chassis, uses the large Freightliner semi-chassis and with the passenger coach comes in at 40' long. It has the same trim and luxurious black leather bucket seats that our smaller mini-coaches have as well as the beautiful hardwood flooring. One additional feature in this bus you won't find in the smaller 28 is the inclusion of a small on-board lavatory. This can come in real handy for those long over the road trip!
Again, despite the larger size of this bus, it has been equipped with extra suspension and soundproofing material in the cabin to provide a smoother and quieter ride. You'd be forgiven for falling asleep on some of those longer road trips!
This bus also comes with same entertainment technology and passenger features available on the smaller buses. While not standard, we will provide an mobile hot spot device for on board Internet service upon request at no additional charge.
Again, these minibuses are perfect for a variety of different trips for small to medium sized groups. And for larger groups of course, it's always possible to combine multiple buses as well. While the majority of our trips in these buses happen to be local transfers, they are well suited for long distance and overnight trips.
Whether you're planning a summer time excursion from New York City to the Hamptons with your group or perhaps a winter time ski club excursion from New York to Vermont, these minibuses will get your group going to where they need to go in style, comfort and maximum efficiency.
Size And Cost of Bus Could Affect Your Decision
In terms of reviewing these vehicles, sometimes customers ask us if these buses have any downsides? Well, that's a good question and it really depends on what your specific needs are in order to determine if a rental of one of these buses is the right choice.
In terms of quality, comfort and convenience, these buses are hard to match. They do specifically what they were designed to do, which is to haul groups of people around. But it is possible in certain circumstances that their large size and cost could be a possible disadvantage.
You might have a situation where you need to go to place where these large vehicles might not fit, or perhaps there is no nearby parking for the vehicle. In that case, it might be better to use the smaller Sprinter 14 passenger vans to do the job. But you would need two of them for example, to accommodate the same number of people that would fit in one 28 passenger bus.
And there are also cases where clients are looking for minibus group transportation, but they don't require a luxury vehicle. Perhaps they are transporting grade school students or the budget for your trip won't accommodate luxury pricing. In that case, a lower cost bus can usually be substituted.
The Use of Hourly Minimums
In terms of cost, using two vans would be cheaper if were for a reservation of 3 hours or less. But if you need the reservation for 4 or more hours, then using one minibus would be a better deal. The reason for this is that our minibuses come with a 5 hour minimum, whereas the vans have only a 3 hour minimum. That might make it impractical for some customers.
The use of an hourly minimum is standard practice in the limousine industry. The reason for this is that limousines in general, and buses in particular don't get used as frequently as other vehicles for hire.
The rates are higher and the occasions where it makes sense to rent one are less frequent, then say a customer needed a quick taxi trip. So the use of hourly minimums helps us cover our operating expenses, as these vehicles don't have the same frequency of use of smaller, cheaper vehicles.
For clients who just want a quick pick up and drop off, frequently that can be a frustrating situation. In cases like that, it might make sense to try to find cheaper priced alternatives, although you won't achieve the same efficiency using many small vehicles as you would one large one for a big group.
So again, it depends on your particular situation to determine what is right for you. If you'd like to get more information about our minibuses or would like to request a quote for an upcoming trip, don't hesitate to contact Brilliant Transportation at 1–800–543–1001.