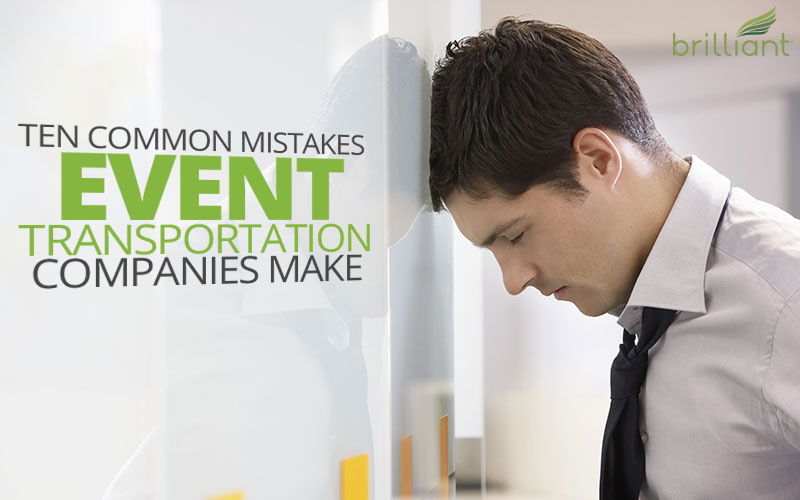 Putting on a large, complex event can be a challenge. There are a lot of logistical items that have to be sorted out as well as arrangements to be made, people and services hired and organized. It can make you head spin! One not insignificant part of this whole process is arranging transportation for you event. Transportation is an integral part of many events and it has to be handled well if you event is to count as a success.
Some large events are public events where the public is expected to find their own way to event, like a mass sporting event, using a combination of their own cars and public transportation. In cases like these, public transportation resources are usually bulked up to help with the in-flow of spectators.
However, the type of event we're going to talk about is a private event, like large wedding or a business convention. And in those cases, private transportation resources are usually hired to handle the extra rush of people, in addition to people driving themselves and the usual public transportation options.
In any event, putting together an event transportation plan is much more involved than just bringing in some resources. Every element of the transportation needs to be carefully planned and vetted, otherwise serious problems could crop up that would ruin the integrity of the event.
Event Planners' Biggest Complaints of Transportation Providers
Below, we've compiled a list of the top ten things that can frequently go wrong with event transportation planning, just to give you an idea of the challenges you might face. Of course many of the problems will be avoid if you correctly choose to go with a transportation provider who is well experienced in this area and knows what they're doing. It just goes to show you that when you want to put on a professional event, you also have to use professional people and services to get you to the level where you want to be.
1. Late for the pick up
This could be the most common of errors but it doesn't make it any more pleasant to deal with. Whether you're needing a ride to the airport, or to a ceremony at a church, or putting on a large event, being late could put a real crimp in your plans. Transportation companies do understand the importance of being on time (at least if they want to stay in business) but it's still easy to blow a pick up but not leaving in time. Make sure your transportation company understands the importance of starting your event on time and if necessary, go over the planning of the departure time for the pick up and routing details if necessary, so that there can be no excuse of being late.
Quality transportation companies will allow themselves plenty of time to be on time for an event, and should at a minimum be on location 15 minutes before the official start time. For busy transportation days, it doesn't hurt for companies to be even 30 to 45 minutes early to account for any possible delays.
2. Road closures changing the route plan
This is another easily avoidable issue that speaks to poor planning. A quality transportation provider will prepare for known traffic and construction issues surrounding your event before D day and adjust accordingly. It would simply be foolish not to do that. In terms of unplanned closures, things related to weather or accidents, it is always important to have a plan B to avoid unnecessary congestion. In situations where there is only possible route to the event location, then back up plans regarding timing should be in place in the case where your main route is congested and no other alternative exists.
3. You didn't give us correct address for the venue
Despite well laid plans, if incorrect information was received during the reservation process, and details were never confirmed, then you are setting yourself up for failure. Good transportation companies will always check and double check client instructions with the booking party before proceeding. Also it is important for clients to review the confirmation information they receive and correct any errors they find. After all, communication is a two-way street and transportation vendors can't be mind readers.
4. Driver arriving at wrong entry to the venue
Again, this seems like a minor issue, but it can lead to real problems and speaks to the need for proper planning. Anytime you have a large event involving the arrival of multiple vehicles, it is always advisable to have a dry run, particularly when the presentation of an event depends on it, like an outdoor wedding.
What if a driver went into to a wrong entrance with a large bus and couldn't reach his passengers in time? Or he got into an area where he can't easily turn around or into a one-way street taking him away from the pick up? All issues to consider beforehand.
In situation where a dry run isn't practical for whatever reason, make sure your transportation has a decent map or detailed approach instructions for the event venue. They should pour over the information and know the area like the back of the hand before they arrive. If you don't have a detailed schematic of the event location, then the operator could use Google Maps or satellite imagery to try to determine the best approach.
5. Poorly coordinated event plan leads to passenger confusion
This item is very similar to the previous point, but with a slightly different twist. During a large event, it's not enough just to get every vehicle on site at the appointed time. You also need a plan of how to manage the transportation plan once they get there. Any time you have many passengers boarding many different vehicles, your transportation vendor should have a boarding plan. Where, what lot, what gate, what door do the vehicles pick up at? Where do they drop off? Can only certain parties board certain vehicles (because they're going to different locations)?
You may need to work out passenger assignments, boarding areas, have signage, or to be really sure, hire an on-site transportation coordinator to make sure people get to the right vehicles. Any competent event transportation provider should be able to facilitate this.
6. Outdoor event was disrupted by poorly planned arrivals
When you're planning a highly coordinated event, the specific order and manner in which vehicles arrive and disembark their passengers could matter a great deal. Work out a plan with the transportation coordinator in advance as how you're arrivals should look and progress.
Sometimes it's minor issues that can hamper an event, like large vehicles arriving to an outside venue where light and noise might spoil the ceremony. You plan might need to include such seemingly minor details (but whose effect is NOT minor), dimming or switching off lights upon arrival so as not to blind people, or turning off annoying back up alarms, etc. Also make sure vehicles have a place to turn around, or a graceful exit route.
7. Vehicles breaking down
This is a problem that could bedevil any event at any time, but risks can be minimized. First of all, go with quality transportation provider that puts a priority into maintaining their vehicles. Most vendors will not guarantee you against a loss due to a mechanical malfunction as their occurrence can be random. But a company with a well maintained fleet should create no problems for you on the day of your event. For the random problem, like a blown tire or broken part, your transportation should keep some extra vehicles in reserve, just in case!
8. Inadequate transportation provided due to lack of complete passenger count
This is a problem that should be avoided by being thorough from the very beginning of your planning. It is essential to get as accurate a passenger count as early as possible so you know how many vehicles and what sizes to use. For mass event where an exact count may not be known, then you plan for a range of possibilities and allow for reserve vehicles for the day of.
9. Drivers/staff did not provide hospitable customer service
After all your careful planning and brilliant forethought, an event can still be damaged by thoughtless or rude staff members. Perhaps someone is having a bad day and they're rude to the wrong person! You want to avoid this at all costs. Again, it comes down to working with quality people. In addition to flawless execution, a good transportation provider will have trained their employees on the finer points of customer service. They should also have good supervision of their employees at all times to make sure no gets out of line! Not that it should be necessary, but good companies plan for all eventualities.
10. Vehicle type of style didn't match style of event
This last point has to do with getting the style and feel for the event correct from the beginning. You should have a discussion with your transportation representative from the start about how many vehicle and specifically what types of vehicles would best represent your event. Give some serious thought to this issue and don't just take whatever suggestion the provider makes if it's convenient for them, but not for you.