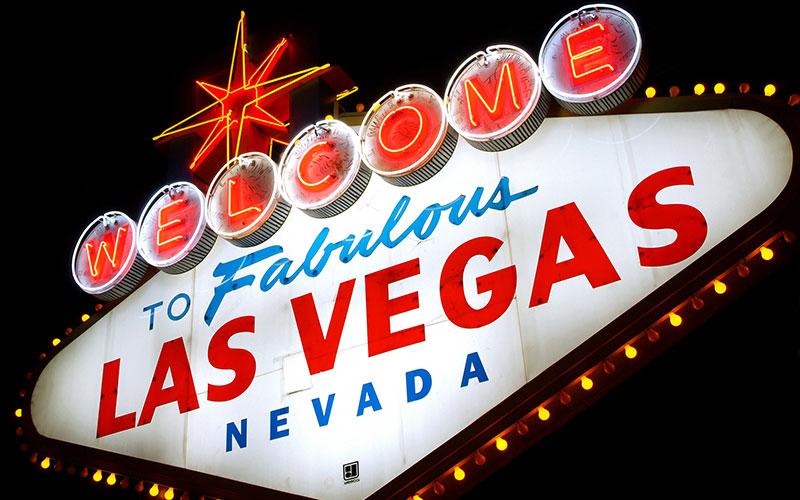 Vegas is one of those perennially popular weekend destinations, particularly for visitors from Southern California which is nearby. Most of the time travelers are anxious to get their destination as quickly as possible so the fun and gaming can get underway.
Usually a quick trip means getting on an airplane, but if you're coming from Southern California, travel by car can actually be a competitive option in terms of total travel time.
How to Get to Vegas Quickly in Luxury
While that might seem counter-intuitive, I'll explain shortly in detail how this can be so. Yes, flying can be convenient, but you still have to put up with the hassle of going to the airport and dealing with your fellow passengers both during boarding and during the flight. But there can be a better way.
Taking a Luxury Van to Las Vegas Can Be The Best Way to Travel
If you want to get to Las Vegas in style and comfort and above all with privacy, then another option you have is to book chauffeured transportation. This can provide you with much more luxury than taking a commercial flight, even for first class, which isn't usually an option on such a short haul route like Los Angeles to Las Vegas
With chauffeured transportation you can travel in a luxurious automobile, enjoy door to door service, leave on your own timetable and above all enjoy privacy and exclusivity!
Especially if you travel with Brilliant Transportation of Los Angeles, we offer the most luxurious option to get Las Vegas that you can find on the market today.
Brilliant Transportation, which is an executive transportation provider both in New York and Los Angeles, specializes in Mercedes Sprinter vans as an executive travel mode.
Our custom converted Sprinter vans are special, and they are more like traveling in a private jet than any other road vehicle available. The tall, long vans offer more passenger room than any comparable vehicle as well as offering superb road manners and comfort. It is like having your very own private coach to whisk you around to wherever you need to go.
Surprisingly Drive Times Can Compare Favorably With Flying When It's Door to Door
But I know you're asking yourself, how can going by car even compare to flying? Well, you have to consider you total time investment in traveling to make a valid comparison, your door to door time so to speak.
Under this scenario, going by private car can in fact be competitive with flying, only this method can actually be far more comfortable if you choose the right luxury vehicle, especially if it's a luxury van by the Mercedes Sprinter!
Flying Gives You Many Departure Options, But With Driving It's Unlimited
To look at the time comparison more closely, let's take a look at the schedule of a major airline, in this case Southwest, which offers 11 daily flights from Los Angeles to Las Vegas. The first flight of the day leaves at 6:10 AM and the final one departs at 8:55 PM.
Other departures include 8:20 AM, 9:50 AM, 11:05 AM, 12:45 PM, 2:05 PM, 4:00 PM and so on.
That gives you plenty of choice in terms of departure times, every 90 minutes or so, but still it can't compare to the convenience door to door service when you choice of departure time is exactly when you want it, down to the very minute!
Look At the Total Time Involved For A Complete Estimate
But let's take a look at the total travel time involved. Choosing a convenient departure time, like a mid-morning flight time of 11:05 AM is a good place to start. The flight time itself is 1 hour and 10 minutes. Push back at the gate at 11:05 and arrive at that gate at 12:15 PM at McCarran International in Las Vegas. It sounds simple, but naturally there's more involved than that.
For domestic flights, you want to give your yourself anywhere from 90 minutes to two and half hours to get from your house to the departure gate before your flight.
Of course, this is all dependent upon where you live. You could live really close to the airport, in which case you estimate your time down, or you may live several hours drive from the nearest big airport, in which case your travel time is going to take much longer.
But if you give yourself and average of 2 hours, one hour to get the airport and park, and one hour to check in and get to your gate, all of sudden your 1 hour and 10 minute flight is taking up at least 3 hours of your time, and we're not done yet. So now your 11 AM flight means you need to leave the house at least by 9 AM.
But you also need to consider your transit time at your destination as well. Once you disembark, you need to collect your baggage, which can take 30 minutes, find ground transportation, whether hailing a cab or taking Super Shuttle or even renting a car. All this activity could easily cost you an hour, and you haven't even left the airport yet!
Then you need to factor in your travel time from the airport to your final destination in whatever mode of transport you have hired.
Lucky for you, the distance between Vegas's airport and the Strip isn't very far mileage wise. On a day with no traffic, the trip from the airport to one of the Strip's premier hotels might only take 15 minutes, tops.
But the Strip can also become terribly jammed with traffic during busy times as well. That 15 minute trip under heavy traffic conditions could easily take 30 minutes, or even 45 minutes. So now you're not arriving at your hotel until 2 PM! Your total time investment is now from 9–2 or 5 hours!
That's probably more than you expected, considering your flight time is only one hour! Now let's compare that with driving in a luxury van. It takes about 4 hours to drive from most central locations in Los Angeles to the heart of Las Vegas.
Of course, traffic conditions will vary and you could get stuck in traffic also. So let's say it takes you 5 hours, that's still the same total amount of travel time you needed to fly.
Driving Can Actually Be Quicker!
So the door to door time is about the same, or on a good day, even quicker than flying but in our case, travelling by chauffeured luxury van, you only have to make one stop, which is your final destination. Going by plane, you have to make several stops and load and unload your luggage several times, sweating yourself up in the process.
The chauffeured route is much, much easier. And you can make additional stops, but only if you want to, to use the restroom, or get something to eat, or even stop to smoke or do some sightseeing, The choice is entirely yours.
So despite the convenience and luxury of going exactly when you want to go and true door to door service, why would traveling in a Brilliant luxury van be so special? Well, as I mentioned, it's like having your own private jet on wheels!
The advantages of spending four comfortable hours in your own private luxury domain, instead of hopping from cab to airport shuttle to terminal to airplane to terminal to cab and so on, will become immediately apparent as soon as you step inside one of our vans.
It's Certainly More Comfortable!
The Sprinters we use are custom machines, but the dimensions are factory standard and they are class leading! There is over 7 feet of headroom inside these vans, so just about anybody can stand up tall and its very easy to move about the cabin, or get on and off.
You'll notice in our 7 seater luxury configuration the four large captains chairs, covered in soft leather with an electric recliner and also footrests. A beautiful blond hardwood floor will welcome your arrival on board as well as plush surface areas and wood trim all throughout the cabin.
There is also a comfortable rear bench that can seat an additional 3 adults or fold down into a daybed. There is full chauffeur partition at the front of the cabin, as well as privacy shades and large, limo tint picture windows. There's no way you can't be comfortable in this environment for several hours.
Mobile Productivity Or Entertainment Will Enhance Your Trip
What's great about our seating configuration also is that each seat comes with foldaway desk, reading light and electric outlet for your devices. Each place can function like a mini-workstation while you're on the road. Or it also provide a great space to relax, do some reading, eat a meal or play a board game with your traveling companions.
There are also plenty of entertainment options on board as well. Our feature item is the two large, flat screen TVs (32"), fore and aft that can show 158 channels of DirecTV satellite programming, or you can also use them to watch a DVD, or even plug in your laptop to the big screen to watch your own custom presentation.
We also offer Sirius satellite radio, a fantastic 10 speaker audio system, on board WiFi for your internet needs, and a Sony Playstation 3 as well. It's the perfect entertainment suite to keep you and your family or friends, or even business associate entertained for hours on end!
When you're traveling to Las Vegas, the party can get started early, as soon as your luxury van arrives to pick you up! In addition to the electronics there is a mini-fridge and a wet bar on board so you can have beverage service.
The van always comes stocked with bottled Fiji Spring water or we can also pre-stock the van with alcoholic beverages of your choice if you please.
Catering Is Also An Option
Speaking of great service, Brilliant, almost unique among limo companies can offer you custom catering service upon request and with advance booking. We can provide platters of gourmet foods or sandwiches or whatever you desire as long as we have enough advanced notice and with the addition of a small fee.
Outstanding Service Makes It Memorable
It's all a part of putting the customer first and making them feel right at home. Because in addition to our wonderful vehicles, we pride ourselves on our first class service. We believe that travelling via ground transportation should be no less of an inviting experience than say staying in a four star hotel room.
It's the attention to little details as well as the focus on the customer that brings our service to life. And it's also the reason why our customers keep coming back to us once they've tried us the first time.
That attention to detail is part of our DNA here at Brilliant Transportation. And we believe that good customer service must be more than skin deep. What I mean by that is we understand the importance of flawless performance when we're on the job.
Because if you reservation is incorrect, you the driver is late or gets lost or you have to suffer some other unnecessary inconvenience, that colors your whole experience and not in a good way.
Our first duty is to be the best we can be at providing our service which is getting you to your destination on time and in great comfort and convenience. Once we have that right, then we can focus on the nuance of the trips, and make sure there is nothing else you could want for. Any special request you might have we'll be glad to fulfill as quickly as possible.
We Always Check Twice!
And we always double check every detail that goes into preparing for a trip. All customer info, all trip preparations, vehicle detailing and safety checks have to be done with precision and double checked for completion and accuracy. We do all of that, even as it costs us extra time and effort, because we know that the client experience is paramount. And we wouldn't have it any other way.
And finally, there is no better way to get to Vegas, regardless of time or money. Traveling in a Brilliant Van will turn your ordinary trip into an extraordinary one, right from the start!
If you'd like to find out how we can delight you on your next trip, contact our reservation staff at 1–800–543–1001.